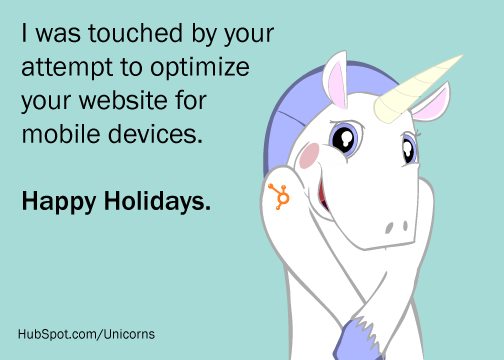 Just as the holidays sneak up on consumers (has anyone started shopping yet?), marketing departments sometimes find themselves in a panic come November and December trying to conceive an impactful holiday campaign. While this is the time of year creative types relish, there are also lots of ways to totally muck up what you assumed would be a really successful holiday campaign. So, to help keep holiday marketers on track, here are 9 things to look out for when launching your holiday marketing campaign.
1.) Don't make it religiously focused. This is the biggie, so let's get it out of the way first. Your customers come in all shapes, sizes, and creeds! Don't rub them the wrong way by creating a religiously focused holiday campaign. Unless you can create enough campaigns to address all the holidays of the season, stick with the term "holiday."
2.) Don't forget that people live in different climates. This one's a little bit of a finer point, but the lesson comes from real life experience. If you're a national or international company, don't get around the religiously affiliated campaign faux pas by going with a winter-themed message. While this probably won't offend your beach dwelling customers, it lessens the impact of the campaign message because they can't really relate to the weather outside being frightful.
3.) Don't just use cards. It's lovely to get a card in the mail, but this time of year, it's not the anomaly marketing teams hope it is. Think outside the box (and on the internet) to create a 21st century marketing campaign. Think useful apps, entertaining videos, or silly e-cards to bring holiday campaigns into the 21st century.
4.) Don't wait until the last minute. Not only does a last minute campaign usually suffer from shoddy execution, but this time of year is really, really busy for your prospects and customers. Their inboxes and mailboxes are full to the brim, schedules book up, and they are trying to get a ton of work done before going on vacation. Get your holiday campaign out early before they're too busy to notice and make use of it. There's still time!
5.) Don't rerun last year's campaign. If you did wait until the last minute to start your campaigns, a good solution isn't re-running last year's campaign (even if it totally rocked). Besides loving your prospects and customers, you're presumably running a holiday campaign to get something out of it, right? Repeating last year's campaign won't perk any ears, and the ROI will significantly diminish year by year.
6.) Don't forget about New Year's. A true holiday campaign typically extends to New Year's Day, but many companies either forget this fact or get lazy and let campaigns taper off after December 25th. If you keep your holiday campaign going strong through January 1st, many industries will see a less competitive marketplace (except those in the health and fitness biz!), and you'll get the opportunity to work the New Year's resolution angle into your creative.

7.) Don't forget to brief sales about holiday offers. Outside of the ecommerce sector, sales teams are often worried about decreased sales during December. Marketing should not only let sales know about campaign launch dates and corresponding offers, but also teach them how to leverage it to create a sense of urgency that will help close more deals and buffer any days lost due to the holidays.
8.) Don't go it alone. You can certainly launch your own holiday campaign, but consider talking to people in your industry or a business with a complementary product or service about launching a joint holiday campaign. You'll get the power of two marketing teams, two networks, and two customer bases to give your holiday campaign some gas. If you don't partner up with someone, you should absolutely utilize your employees and their networks to get your campaign off the ground. For example, instead of just your business' social media accounts posting about your campaign, you could have your entire company sharing it with their networks!
9.) Don't forget to have some fun with it! People like to smile, plain and simple. Even in a B2B campaign, you have the license to be a little silly, especially at this time of year. If jokes aren't your forte, that's okay, but push yourself beyond the bounds of the normal card with a coupon!
No matter what you do with your holiday campaign, be sure to set strategic goals with it so you can measure your success. If you know what you want to get out of it--more sales, a bigger email subscriber list, more Twitter followers--you can measure your success and carry over lessons learned for next year's holiday campaign.
Have you launched your 2011 holiday marketing campaign? What are you hoping to achieve with it?