As mobile technology gets more sophisiticated, businesses operate increasingly in real time. As a result, marketing on-the-go becomes more commonplace. Here are 6 iPhone apps that every modern marketer should check out.
1. Facebook
Facebook users are likely to find its iPhone app counterpart familiar. The mobile app includes many of the same features under a similar interface.
One critique of this app is it that where it makes a compromise, it does so at the expense of the businesses aspects of Facebook. Examples are editing pages and groups, as well as managing Facebook ads. Nevetheless, this app can be useful for managing the communications aspects of Facebook.
Price: Free
Get the Facebook iPhone app
2. Twitterrific
Twitterrific is a popular Twitter iPhone app. It is similar to the original Twitter.com interface, so if you never left that boat, you will be able to adjust easily. Its easy photo uploading interface might even be an improvement from web applications, due to the iPhone's handy built-in camera.
For those used to desktop Twitter applications like TweetDeck and HootSuite, Twitterrific is admittedly less sophisiticated. Features it lacks are viewing multiple columns, scheduling tweets, and autocomplete on Twitter usernames. Since Twitter has such a real-time nature, it is worth overlooking these minor shortcomings and getting a mobile Twitter app.
Price: Free
Get Twitterrific
3. Grader
Grader is the new iPhone app from HubSpot. The Grader.com website it is based on is a 'suite of tools that helps you measure and analyze your marketing efforts'. The iPhone app grades and provides data about the online influence of your website or twitter account.
Price: Free
Get Grader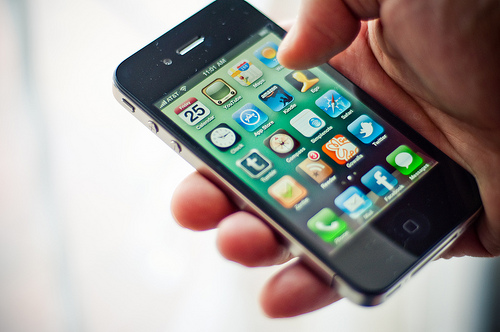 4. Analytics Pro
Analytics Pro is the online version of Google Analytics. True to the original, the app offers detailed information on your website's visitors, referral sources, top content, and more. The app even supports multiple Google Analytics accounts. All these rich features are nicely packed into a mobile interface.
Any good marketer doesn't just 'do' marketing, but also measures the results of their marketing efforts. Analytics Pro will help get this job done, anytime and anywhere.
Price: $6.99
Get Analytics Pro
5. LinkedIn
The LinkedIn iPhone app helps you manage your online professional network on-the-go. This can be quite useful if you post updates to LinkedIn, or actively use LinkedIn features such as Groups or Answers.
Price: Free
Get LinkedIn for iPhone
6. GoDaddy.com Mobile
GoDaddy.com is a popular domain registrar. It helps you buy and manage your online domains. The iPhone app provides a neat interface for you to do these things whenever the inspiration or need strikes.
Price: Free
Get GoDaddy.com Mobile
Are there other iPhone applications you rely on for marketing? Share them in the comments.
Photo Credit:
Jorge Quinteros