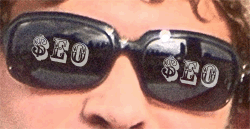 This is a guest post by Todd Hockenberry. Todd is the owner of Top Line Results an Orlando, FL business-growth advisory firm specializing in delivering top line revenue growth at small to medium sized companies, with a special focus on manufacturing firms.
This is a story of how a small manufacturer of niche capital equipment for large energy companies got taken to the cleaners by their SEO "expert".
First the background. The manufacturer (let's call them Client 1) hired my company to help them improve revenue performance through sales and marketing process development, sales channel improvement, and market focus. During our initial sessions we asked about the website and the leads being generated. The owner of Client 1 was happy with the design work done on his site but not with the lead generation. He was especially not pleased that they were failing to close any business that came from the website leads.
Client 1 had hired an SEO company (SEO1) and was being billed $1,600 per month with $600 for website management and SEO, $600 for PPC campaigns, and $400 to manage PPC campaigns.
For the $600 SEO and website management fee (4 hours at $150 an hour) the agreement between Client 1 and SEO1 included the following monthly tasks:
Setup/integration of meta tags, page titles, alt tags, headers, etc
Monthly report and quarterly detailed analysis
Landing page content with optimization
Long term keyword analysis development
Link building - internal and external
Directory investment evaluation
Website traffic analysis and optimization
Conversion improvement with Google Website Optimizer experiments on landing pages
Competitive awareness and analysis
It sounded like Client 1 was getting a lot of things done in just 4 hours.
However, upon closer examination an interesting picture emerged. These are actual verbatim quotes from the activity report of SEO1.
25% of the billed time was spent "reporting back links and keyword ranking reports." That's a lot of reporting.
SEO1 charged Client 1 an hour of time for "testing Kaltura embedded video player." The client did not need this sinceYouTube works just fine. Shouldn't they have done this on their own time?
My personal favorite was charging one hour for "client GoTo meeting and prep." That's an hour to set up for a meeting to review their work with Client 1. Feel free to insert a snarky comment here. Mine is "Have they no shame?"
There were other line items about changing ALT text, H1 headers, ALT tags, and page titles. But here's the thing; each line item was specific to one ALT tag or one H1 header and the time taken was never less than 15 minutes, and many were for 30 minutes!
Bottom line was that 8 months after the launch of the new site, Client 1 had a nice new design but mediocre keyword rankings, resulting in a low volume of traffic, qualified leads and no sales improvement to speak of. It looked to me like SEO1 intentionally neglected on-page SEO in order to emphasize PPC (where they 'earned' even more management fees) and make the relative results of the PPC campaigns more pronounced.
Why would I make this charge? Look at the chart below of just three of the main keywords for Client 1:
| | | | |
| --- | --- | --- | --- |
| | Cost per click Google | Search Rank | Difficulty |
| Keyword 1 | $3.21 | 12 | 69 |
| Keyword 2 | $1.86 | 19 | 68 |
| Keyword 3 | $2.43 | 11 | 66 |
Once the site was launched, the text on the page did not change ! SEO1 made little effort to add content to the pages themselves, nor did they try to attract or build links to these pages, in order to improve SEO rank for these keywords. Eight months and not one suggestion to improve on-page keyword density, write a blog article, nothing !
These were long tail keywords and perfect targets to earn very high, page one, organic Google rankings. The only effort made was to tweak a few ALT tags, ALT text, and H1 header changes. If a bit more SEO effort had been made, organic keyword ranking would have gone up, good prospects would have found them, and the likelihood of increased sales would have improved greatly. Furthermore better organic search rankings would de-emphasize the need for costly PPC campaigns that yielded Client 1 no new customers but did line the pockets of SEO1.
Make sure you evaluate your SEO provider and hold them accountable. Here are a few tips to help you get your money's worth and keep them on their toes.
Have specific goals like 'X number of new leads generated' and '5% conversion of visitors to lead.' A good SEO partner will insist on these value metrics before you hire them.
Base your ongoing evaluation on these metrics and make them show you concrete results like increased leads or increased organic traffic. Do not let them dazzle you with things that ultimately do not matter to you like impressions .
PPC can be a very effective way to generate leads and increase the potential for sales. Make sure you follow the 1st two suggestions in particular for a PPC campaign.
Know the details of what works and does not work for SEO and generating inbound leads. This is not magic or voodoo but definable and knowable. Use a reputable partner that uses proven tools like those available through HubSpot.
Have any of you had any experiences where you thought you were being ripped-off by your SEO agency? If so, how did you find out and what steps did you take to change agencies?
Photo by: shortCHINESEguy