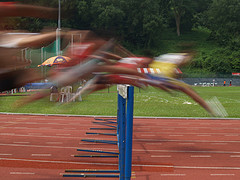 Blogging and creating content is an essential part of any good SEO strategy . Blogging means more pages on your site, more keywords being used, and (if your content is good) more inbound links. It sounds simple when you think about it; all I need to do is write a little each week about a topic I'm already an expert about, and BAM, watch the leads roll in .
However, while the benefits of business blogging are real, there are a few hurdles to jump over. What do I write about? Where do I find the time to do it? Who is going to write these posts -- they aren't going to write themselves! We asked the HubSpot Partners for a few of the tips they tell their clients when it comes to blogging.
Blogging Best Practices
Before even starting to blog, Kuno Creative's John McTigue feels that one of the most important steps in blogging is to set up goals each month. This way you have a set point to work towards. If not, it's easy to fall into the trap of not doing anything.
When it comes to brainstorming content, SmartBug Media's Ryan Malone suggests his clients use Evernote to "snip" articles that are related to their industry as they read them. He also recommends setting up Google alerts for pertinent topics. Then when the time comes for blogging, clients find that they have a whole folder of inspirational ideas.
Ryan goes on to note that you don't always have to create content from scratch. Taking an article and adding some insights of your own is an acceptable blogging strategy. He says "It also has other side benefits – you become the hub for all the research in your space…and you also get great retweet and share traction."
Another content trick comes courtesy of Inbound Marketing Experts' Andy Xhignesse. He suggests first looking at the list of keywords you want to target. Then develop one post around each keyword. Exhausted your list? Andy recommends his clients go back and try to think about and post 10 different articles about the same material. One article might not resonate, but another will.
With these tips, you'll be churning out blog posts in no time! What other strategies have you found to be successful?