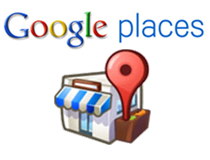 Google Places is the phone book of the Internet. According to Google, 97% of consumers search for local businesses online. This means your business must be registered and verified with Google Places, or you run the risk of not getting found. It's free and it only takes 5-10 minutes to set up. If you want people to find your business then you better have a Google Places account.
If your business doesn't have a physical location than Google doesn't recommend you create an account. Google states, "Only businesses that make in-person contact with customers qualify for a Google Places listing. Businesses that are under construction or that have not yet opened to the public are not eligible for a listing on Google Places."
The most important thing you need to do when setting up Google Places is to verify your business. Google has three options to help you verify that your business exists.
Verification by Phone
Verification by SMS
Verification by Mail
Verification lets Google know that your business is real and that Google needs to start displaying it in the search results. You should use a business email account and, if possible, an email account that matches your business' website domain.
Here are the items you must get right when creating your listing:
Business Name
Business Address (physical business location)
Local Business Phone Number (not the toll-free number)
Website URL
Hours of Operations
Areas Served
I highly recommend you write a very compelling business description, which explains why you're in business, how you can help people, and what you do.
You should add photos, videos, and offers to show people the business location, its value and to build trust. You can also highlight special promotions, post live updates, and respond to reviews from your Google Places account.
So now it's your turn. Go create your Google Places account now!
Click here for more information about best practices and what you should avoid when creating your account.
Do you have any suggestions or tips for new Google Places users?