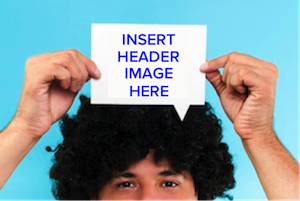 About a month ago, Twitter unveiled a brand new profile design, and a lot of us waited with baited breath to get it. It wasn't that different from the old design, but it was new! Shiny! More visual!
It was also frustrating for some. You spent time optimizing your Twitter header, profile picture, and background -- this felt like one more hoop you had to jump through to keep your social media presence in tip-top shape.
Look, a bad header photo won't be the death of your Twitter marketing. You don't need to spend hours and hours trying to perfect it. But if you're using Twitter to build your business, having a great Twitter header shows your followers that you know what you're doing with the platform -- thus, you probably know what you're doing with your business.
So if you're looking to get inspiration for your new header, keep on reading. We dug through lots of brands to find 13 of our favorites -- including those "boring" B2B brands.
P.S. If you're feeling jazzed about updating your Twitter header, but don't have access, click here to enable it yourself. Then, get designing using our free Twitter header templates.
Even if you're not a fan of fresh fruit, Chobani's header will make your mouth water. Just look at those vivid, high-definition colors! A lot of people are uploading Twitter headers that aren't high enough resolution, so follow Chobani's lead and choose Twitter headers that aren't pixelated.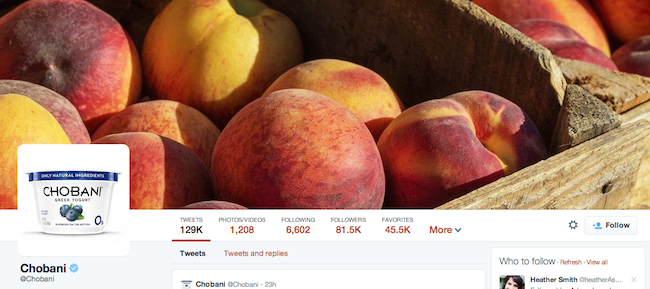 It makes sense why Canva, a super simple-to-use design app, would have a gorgeous Twitter header image -- they make design software, after all. Their collage of Canva designs looks striking, but not distracting, because it contrasts so nicely with the profile picture.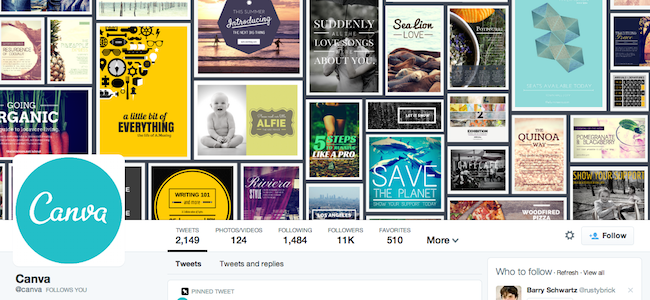 Ahh, Taco Bell, the social media darling marketers can't help but love. They're rocking almost every social platform imaginable -- Facebook, Twitter, Instagram, Pinterest, and even Snapchat. Even their Twitter header is a cross-platform promotion -- it's a repurposed Instagram photo. Perfect to remind you that Taco Bell is a social brand while also saving them time creating a header photo from scratch.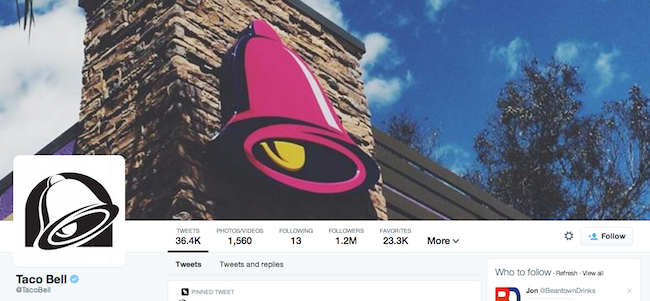 Header photos are made to be long and skinny, so you've got to make sure that the layout of your photo fits nicely in that space. Lots of people will resort to having a long and skinny design, but lululemon athletica shows us that we can creative with the photo's layout. By cropping the subject and rotating the photo, the image works in the header space. Think about how you can get creative with your header photo, too -- it doesn't have to be a horizontal orientation to look great.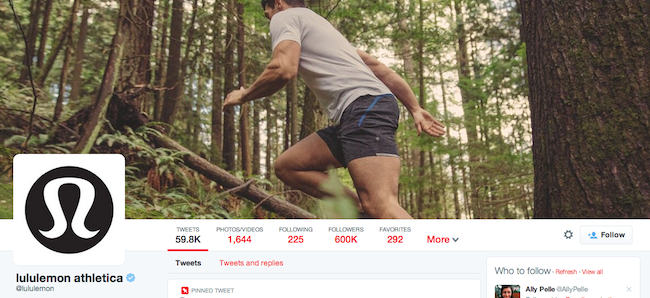 For those of us who don't have professional or stock photography at our disposal, here's a great example to inspire you. Basecamp, a project management software company, doesn't have a product that's easy to showcase through photos, either. Instead, they use a collection of icons to portray what the company does. The checkmarks, conversation bubbles, and to-do lists all make you think of one thing: productivity. Mission accomplished (with no photos needed)!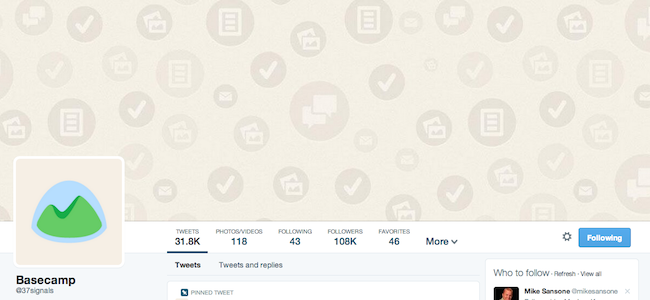 Though Starbucks is a huge brand, their header image looks like you could easily hack it yourself in Photoshop. And that's a great thing. Not all Twitter headers need to look like they came out of a professional design shop, especially if your brand is more casual. If that sounds like you, think about how you can emulate Starbucks with just a few edits to a free stock photo.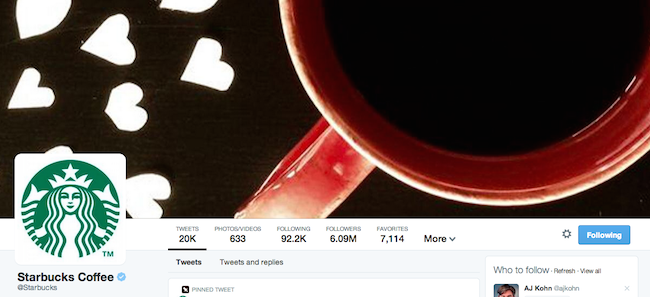 Here's another example of a collage in a Twitter header. The best part about this? The App Store didn't have to create those icons ... those are all "user-generated" icons for each app in the store. In your own Twitter headers, think about how you could gather some user-generated content for a quick, yet effective, Twitter header photo collage.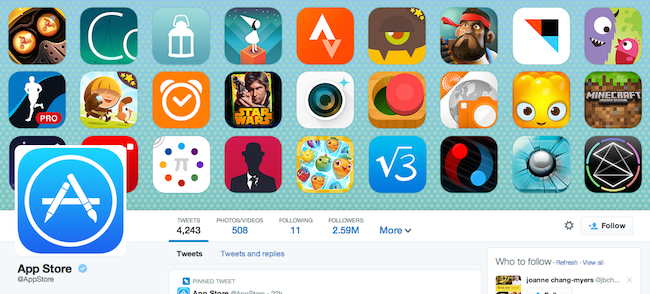 I know what you're thinking. What's so special about an almost-black header? Not much -- but it's a huge step up from the only other option you have if you don't upload an image to your header. Twitter offers a plethora of flat-looking colors, but HBO's shading is a polished and elegant alternative.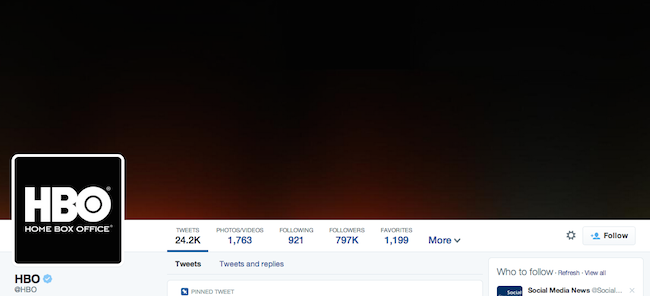 Header photos are also a great way to showcase recent campaigns you've been working on -- if you can do it in a simple (read: not overt and spammy) way. Uber does a great job of this in the header below. Their image is taken from their 100 cities campaign, but because it's a relatively simple design, it doesn't feel spammy to people who aren't clued in to the campaign.
There are two reasons why this header image is awesome: its negative space and bright colors make it pop off Caterpillar Inc's profile. The Caterpillar trucks aren't the main focus -- most of the header image is on the scenery behind the trucks. The negative space makes the whole profile feel clean and uncluttered. Then, the yellow bar at the bottom ties it all together -- the header image, profile picture, and Twitter link color all have the same color scheme. We love how coordinated Caterpillar Inc.'s design is.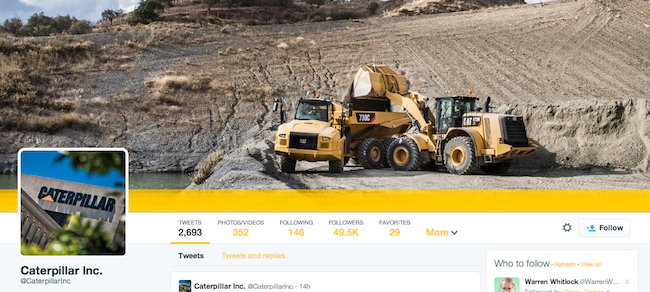 Here's a third example of collages working for Twitter headers -- noticing a pattern here? The reason we included this one in the post is because of its orange tinge -- the perfect way to feature community content while making it specific to your brand. Nice job, GoToMeeting!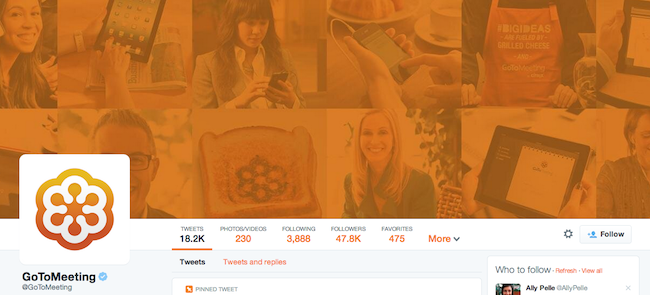 Whether you're a sports buff or not, it's hard not to be inspired by Nike's header image. Like in some of the previous headers, Nike uses lots of negative space, though this time, it's set off by their slogan in the bottom right corner. In your own headers, think about creative ways of working in text to the overall image layout.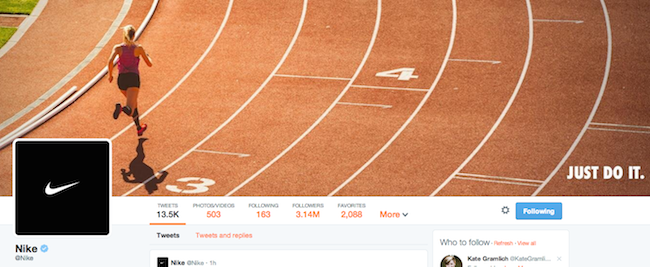 For "boring" brands, it can feel tough to find images that'll knock your Twitter followers off their feet. If you're feeling uninspired, check out UPS -- the shipping company designed a really interesting and engaging graphic to promote their latest campaign. The point of including this on here isn't to say that you need to have the design chops to design this yourself or have someone on your team to do something like this. Just know that there are ways you can get creative if you're not a "hot" B2C brand.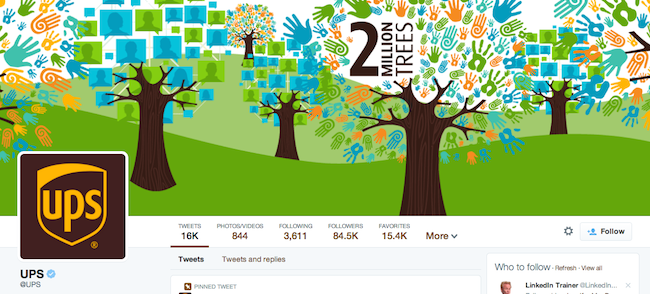 What other awesome layouts have you seen from brands on Twitter? Share your favorites with us in the comments below.