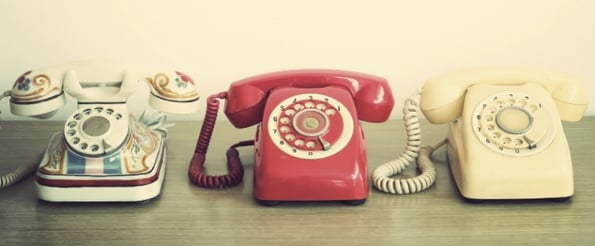 Now more than ever, marketers are tasked with showing return on investment for all campaigns that drive qualified leads. In situations where marketing departments work closely with an advertising or marketing agency to help with campaign development, the pressure of showing strong results and analytics is no doubt passed on to any of the project's contributing partners.
With the surge of digital advertising opportunities in the past five years, analyzing campaign success has become easier with the many software tools available. Even many traditional channels link back to comprehensively-tracked landing pages, social pages, or custom web pages. Until more recently, however, the one area that has been difficult for marketers to understand customer behaviors and analytics is direct phone calls resulting from advertisement views. Now, with systems in place that allow in-depth call tracking, marketers have access to wide-ranging data that provides greater analysis of inbound calls.
Before we review why call tracking software integrations can improve a campaign's results, let's take a look at some of the statistics behind consumer behavior in regard to mobile use and why this information is crucial for marketers (via Invoca):
83% of consumers use their phone to research products while in-store.
42% of U.S. consumers purchased a product on their mobile device.
B2B buyers are 63% through their buying cycle before they even speak to a sales representative.
70% of mobile users have clicked to call a business from search.
61% of mobile searches result in a call.
Marketers see a 30% increase in inbound calls by making a phone number more prominent on a web page or advertisement.
We know consumers are relying on mobile for many product purchase decisions and call-tracking data can provide crucial insight for businesses that see a lot of inbound call volume. But, how does it work? There are tools available that make the process simple to set up and easy to use. Within a few minutes, you can insert your campaign specifics into call tracking software and set up a new phone number to use for your next campaign. The best feature of call tracking software, like Invoca, is that it integrates with HubSpot or other automation platforms.
As an agency partner, I've recommended call-tracking resources to clients over the past couple years and have found them to be helpful in a number of areas of marketing and sales alignment. Here are five ways I've found call tracking can be most beneficial for campaign success:
1) Includes a unique phone number on traditional advertisements (TV, radio, and direct mail).
Using a PURL (personalized URL) or tracking URL is one important campaign tactic, however, leveraging a trackable phone number is another tactic that will offer even more ability to analyze success factors. This is especially important when you consider that phone leads often get overlooked, or all together excluded from quantitative campaign results. A call-tracking system will not only provide you with record of the calls that directly result from a particular ad or promotion, but you may also set up email alerts to track visitors' engagement with your site, and then call to follow up with leads.
2) Provides source identification for inbound calls.
Using a dynamic phone tracking number will allow you to discover which ads, campaigns, and keywords are driving phone conversions. With tools like Invoca, the dynamic number insertion will automatically show the right tracking number for each visitor on your site. Additional source identification benefits include:
Analyze calls to gauge a prospect's strength or weakness. Route promising prospects to sales and other relevant team members.
Adjust messaging as needed to make sure sales and stakeholders are using the most effective method of communication with prospects and customers.
Track phone calls the same way you track clicks. Feature phone numbers prominently and route inbound calls intelligently/dynamically to deliver a more personalized and positive buying experience.
3) Measures which web pages drive the most calls.
An essential analytical element of inbound campaigns is a comprehensive understanding of what pages drive the most views, form downloads, interaction, etc. That said, if I ask what pages of your website drive the most calls -- it's likely I'll hear crickets. However, this information could be critical not only while analyzing the success of a campaign, but also when considering website updates/design changes, and to help increase conversions in specific areas of your site.
4) Includes functionality to listen to inbound calls.
As an agency representative, I can't express how important this function is when providing value to your client marketing and sales partners. For starters, this feature allows you to hear first-hand the prospect's concerns, pain points, and interests in specific products/services. This feature could also provide unlimited content ideas for blogs, web pages, and more. You also have the opportunity to listen to your client's sales process and the questions they ask. All of this information can be used to improve marketing automation and provide valuable information to the sales team.
You will also gain insight into the quality of customer service being provided and be able to make any recommendations that may improve processes. For example, our agency's call tracking resource has provided our team with information that was forwarded on to notify c-suite representatives of customer service issues that needed to be fixed, and that they may not have otherwise been aware of without the service.
5) Places a higher value on inbound calls.
Marketers should take time to understand how inbound calls can fit into their business objectives and give some thought to how to best optimize these calls. As part of your customer's journey, call-tracking technology can work in conjunction with your current software systems and provide helpful information for current and future campaign improvements. Here are a few ways to get the most out of your inbound calls:
Be sure to include a phone number in a prominent location on your website, lead forms, emails, and landing pages.
Use phone numbers strategically in traditional and digital advertising.
A/B test with phone numbers and call-based CTAs.
Include a phone number on various pieces of content.
Integrate call tracking with marketing automation and CRM.
Always use call tracking phone numbers on various campaign elements.
Whether you are simply analyzing campaign leads or listening to recorded calls to provide valuable insight to client partners, resources like Invoca and other call-tracking tools help drive inbound calls and turn them into sales. With automation functionality and comprehensive reporting tools, marketers don't need to worry about adding to their already long list of channels to manage; rather, they can focus on insightful data that can lead to positive results.
Has your team considered using call-tracking tools to support campaign efforts? What resources and functions have you found most valuable?
Invoca, a complete call intelligence and analytics platform for inbound calls, is now a HubSpot integration partner. Check it out here.