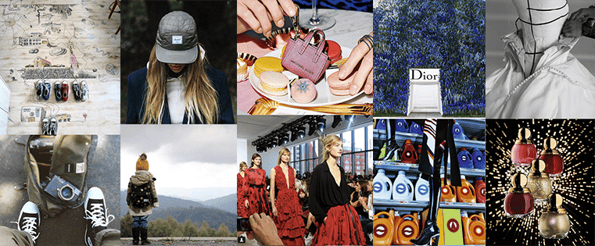 Instagram has long been the favorite of retail brands.
It's the ideal shopping platform. But because of the limitations of the site -- you can't include links to outside sites, such as product pages -- retailers can't tie revenue back to the social network.
They can, however, see that engagement is far and above the rates seen on other social platforms.
L2 studied the top fashion brands earlier this year and found that "... of the 67 top fashion brands on social media, engagement is up 77%, while frequency of posting has shot up from just over eight posts a week to 10 posts a week," according to Digiday.
Source: Digiday
And recently, the visual social network has been making steps forward to make Instagram more valuable to brands -- albeit in the form of paid advertising. In March, it introduced carousel ads, which feature a series of images and links to a landing page, and in June, Instagram debuted a Shop Now button for ad units to help brands tie engagement to commerce.
If you want to better understand where commerce on the site is headed and how to use Instagram to build a strong social campaign, check out these 10 fashion brands that are excelling at the art of Instagram.
10 Fashion Retailers That Are Winning on Instagram
With more than 27 million followers, the athletic brand is the most followed fashion brand on the site, and it also claims the top spot in number of hashtag mentions, according to a study by Macy's done in July 2015. In fact, when they compared the brand to other companies, Nike is in a category of its own: The next contender in the category is Adidas Originals, which has an impressive list of more than 8 million followers but is nowhere near the level of Nike's presence.
The brand has a strong play with its many athlete endorsers, such as Serena Williams and Manny Pacquiao. But it also features inspirational quotes and well-staged photos and videos of its shoes, clothes, and products.
Dior's account featured its iconic print ads, photos from its runway shows, street style pics, snaps of celebrities wearing its clothes, and styled product shots. It's a colorful mix of images and videos that celebrate the nearly 70-year-old brand.
Trippy videos, celebrities, and close-up shots of the iconic mirrored C's make this an account worth watching. The brand's images show off its love for mixing colors, textures, and patterns, while also highlighting its Parisian history.
Everlane sells high-quality yet simple essentials -- tees, dresses, shoes, and backpacks are without much flair or extras. It's also known for its transparency in how it prices its clothes and where they are made. The brand's account on Instagram adheres to this style, featuring simple product shots, minimalist design, and city pictures.
Modcloth highlights its vintage-inspired style in its Instagram account with photos of outfit ideas, user-submitted images of its fans wearing its clothes, and product shots. It has a fun series where people can submit photos of their animals in the brand's delivery boxes, and it runs promotional images to drive interest to its current campaigns.
The brand's Chuck Taylor shoe line, which was launched in 1917, sells more than two pairs every second, and it has made Instagram a key part of its marketing strategy. The brand mostly shares photos from users, featuring its white toe and thick laces covered in paint, surrounded by fall leaves, or jumping off to some adventure -- supposedly.
"It" girl Gigi Hadid is the face the brand's 2015 fall line, but Cara Delevingne, Rosie Huntington-Whiteley, and other celebrities also frequently appear on the brand's feed. Topshop's photos promote its in-store events, runway shows, and those spotted sporting its wares.
Check out Michael Kor's feed for inspiration on how to photograph and promote products. While it could seem too promotional, it just shows that a well-styled shot of a great product paired with fun copy can be the perfect combination.
The maker of bags meant for traveling follows this principle in its Instagram account, featuring shots of people exploring the world and bringing their Herschel bags with them. It also has a series for the organized packer -- pictures of the contents of a person's bad are neatly displayed.
J.Crew's feed is full of bright colors, fresh-faced models, and the preppy-relaxed style the brand is known for. Many of the updates are to drive followers to a page of its Instagram photos that lead to the online product page. It's one interesting way to get around Instagram's current policy that doesn't allow links in updates.