Consumer sentiment for a brand is like a fire. During the good times, it's a roaring campfire, emanating heat and light and making everybody around it happy. During the bad times, it's the flickering flame of a candle, barely shining through the darkness. And during the really bad times, the fire is roaring once again ... but only because everything is burning to the ground.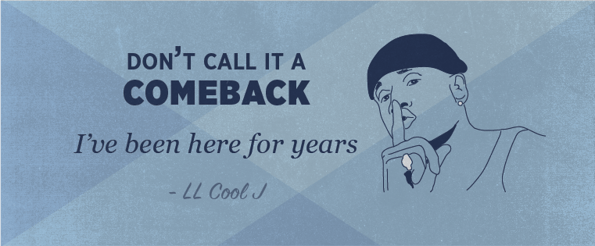 The strongest brands are run by marketers who know how to manage the fire. In some cases, that means dousing the flames, and in other cases, it means rekindling them.
Unfortunately for some brands, one major scandal or financial setback, and that's the end -- they're just never able to recover. For others, like Chipotle, we don't know how the story's going to end. It seemed as though the fast food icon was on the upswing following that multi-state E. coli outbreak. They issued public apologies, updated their food safety protocols, and launched a new ad campaign focusing on how darn safe their food is (now). And thennn norovirus struck.
But hey, I'm not here to depress you. I'm here to highlight the good stories, the stories about brands that made successful comebacks after nearly burning out.
6 Examples of Flawless Comeback Campaigns
1) Converse
Source: Zoe Waritz
In 1917, Converse launched the first mass-produced basketball sneaker: the All Star. It was lightweight, had a protective toe cap on the front, and sported a pretty nifty ankle patch. In 1932, Converse signed basketball star Charles Hollis ("Chuck") Taylor to help market the All Star, which is how the sneaker earned its iconic nickname, the Chuck Taylor.
Following the founding of the NBA in 1946, Chuck Taylors quickly became the most popular sneakers in the league. But by the 1980s, the competition -- namely, Nike, Adidas, Reebok, and Puma -- had gotten fiercer. Flash forward to 1998, and Converse was claiming just 2.3% of the market share.

Ultimately, one of Converse's competitors (Nike) stepped in and bought the company in 2003. But that was by no means the end of the Converse brand. Under new leadership, Converse went in a new direction by embracing their "old-school" style, which had appealed to generations of rebellious rockers over the years. As part of their brand overhaul, Converse produced special Kurt Cobain and Ramones editions of their Chuck Taylors. They also had fashion designer John Varvatos create a high-end line of Chucks.
This new, fashion-focused direction for Converse culminated in 2007's "Chuck It" campaign, which featured black and white photographs of model Daisy Lowe (daughter of rocker Gavin Rossdale). The campaign evoked the rich, cultural history of the Chuck Taylor, and helped reinvent Converse as a lifestyle band.
2) Lego
Source: 9GAG
In the late '90s, LEGO became obsessed with expanding their brand via new, innovative product designs. And while that might have sounded good in theory, in practice it meant manufacturing thousands of new, unique pieces, and promoting action figure-esque toys that had little connection to the classic LEGO brick systems.
LEGO felt the repercussions of this strategy decision in 2003, when the company lost $300 million on the year and projected a loss of $400 million for the following year. Turns out all those crazy new designs LEGO created had never actually resonated with their target audience: kids. So when Jorgen Vig Knudstorp took over as CEO in 2004, he took a new approach to LEGO product design: Ask the kids what they want.
And as LEGO discovered, kids didn't want to play with pre-built, LEGO-branded action figures. They wanted to build. So LEGO got rid of all those new, super-fancy pieces they had introduced in the late '90s, and had their marketing team (who had done extensive research) work with the product designers to make sure they were creating LEGO lines that kids actually wanted.
In 2006, LEGO commissioned the agency Blattner Brunner to create a campaign that reflected this new direction. "Imagine" got back to LEGO basics by showing classic bricks casting shadows that resembled more complex objects, imitating how kids use their imaginations when building with LEGO. This Cannes Lions award-winning campaign signaled LEGO's incredible comeback.
In 2015, which LEGO declared its best year ever, the company brought in $5.2 billion in revenue, making LEGO the second biggest toy company in the world.
3) Pabst Blue Ribbon

Source: USA Today
Sometimes the best advertising is no advertising at all. For PBR, a beer born in the 19th century, the key to making their comeback was to forgo traditional advertising altogether. No billboards. No radio spots. No TV commercials filled with sports jersey-clad bros cracking PBRs and high-fiving. Instead, when PBR sales hit rock bottom in 2001 -- and they couldn't have afforded traditional advertising even if they'd wanted to -- the company turned to Fizz, an Atlanta-based word-of-mouth marketing agency.
The agency's first move was to seek out those few folks who were still drinking PBR and figure out what made them tick. PBR's core audience, as they discovered, were mostly young people who eschewed mainstream brands. Or "early hipsters," as Fizz's founder and managing partner, Ted Wright, called them. Here's how Wright explained the situation:

"PBR having no money for traditional advertising was a blessing in disguise. The fact that these young people had never seen a PBR ad was a huge selling point for them ... Traditional advertising, particularly of the kind produced by big beer companies in those days, would have killed whatever tiny momentum the brand had built."
Wright's strategy for giving new life to the PBR brand: hit the streets of Portland, Oregon, Pittsburgh, and other cities and sponsor events including art gallery openings, skating parties, and bike messenger races. (No, I'm not making this up.) In the end, this non-traditional advertising strategy helped rescue PBR from obscurity and turn it into the billion-dollar brand it is today.
4) Old Spice
Source: Vimeo
Heading into the latter half of the 2000s, things weren't looking great for Old Spice. There was fresh competition in the men's deodorant/grooming products space -- Axe -- and they were soaking up Old Spice's market share like an ergonomically designed loofah.
Axe was a sleek, modern brand. Old Spice, in comparison, was stale and outdated. And sales were reflecting that more and more. One particular thorn in Old Spice's side was their "Glacial Falls" deodorant scent, which was performing terribly. So they called on the Wieden + Kennedy agency to help them formulate a new name. "Swagger" was what they landed on.
Kicked off in 2008, the Old Spice Swagger advertising campaign included print ads, TV spots, and even an interactive website: SwaggerizeMe.com (which no longer exists, FYI). The results: Old Spice ended up quadrupling sales of their once floundering product. But the Old Spice brand makeover was finished yet. Wieden + Kennedy still had to help them rejuvenate their line of scented body washes.
In 2010, the "Smell Like a Man, Man" campaign, featuring former NFLer Isaiah Mustafa, solidified Old Spice's reputation as a modern brand. One ad in particular, which contained the memorable lines, "Look at your man, now back at me," and, "I'm on a horse," pulled in millions of views online. Within six months of the campaign's launch, sales of Old Spice body wash had grown by 27%, and Old Spice was the category leader.
5) Starbucks
Source: Starbucks
In the early 2000s, Starbucks was expanding like crazy, both in terms of locations and their product offerings. While the chain had built up a loyal following of coffee fans through recreating a neighborhood coffeehouse vibe, Starbucks' quality of service couldn't keep up with its rapid expansion. What's more, by investing in non-coffee-related products -- most notably, music -- Starbucks was diluting its brand. In the eyes of the public, Starbucks was abandoning its local coffeehouse roots and turning into a cold, calculating corporation.
By 2008, driven in part by the financial collapse, Starbucks was in dire straits -- its stock price shriveling. Some analysts predicted that the coffee juggernaut would fade away into obscurity. In an effort to stay afloat, the once seemingly unstoppable coffee chain ended up closing more than 900 of its stores, laying off a huge chunk of its workforce in the process.
At a time when cash-strapped Americans were viewing coffee more and more as a commodity, and increasingly turning to cheaper alternatives (e.g., McDonald's), Starbucks needed a new game plan. They needed to convince folks that Starbucks was worth the extra cost.
So Starbucks teamed up with ad agency BBDO to launch the multi-million dollar "Coffee value and values" campaign -- the largest marketing campaign in Starbucks' history. The campaign made Starbucks coffee the star of the show once again. Ad copy included lines like " If your coffee isn't perfect, we'll make it over. If it's still not perfect, you must not be in a Starbucks," as well as, "Beware of a cheaper cup of coffee. It comes with a price."
Thanks in part to this massive campaign that focused on the quality of its core product, coffee, Starbucks was able to reinvigorate its brand as well as its business. In 2014, the company reported more than $16 billion in annual revenue.
6) AC/DC
Source: Morrison Hotel Gallery
Financial downturns are by no means the only phenomena that brands might have to recover from. And while the band AC/DC and their album (and world tour) "Back in Black" may seem like an odd choice for this list, trust me: there's an inspirational story in here.
In February of 1980, AC/DC's charismatic lead singer and chief lyricist, Bon Scott, passed away suddenly. The band had just started laying the groundwork for a follow-up to 1979's super successful "Highway to Hell," but with Scott gone, it seemed unlikely that they'd ever complete it. AC/DC had lost their front man -- their leader -- and the band's remaining members weren't sure they'd ever be able to replace him.
Eventually, however, they were introduced to (and successfully recruited) singer Brian Johnson, and AC/DC got back to work on their next album. From Johnson's perspective, it was an intimidating task: Scott had been a renowned lyricist, and Johnson was worried he wouldn't be able to live up to his predecessor. But Johnson pushed on, and the band came together to produce a little, 10-track album called "Back in Black."
Today, "Back in Black" is the second highest-selling album of all time.
Know of any other brand comeback stories you'd like to share? Sound off in the comments section below!
This post originally appeared on the Marketing Blog. To read more content like this, subscribe to Marketing.