Anyone remember Dr. Pepper-flavored lip gloss from Lip Smackers?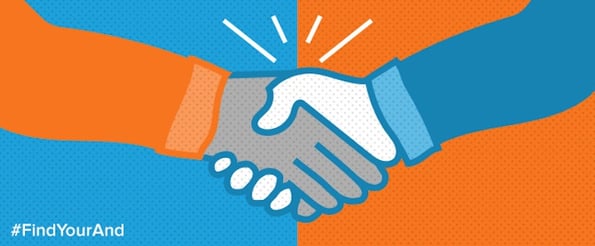 I'd venture a guess that many of you do, whether it was a staple of your own childhood or that of a loved one's.
There's something brilliant and memorable about that co-branded product: It's fun, unexpected, and involves a classic and timeless brand that's helped the flavor remain popular all the way from 1975 to present day.
(Seriously, you can still buy them.)
Strategic partnerships like that one can be a highly effective way to build a business, boost brand awareness, and break into new markets. The whole point is that the success of one brand will bring success to its partner brand, too. But for a partnership to truly work, it has to be a win-win for all players in the game. The value perceptions, target audiences, prices, and promotion channels need to match.
So, what do great co-branding partnerships look like?
There are a lot of great examples out there -- too many to list in one post. Below, we've curated a shortlist of eight examples of great co-branding partnerships to inspire you. Check them out, and add your own favorites in the comments.
8 Examples of Great Co-Branding Partnerships
1) GoPro & Red Bull: "Stratos"
GoPro doesn't just sell portable cameras, and Red Bull doesn't just sell energy drinks. Instead, both have established themselves as lifestyle brands -- in particular, a lifestyle that's action-packed, adventurous, fearless, and usually pretty extreme. These shared values make them a perfect pairing for co-branding campaigns, especially those surrounding action sports.
To make the partnership work, GoPro equips athletes and adventurers from around the world with the tools and funding to capture things like races, stunts, and action sport events on video -- from the athlete's perspective. At the same time, Red Bull uses its experience and reputation to run and sponsor these events.
"GoPro camera technology is allowing us to compliment the programming by delivering new athlete perspectives that have never been seen before," said Sean Eggert, Red Bull's director of sports marketing. The collaboration allows exclusive GoPro content to enhance both companies' growth.
While GoPro and Red Bull have collaborated on many events and projects together, perhaps the biggest collaboration stunt they've done was "Stratos," in which Felix Baumgartner jumped from a space pod more than 24 miles above Earth's surface with a GoPro strapped to his person. Not only did Baumgartner set three world records that day, but he also embodied the value of reimagining human potential that define both GoPro and Red Bull.
2) Pottery Barn & Benjamin Moore: "Experience Colors"
One of the biggest benefits of co-branding campaigns is the opportunity to expose your product or service to a brand new audience. That's exactly what home furnishing store Pottery Barn and paint company Benjamin Moore did when they partnered together back in the early 2000s.
The folks at Pottery Barn realized their customers had a special interest in paint color when they realized how many questions they were getting about the colors used in their catalogues. By partnering with a reputable paint company like Benjamin Moore, they were able to give their customers what they wanted.
Together, the two brands created an exclusive product line of paints, and then added a new section of Pottery Barn's website that helped customers easily select paint colors to complement their furniture choices.
Image Credit: Dezinable
"We're always trying to develop new tools to help consumers with the color selection process," said Eileen McComb, director of communications at Benjamin Moore. "And the great thing about working with Pottery Barn is that we're able to narrow down the palette to the paint colors that will work best with their designs. So, it's providing an extra valuable service to Pottery Barn's clientele."
The partnership was successful for years, although Pottery Barn has been collaborating with paint company Sherwin-Williams instead since 2013.
3) The Global Fund & Gap: "PRODUCT (RED)"
INSPI(RED). ADMI(RED). EMPOWE(RED). The PRODUCT (RED) campaign to fight AIDS in Africa, run by The Global Fund, has been around since 2006. Since then, it has raised more than $130 million and is arguably one of the largest partnership efforts ever. And while Gap wasn't the only company involved (there's also American Express, Apple, Converse, Starbucks, and more), their partnership is a great example of a company creating new products around a theme -- in this case, the theme of change.
In one of their first PRODUCT (RED) campaigns, the folks at Gap took photos of celebrities like Chris Rock and Anne Hathaway, both as individuals or with friends and loved ones, wearing a Gap (PRODUCT) RED item in a way that expressed their own, personal style. The photos were published in magazines like Vogue, and were accompanied by thought-provoking questions like, "Can the shirt off your back change the world?" and "Can the next generation change the world?"
Image Credit: The Inspiration Room
This partnership is also, of course, a great example of a business marketing themselves as socially responsible, which can often lead to an increase in sales. In return, The Global Fund received 50% of net profits from the sale of Gap (RED) items. Neither Red nor the companies would disclose revenue or total contributions by company or product.)
Some question the sincerity of social campaigns like this, arguing that these partnerships benefit the for-profit partners more than the charitable causes. But, while corporate social responsibility isn't going to solve the world's problems, it is a way for organizations to benefit from exposure to a new audience.
4) Bonne Bell & Dr. Pepper: Flavored Lip Balm
Dr. Pepper-flavored lip balm. I mean, it's genius.
Bonne Belle first debuted Lip Smacker, the world's first flavored lip balm, in 1973, starting with flavors like strawberry, lemon, and green apple. Just two years later in 1975, they'd forged their first flavor partnership with the timeless Dr. Pepper brand. The result? A lip balm flavor that's been famous for decades among teenage girls.
If you're thinking the connection between lip balm and Dr. Pepper is a little thin, consider the copy on one of their vintage ads: "It's the super shiny lip gloss with lip-smacking flavor… just like the world's most original soft drink." And later, "From Bonne Belle of course: the cosmetics company that understands your taste."
Image Credit: Click Americana
5) BMW & Louis Vuitton: The Art of Travel
Car manufacturer BMW and designer Louis Vuitton may not be the most obvious of pairings. But if you think about it, they have a few important things in common. If you focus on Louis Vuitton's signature luggage lines, they're both in the business of travel. They both value luxury. And finally, they're both well-known, traditional brands that are known for high-quality craftsmanship.
These shared values are exactly why this co-branding campaign makes so much sense. In their partnership, BMW created a sports car model called the BMW i8, while Louis Vuitton designed an exclusive, four-piece set of suitcases and bags that fit perfectly into the car's rear parcel shelf.
Image Credit: Louis Vuitton
Although the four-piece luggage set goes for a whopping $20,000, the price is right for the target customer, as the BMW i8 starts at $135,700. A price like that kind of makes that luggage set seem like a drop in the bucket.
Not only does the luggage fit perfectly size-wise, but its design and appearance fits perfectly with BMW's image: sleek, masculine, and high-quality. Turns out both the luggage and some parts of the car's interior use carbon fiber, strong-yet-light composite material.
"This collaboration with BMW i epitomises our shared values of creativity, technological innovation and style," said Patrick-Louis Vuitton, head of special orders at Louis Vuitton. "Our craftsmen have enjoyed the challenge of this very special project, using their ingenuity and attention to detail to create a truly made to measure set of luxury luggage. This is a pure expression of the art of travel."
6) Genius & Spotify: "Behind the Lyrics"
You might guess that two companies like Spotify (a commercial music streaming service) and Genius (a huge, online collection of song lyrics and crowdsourced music knowledge) would go together like peas in a pod. Well, their recent co-branding effort didn't disappoint.
Recently, they've been working together on a new set of collaborative Spotify playlists called "Behind the Lyrics." These are pre-populated playlists that show the lyrics of each song as it plays, followed by brief back stories explaining why certain lyrics are the way they are.
Their first one, "Behind the Lyrics: Hip Hop," was released in January 2016 and lets users listen to artists like Drake, 2 Chainz, and Rihanna while learning where some of their lyrics come from.
The lyrics facts themselves come from the crowdsourced music knowledge already on Genius.com, and the both teams did some extra work to get the functionality right and time the facts to the music. This is a great example of companies that operate in the same space -- in this case, music -- collaborating on a fun, interesting project.
(Note: Right now, this feature is only available on Spotify's iPhone app, and desktop users can check it out on Genius' website as long as they also have Spotify's desktop app installed.)
Spotify has done a series of other, successful co-branding partnerships, including one with Uber to create "a soundtrack for your ride."
7) BuzzFeed & Fur Baby Rescue
Some co-branding campaigns are more complicated than others. This example from BuzzFeed and Fur Baby Rescue is one of the simplest ones out there -- and it goes to show a great co-branding effort doesn't have to take months of planning or millions of dollars.
For this campaign, the folks at a rescue animal shelter called Fur Baby Rescue wanted to leverage BuzzFeed's readership of over 200 million people. To do this, they partnered with the folks at BuzzFeed to set up and publish an article called, "We Gave Drunk Girls a Bunch of Puppies and There Were Lots of Tears," which you can read here. The article is exactly what it sounds like: A few ladies had a few drinks, and then were surprised with adorable (and adoptable) puppies from Fur Baby Rescue.
Image Credit: BuzzFeed
The article itself is sprinkled with links to Fur Baby Rescue's website. Not to mention, the content makes it clear that the puppies featured in the video are, in fact, adoptable -- thanks to lines like, "UGH AND THEY ARE ALL ADOPTABLE TOO" and GIFs like the one below.
Image Credit: BuzzFeed
8) Alexander Wang & H&M
Anyone who's designer-conscious knows Alexander Wang and H&M aren't exactly the same caliber when it comes to quality. Shoes by Alexander Wang tend to go for around $350 a pair, whereas shoes sold by H&M tend to go for more like $35 a pair. See what I mean?
But that discrepancy in pricing is exactly why the two brands decided to partner with one another. To support their brand positioning as trendy and fashionable, H&M has traditionally paired with high-end fashion brands to offer exclusive branded items for a limited time.
In exchange, those high-end brands -- like Alexander Wang -- can expose their brand name to "a new generation of potential consumers, who will increasingly aspire to owning more pieces from his high end collection," writes Michelle Greenwald for Forbes.
Image Credit: Snobette
Which co-branding partnerships are your favorites? Share them with us in the comments.
This post originally appeared on the Marketing Blog. To read more content like this, subscribe to Marketing.