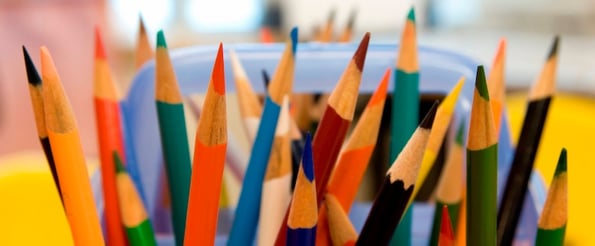 This post originally appeared on HubSpot's Agency Post. To read more content like this, subscribe to Agency Post.
I've always considered myself to be a fairly creative person. According to my mom, I practically burned through coloring books when I was little, which is why it made sense that I majored in art, then media, and wound up in marketing.
And while I consider myself lucky to be inherently creative, there are certainly some days where the ideas seem to flow much easier than others.
From a marketing standpoint, this often results in frustration. We need to be creative on a daily basis.
To avoid getting stuck in a creative rut, I've collected a series of apps and tools I call upon whenever I need a little help getting the wheels turning. Whether you're into doodling or inspiring quotes, this roundup is designed to provide you with the resources you need to get unstuck and start creating.
8 Tools to Get the Creative Juices Flowing
1) Doodle
Sunni Brown, author of The Doodle Revolution, wrote about benefits of doodling:
I use doodling for a variety of reasons: I use it to get clarity around a concept, I use it to relax, I use it to communicate ideas with others and get their refinement of them, I use it to map complex systems for companies, I use it to run innovation games for business, and I use it to get insight on something puzzling me.
When it comes to the versatile power of doodling, we couldn't agree with Brown more.
To help unlock your creative spirit, check out Doodle.ly -- a social drawing tool available for desktop, iPhone, and iPad.
It provides users with a space to scribble down their thoughts and ideas and easily publish them to share them with their network. Plus, it's free.
2) Prompts

Looking to strengthen you writing skills?
Prompts is an iPhone app that provides users with creative suggestions for what to write about.
Here are a few examples:
A glass bottle set next to ...
The thief was stopped by a ...
I'm not afraid to admit that ...
Prompts makes it easy to write from anywhere by automatically backing up your writing to Dropbox, and you can export your work to Evernote, Day One, Facebook, Twitter, or your email.
3) Coffitivity
It's not uncommon to walk into a Starbucks and see a dozen people tapping away at their laptops. The hum of the coffee machines and the murmur of conversation creates a work environment favored by creatives of all kinds.
While it's nice to escape to a coffee shop and pump out some work every now and then, some days getting out of the office just isn't a possibility.
For those days, there is Coffitivity.
Coffitivity is a unique app designed to simulate the ambient sounds of a coffee shop to help boost concentration and creativity.
Available for desktop, iPhone, and Android, this tool creates just enough buzz to help enhance your creative thinking while remaining subtle enough not to distract you.
4) Quotey
Quotes from wise and revered artists and creatives can spark our next big idea or work through a challenging creative roadblock.
With that said, if you're ever feeling stuck in a creative rut, simply pull up the Quotey app to be inspired.
Quotey is an iPhone app that can best be described as "Tinder for quotes." Users are prompted to swipe right or left to add quotes to their collection or populate a new one.
There is also an handy little share button that makes it easy for you to share a quote with your friends and followers on social.
5) Ad Filter
Unimaginative ads cramping your creativity?
The advertising organization, D&AD, recently released a browser extension for Firefox and Chrome designed to replace regular preroll ads with D&AD award winners, both past and present.
While it seems a bit hypocritical for an advertising organization to release an ad blocker, the organization insists that Ad Filter is meant to "celebrate creativity by inspiring and stimulating people in the industry and beyond."
6) Evernote
Inspiration strikes at the most unlikely times.
With Evernote, you always have a place to record your bright ideas -- no matter where you are or what you're doing.
Evernote is a modern workspace that is designed to sync across any computer or phone. This enables users to jot down their idea on one device and pick up where they left off on another.
7)
Photocopa
Whether you're a seasoned designer or just getting your feet wet, Photocopa is an awesome tool to inspire your efforts.
With Photocopa, users can upload a photo from anywhere on the web, and the tool will generate a color palette inspired by the colors in the image. To retrieve the hex code for each color in your custom palette, simply hover over the square.
This makes it easy for you to put together high-quality visuals for your blog articles, social media posts, or website.
8) Lucidchart
From brainstorming to project management, Lucidchart provides users with the tools they need to create professional-looking charts and diagrams to illustrate their ideas.
The platform is built for collaboration and employs a drag-and-drop functionality that makes it easy for non-designers to produce high-quality content without the hassle.
It's also compatible with many other programs, including Google Apps, which makes exporting and sharing different file formats a breeze.
What tool are you looking forward to trying most? What other creativity tools do you use to get unstuck? Let us know in the comment section below.
.