The truth is, your marketing department won't always get a heads up to provide quotes and recommendations to pieces written by the press. And in the instance that they do receive notice, the turnaround time might be tight.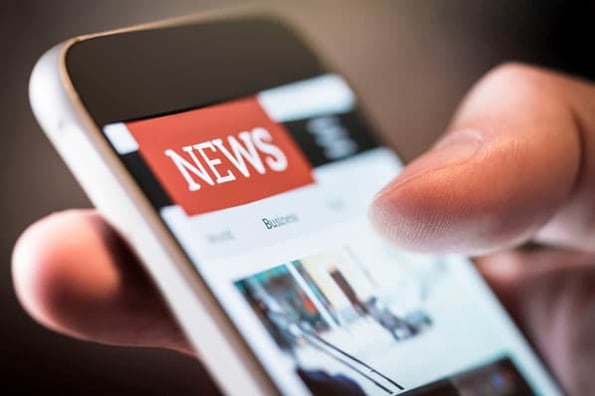 A press page can help these external stakeholders find the information they need without contacting your team, and in the case that they need to speak to someone, they can contact them directly without going through layers of bureaucracy. But what makes a great press page and how do you create an effective one?
Below, we've listed the must-have press-page elements and a few examples of some of our favorite pages on the web.
What is a press page?
A press page on your website is dedicated to your organization's branding and press contacts. Sometimes a company overview accompanies this information as well as a mission statement, core values, and a brief list of executive leaders.
The purpose of a press page is to publicly provide the press with the information they need to communicate about your organization in a way that is factual and on-brand. When creating an effective page, the goal is to anticipate everything the media might need to effectively communicate your brand to the public.
Why do you need a press page?
The benefit of having a press page is that general information about your company is made public — that means your marketing or PR team won't have to field calls and provide it to members of the press one at a time. A press page can also help you rank in the search engines for branded keywords. Overall, a press page gives anyone who wants to speak about your business access to the facts so they can speak about your business accurately.
6 Elements of the Perfect Press Page Design
Contact Information
Company Overview
Noteworthy Media Mentions
New and Existing Press Releases
Media Assets
Brand and Style Guide
1. Contact Information
At the very least, you'll want to supply people with the phone number or email address of whoever is in charge of handling media requests for the company. While factors like company size and industry may influence how much information you should give away, feel free to also list the name(s) of those in charge of inquiries, a mailing address, and information specific about other office locations.
To illustrate what this could look like, check out this example from Etsy. Rather than leaving people in the dark, Etsy addresses its contact information before diving into any other company details:
2. Company Overview
The focus here is to provide just the right amount of detail without sacrificing clarity and length. Essentially, you want visitors to be able to quickly and easily grasp what it is that the company does without any confusion or need for further clarification.
Here are a few fundamental elements that you should aim to include:
When the company was founded and who was involved (founders, investors, etc.)
What the company does
Office location(s)
Company size
Noteworthy growth statistics
If you're looking to provide more context, consider presenting additional information in the form of a timeline. This is an effective format for those looking to extract quick bits of information and gain a better understanding of the company's progression. Instagram's press page serves as a great example of how to execute this approach:
3. Noteworthy Media Mentions
Has your client been interviewed or quoted in an article? Has the company received any awards or nominations? What about a product or service mentioned in a noteworthy publication?
Any and all of these instances are worth linking to on the press page, as detailing media coverage helps to position the company as both credible and newsworthy.
We love the way that Birchbox presents its recent news features in this clean, organized list. However, what stands out most about its approach is the inclusion of the publication's logo. These recognizable visuals help to capture the attention of those scanning the page for quick hits.
4. New and Existing Press Releases
Press releases are commonly thought to be long, buttoned-up documents riddled with buzzwords; however, that's not always the case.
Facebook organizes its press releases in a way that is both informative and easily digestible. At a glance, visitors can scroll down the page to check out headlines accompanied by an image and a brief explanation of the announcement.
5. Media Assets
When a media source goes to write something up about a company, it will first need to get its hands on a few important assets — visuals, bios, social media links, etc.
To eliminate back and forth requests, your client's press page should serve as a hub for the following things:
Logos. You may want to include several different variations of the company's logo. For example, many companies have both a dark version of their logo as well as a lighter variation that can be used to ensure contrast and optimal visibility when placed against different backgrounds.
Screenshots. If your client offers an app or software, clear, up-to-date screenshots are a critical piece of the puzzle. Don't be shy about how many different views you include — the more the merrier.
Headshots and bios. At the very least, you want to include high-quality headshots and current bios for any of the company's CEO, founders, or executives (links to their social media accounts help, too).
Office photos. These are of lesser importance than the assets listed above, but it's not uncommon for people to go looking for office photos to use as a featured image or within an article.
6. Brand and Style Guide
Another section you'll want to include on your press page is your brand and style guide. This document gives the press tips on how to communicate your brand to the public.
A brand and style guide includes your brand colors, typefaces, and logo usage guidelines. Some comprehensive brand and style guides include tone and voice recommendations as well as videography and photography guidelines.
Check out Canva's press page below. There are four tabs at the top of the page that make it easy to navigate between the latest news releases, visual media, brand guidelines, and official Canva contacts.
Press Page Examples
GE's press page, called GE Reports, uses a simple format to show off as many news stories at once. They also offer helpful tabs that link to media resources. This allows the press to see multiple headlines about the company and find whatever other resources, assets, or contacts that they would need to build a story all in one place.
When Snapchat wants to share important news, the company publishes it on its news page. While this page is simple and mobile-optimized with one column of news, the bold colors draw the reader's eye down the entire page where they can find more stories or contact a media representative at Snapchat.
Although the page is pretty simple, the company also includes a "see more" button so those who want to learn more about each story know where to go next.
Apple's news page looks a lot like a page you would actually see on a news website. Most stories have a unique visual attached to a headline and blurb. Because Apple's news is often about products, this gives them a chance to show any imagery, such as new product shots, as well as the longer text-based descriptions of each news item.
Boxed has a simple yet functional press page that gives the press a look at the company's most recent news features. The call to action at the top of the page invites visitors to contact the media team directly via email. These two features keep the page clean and focused on sharing Boxed's latest and greatest updates and connecting the press with the right people to get the most accurate information about the company.
Sometimes, it's OK to name-drop, and we see it in action with Bleach.Pray.Love. This press page kicks things off with mentions from Martha Stewart, Katie Couric, and Chatelaine to lend credibility to the business. The press can use these big names in articles and press releases to paint a picture of the company, who it serves, and its reach within the household cleaning supplies market.
Elegant and minimal describe the Fenty Beauty press page. This brand puts a different spin on the traditional press page by including influencers as an extension of their media team. Here, the press can find content like reviews, tutorials, and testimonials of Fenty Beauty in order to get a real-life depiction of the brand.
If you're taking inspiration from this company's press page and using influencers as your proxy spokespeople, you'll need to make sure your customer experience is exceptional and consistent. Check out our article on customer experience for tips on building up this part of your business.
If you're looking for an example of a press page that's to-the-point and functional, get inspired by Adidas' media page. It includes contact information for various leaders within the company as well as a link to the company's about page. Although Adidas doesn't provide access to a brand guide, logos, or other media elements, it does share direct contact information with high-level team members who are prepared to be the spokespeople for the organization.
What we love about Dave & Buster's press page is that it includes photos and videos that are available for use by the media. This makes it much easier for the press to not only write stories on the brand but also feature b-roll footage on live television to visually communicate the brand as well.
A searchable press page is a dream come true for media professionals looking for a quote, stat, or another resource regarding your company. Pepsico has implemented this unique feature into one of several press pages. Below the search boxes, there are several recent news stories regarding the company's latest activities. On the other press pages lie a company overview, formal press releases, and media downloads like logos and product images.
Build a Newsworthy Press Page
As you can see, there's no secret formula to the perfect press page. A few simple elements and an easy-to-navigate design can make your press page newsworthy. Take inspiration from these examples to build a webpage that suits media professionals, customers, and stakeholders who want to discuss your company publicly.
Editor's note: This post was originally published in [Month Year] and has been updated for comprehensiveness.