Today, Google came out with a counter punch to Facebook's Like button. Earlier today, the search engine giant began rolling out a new button called +1. The +1 button will apear next to search engine results and AdWords advertisements. In the future, website owners and publishers will be able to add a +1 button to pages and articles on their sites.
How Google +1 Works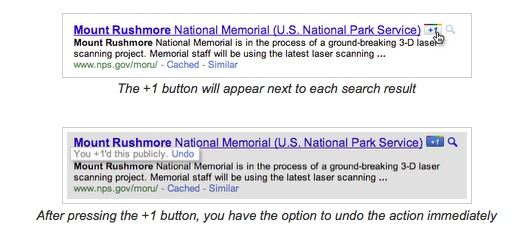 How does Google's new +1 work? First of all, +1 is currently being rolled out as an experiment and you need to opt in with Google to have access to it in the short term. In order to view +1 search results and AdWords results, the user will have to be logged in with their Google profile. Once a user is logged in and clicks on the +1 button next to a search engine result, Google we keep track of that +1 and highlight that search result if it appears for any of that user's friends for that or a similar search.

Check out a quick video from Google introducing +1:

A Real Step Towards Social Search
With +1 Google makes a major step forward in its quest for more social search results. Not only do the +1 recommendations play a significant role in Google's series of social search improvements, but they will also highlight content people are actively interested in. Now people using social search will be able to see content created and shared by those in their social network, and recommended by those in their Google +1 network. All of the +1 data,
TechCrunch
points out, will be available to the public likely through an API.
Google +1 Is a Social Network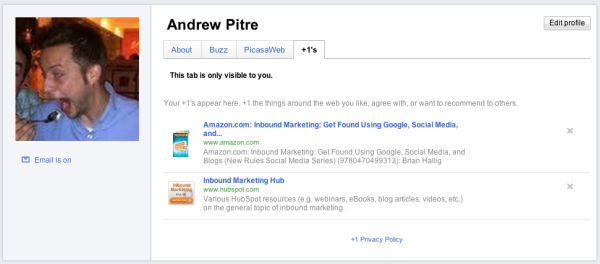 While +1's initial impact might be seen in social search results, it is important to realize that +1 is more than that; it is a social network. Google Profiles are at the core of Google's future plans for the discovery and sharing of contextual information. With the launch of +1, Google Profiles got much more useful because a new tab has been created in Google Profiles to let users keep track of all of their +1s.
Marketing Takeaway
It seems like Google keeps making changes and adding new tools that will impact how your business will get found online. Don't worry about understanding all of the details and granularity of every change Google makes. However, you should notice the patterns that are occuring with all of the changes Google is making. Clearly, Google is rewarding social businesses. The more your business connects with prospects and customers online, the more you increase your odds of getting found in Google's evolving search results.
The days of obsessing over keyword rank are over. Instead, make your business social and create relevant information that will help to attract +1s and influence who decides to visit your site from search engine results pages. Blogging and sharing content on social media has never been more important. In a world that is being built on personal recommendations, it is critical that your business becomes social through remarkable content.

What do you think about Google +1?
Originally published March 30 2011, updated July 28 2017