There was an interesting stat out of Harvard Business Review on the importance of timely responses when it comes to following up with online leads. The data originally came from a study of 2,241 U.S. firms led by a researcher at South Korea's Sungkyunkwan University. According to the report: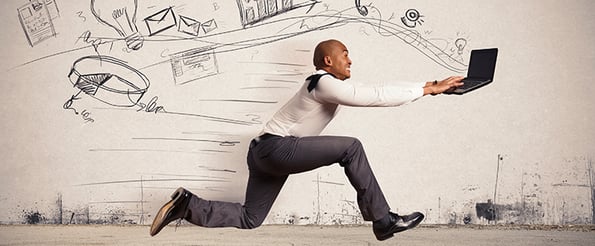 "Companies that try to contact potential customers within an hour of receiving queries are nearly 7 times as likely to have meaningful conversations with key decision makers as firms that try to contact prospects even an hour later. Yet only 37% of companies respond to queries within an hour."
It's incredible. That's how fast customers move. How fleeting the attention span is.

So how do you make sure that you're getting back to customers within that rapidly closing window?
Get Your Sales Team an Espresso Machine
The best point of contact is a personal one. Whenever possible someone from your team should be on top of providing that first welcome to your company or product. How you handle that interaction is also critically important. Reaching out to customers when the subject is most relevant is key, but you don't want to rush or pressure anyone. Make sure that that introductory touch point is a positive and informed one. (Incidentally, there was an interesting discussion in the comments section of the HBR article about this).
Set Up Alerts Tied to Given Customer Actions
Part of responding to leads quickly is having the right tools to do so. There are two things here that are important. Speed and Relevancy. Some activities are the equivalent of a customer hand-raise. When that "hand-raise" happens you need to be at the ready to respond. Do you know when a potential customer has viewed your pricing page? How quickly does your team find out about customer inquiries?
Speed is critical, but a rapid call-back without context can be a harsh experience for customers. The best way to make that first conversation a positive one for the customer is to make it relevant. Make sure you have the analytics set up to show you what pages a customer viewed before requesting a quote. In addition, your understanding of that customer experience prior to inquiring should span beyond the boundaries of your website. Did they receive a targeted email from you? Have they ever requested assistance from your help desk? What led them to this point?
Automate Tailored Responses
An auto-responder can be a good back-up when an immediate personal response isn't possible, but only if it's not a canned response. Make sure your auto-responders are personalized and reflective of the experience your customer has had up to this point. You could segment customers by the information they provide in the inquiry form or by their past purchase behavior. With HubSpot's new behavior-driven communications tool , you can also take it further by triggering tailored emails and notifications based on the pages customers have visited on your site or specific actions they have taken across channels, including social media, email, mobile etc.
I'm curious to hear about your perspectives on the Sungkyunkwan study. When do you think is the best time to call a lead after he or she has expressed an interest in your company? What information is important to know prior to making that call?