The following is a guest post by Ilya Mirman . Ilya has spent the past decade running marketing for software vendors including SolidWorks, Interactive Supercomputing (acquired by Microsoft) and Cilk Arts (acquired by Intel). Download his free eBook: Building a Marketing Plan: A Blueprint for Start-ups.

I talk to a lot of start-ups about their marketing and sales operations. Often, the conversation turns to the subject of building a marketing plan – how to prioritize, what to do, activities, infrastructure, etc.

I've noticed that my suggestions have been roughly the same, because many of the challenges start-ups face are similar: on a small budget, with a small team, you need to go from a standing start to quickly create awareness, establish a new category, educate the market, generate and nurture leads, make sales, all the while nailing down the product, company processes, finding your way in the ecosystem, building a community and gearing up for exponential growth in the coming months and quarters; and all the while, with entrenched Goliaths in your rear-view mirror.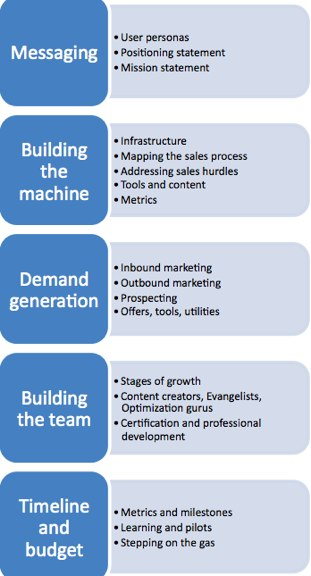 So I've put together an e-Book that would hopefully help construct a start-up's marketing plan. Outlined in it are some considerations - with respect to messaging, infrastructure, demand generation, process, budgets and timelines – that I've found useful across a bunch of markets and companies.

More than one management consultant has pointed out that this stuff is really obvious. They're right. The hard work is not putting it on a PowerPoint slide – it's actually doing it. The good news is that it's now easier than ever to do this, quickly, on a small budget. Nowadays, there's no reason you can't have a web site up in days, start publishing content within weeks, run quick experiments regarding prospecting lists/messages/offers, and within a couple months start to see the needle move in terms of traffic, leads and prospects.
Here's my Top 10 suggestions from the e-Book :
1.
Nail down the key messaging on user personas and product positioning; this is the foundation of all your marketing efforts, content, prioritization.
2.
When considering infrastructure (marketing/sales/commerce/support), choose platforms and approaches that'll let you focus on your business, rather than the nuts-and-bolts of connecting disparate systems.
3.
Engineer your marketing and sales process with as much rigor as you engineer your product.
4.
Instrument your systems and metrics to enable rapid course correction.
5.
Early on, hedge your lead generation bets across inbound marketing, outbound marketing, and sales prospecting.
6.
In order to zero in on viable lead sources, have a plan early on to test a variety of messages, lists, and offers.
7.
Develop marketing offers for every stage of the sales process.
8.
Invest a lot of effort in viral tools and utilities - if successful, you can dramatically transform your cost of customer acquisition, your required capital, maybe even your business model.
9.
When the time is right, fill the following marketing roles: content creators; evangelical networkers; and optimization gurus.
10.
Move and learn quickly: within weeks, have a plan; within a couple months, you should have first "signs of life" from lead gen campaigns; and within 4-6 months, a nicely humming lead generation engine.
I've surely missed a bunch of stuff – so would love to hear what are your thoughts and best practices on putting together a marketing plan for a start-up.
Originally published August 03 2010, updated July 28 2017