Today, most marketing teams are structured to drive traffic toward websites. If the content is just right, these visitors then convert into leads for the sales team to close. After, services teams step in to ensure that customers turn into brand advocates.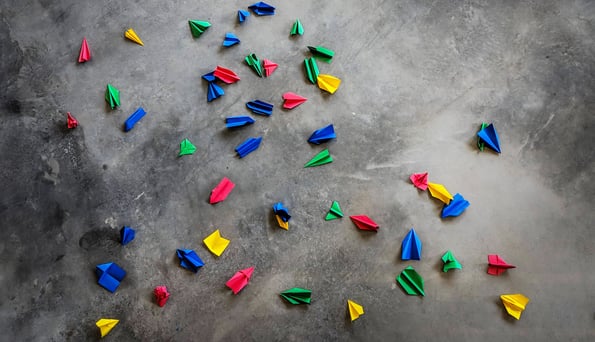 Once this process starts to deliver results, marketers seek to generate even more traffic, and hopefully even more success.
It's a bit of an oversimplification, but it's a pretty standard marketing playbook. Which makes sense ⁠— marketing is all about defining replicable processes for sustainable and predictable business growth over time. But how does this look in practice?
Reaching Your Audience
If you're an inbound marketer, the reality is a bit more complicated ⁠— you're not just focused on your business' bottom line. You're also focused on your company's customers. You understand that it's no longer acceptable to sacrifice trust or relationships for short-term business gain or to steal market share from your competitors.
You bring in leads with helpful resources. You create trust by tailoring personalized content. You become a consistent resource, ready to help solve problems.
By creating this emotional bond between your brand and your customer, not only can you generate leads, but you actively reduce churn risk and increase the likelihood of customers becoming brand advocates.
So here's the age-old question: how do you ensure your content reaches your leads?
The answer? You surface your content where your leads are searching for answers.
Every day, about 3.5 billion searches are made using Google Search. Everywhere, people are searching for information, shopping online, comparing product prices, getting directions, or just learning something new.
Google's mission is to organize all of this available information and make it accessible and useful.
In a recent global survey, 51% of shoppers surveyed say they use Google to research a purchase they plan to make online.
35% of shoppers have shopped repeatedly at brands or retailers they first discovered online.
So, it's a great channel to use to promote content to your audience. After all, search connects inspiration with action. It links moments of intent with relevant pieces of information. As an inbound marketer, leveraging search can be one of the most effective ways to connect your buyer personas with helpful content at every stage of their buyer's journey.
How Do You Use Google Ads and HubSpot to Connect With Your Audience?
There are four main benefits to using Google Ads to reach your audience. With Google Ads, you can:
Build awareness.
Your goal is to each a broad audience and maximize your exposure. Increase website visits and ensure that people know about your brand, its story, and your product service. The more awareness you create around your brand, the more likely your leads will be to recall it in their moment of need. This could include the next time they're searching for more information or looking for a potential product to fit their needs.
Influence consideration.
You can boost conversions by encouraging people to take action. Build lasting relationships with people by helping them locate resources to help them accomplish their goals. Retarget users that have visited your site with personalized content and offers.
Drive purchase.
Help people to complete your purchase process by encouraging people to explore your products and services. Make it as easy and convenient as possible for your visitors to buy your products or services. Target them with products that are similar to ones they've been researching.
Grow loyalty.
Marketing doesn't stop the moment your lead makes a purchase ⁠— neither should your advertising. Grow online, in-app, in-person, and over-the-phone sales by creating advocates in your customer base. Do this by aligning your brand with your customer through referral programs or cross-selling them other relevant products or services.
Remember, inbound marketing is all about solving for the customer. You want to make sure you're reaching them on the platforms they value. With that in mind, consider adding paid search as a channel in your next campaign. Whether you're looking to grow your business or to scale it, any business can benefit from investing in paid search advertising.
Ready to learn more?
Check out how to build your first Google Ads campaign, which walks through what you want to consider when creating your first Google Ads campaign.
Connect Your Google Ads with HubSpot
With Google Ads in HubSpot, targeting your customers with highly relevant ads and reporting on the true ROI of your campaigns is simple. Start by quickly connecting your account, then decide whether or not you want to turn on ad tracking and apply your tracking pixel.
Connect your Google Ads with HubSpot
From there, leverage the HubSpot CRM to create highly targeted audiences that automatically sync with your Google Ads account. Report on your ad's success through a number of attribution views to see how your ad spend is influencing your bottom line.
And because you're managing your ad campaigns in the same place you run the rest of your marketing, creating a consistent narrative between your follow-up and the rest of your marketing is easy. So what are you waiting for?
Want to connect with others on HubSpot tips, tricks, and updates? Head over to the HubSpot Community to join a conversation or start one of your own.