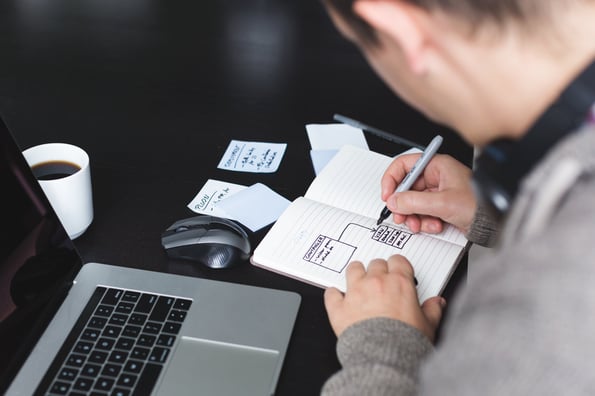 You want to grow your website's organic traffic through content. But if your content strategy still centers around one-off keywords, you might be struggling to nudge these traffic trends.
Search engine algorithms today understand how ideas relate. They use latent semantic indexing and weigh site expertise, authoritativeness, and trustworthiness (E-A-T) to serve up more relevant and authoritative results. Creating pages around similar keywords only confuses search engines — the opposite effect your content should have.
Instead of obsessing over individual keywords, focusing your content strategy around a few core topics can help you earn search engine trust (and the organic traffic that follows).
Known as a topic cluster strategy, this mindset puts readers, search intent, and context at the forefront of your content strategy and can lead to serious organic growth. By shifting your thinking and approach from one-off keywords to topic clusters, you can save your team time, eliminate content waste from your day, and win big with SEO.
In fact, after implementing a topic cluster strategy for our clients at Human, their organic traffic has experienced 7 to 10 times organic growth over the past year.
So how can you get started with topic clusters? Let's walk through the basics.
Breaking Down Topic Clusters
Topic clusters are groups of related web pages that all link to one core pillar page. Organizing your site content into clusters helps search engines distinguish your area of expertise and better understand the relationship between these pages.
Creating a topic cluster involves three main components:
A pillar page
Cluster content or subtopics
Hyperlinks
The pillar page is at the core of the cluster and serves as the authority page for the core topic you aim to rank for. Educational resource pages or services pages could stand as pillar pages.
Say you sell dog water bottles, and your goal is to rank for "dog hydration." In the topic cluster scenario, your pillar page would be an in-depth resource covering the core questions a searcher would have on this topic.
Next is the cluster content or subtopic pages. These pages focus on longer-tail queries that relate to your core topic, typically in the form of blog posts. By linking your subtopic pages to their pillar page, you're signaling to search engines that the pillar page is the authoritative resource on your primary topic.
In the same example, you might create a subtopic page on the topic "dog water calculator" to help readers calculate how much water to give their dog based on size and other factors.
Since implementing a topic cluster strategy for one e-commerce client, we've grown organic blog traffic from 500 visitors per month to nearly 190,000 — a 37,900% increase — and turned its blog into a profit center for the business.
How to Build Topic Clusters With HubSpot
Using HubSpot's SEO tool, you can build and manage topic clusters to help visualize your site architecture and measure your topic authority.
Implementing a topic cluster strategy boils down to a few core steps:
Define your content topics or themes.
Strategize your subtopics.
Map your existing pages to topic clusters.
Implement a linking structure.
Create and execute a stellar content plan
Measure and improve your content
Here's how you can start today:
1. Define your content topics or themes
You have a slew of ambitious keyword targets or topics for your website. But how do you know which are the most critical to your business?
When developing content strategies for our clients, we use these prompts to brainstorm topic cluster themes:
The product you sell: You want to be known for your flagship product. A recent client we onboarded sells "curtain rod brackets," so that now serves as the primary content theme.
How customers use or benefit from your product: How do customers use your product or service? In my client example, I used this prompt to agree upon the content theme: "how to hang curtains."
Pain points your product or service solves: Some people know they have a problem but don't realize a solution exists. Target the key problems your product solves to get in front of people just beginning their search. My client's product offers a damage-free solution to hanging curtains, so I chose "damage free curtain hanging."
Profitable paid keywords: Your paid and organic strategies should work together. Evaluate high-ROI paid keywords to find opportunities for content topics.
Pro tip: Stay conservative and realistic with your topic clusters. If you have a new site with weak domain authority, start with one or two of the most critical topics.
Once you have your initial topics, you can add them to HubSpot to begin building and managing your topic clusters.
To create your topic clusters in HubSpot, follow these steps:
Log in to your HubSpot account (if you don't have one, get started here).
Navigate to Marketing > Planning and Strategy > SEO.
Select Add a topic and input your topic.
Click on your topic and select Create Topic.
2. Strategize your subtopics
Once you've settled on a few topic clusters, it's time to strategize your subtopics to support each content theme.
Subtopics are related, long-tail queries that will serve as the primary focus for your supporting content.
So how do you come up with new, unique subtopics?
At Human, we always begin subtopic and SEO research by adopting the persona mindset. Here are sources of inspiration for your subtopics:
Meet with your sales or customer support team: Compile a list of frequently asked questions around one content topic.
Think from your persona's perspective: Jot down all questions your target audience might have about your core topic.
Browse forums and review sites: Forums like Quora and reddit are subtopic gold mines. Reading through customer reviews on your website or Amazon can also spark ideas for related questions and pain points.
Use HubSpot's SEO tool: HubSpot's SEO tool provides recommendations for subtopics to help build your list.
Pro tip: Each subtopic should be semantically unique to avoid confusing search engines. If you're unsure, do a quick search of related queries to see whether similar search results appear.
Of course, you'll want to confirm these subtopics have SEO value through basic keyword research. Using an SEO tool like Moz Pro or Ahrefs, you can evaluate search volume and prioritize subtopics.
From your topic clusters in Hubspot, you can also research and add subtopics using the Add subtopic keyword button.
Once you've added your topic and subtopics, your topic cluster should look something like this:
3. Map your existing pages to topic clusters
To see where your current pages fit into your topic cluster strategy, use HubSpot's SEO tool. It can automatically map your existing web pages to your predefined topic clusters.
You can also manually fill in your topic cluster with existing web pages by following these steps:
Navigate to your topic from the SEO tool in your HubSpot account.
Click on your subtopic.
In the Manage Subtopic sidebar, you can search for pages in the search bar or select Add external URL for pages hosted outside HubSpot.
4. Implement a linking structure
A critical piece of your topic cluster strategy is the linking structure. By pointing relevant, valuable pages to your pillar page, you can help build the authority of this page.
From your topic cluster view in HubSpot's SEO tool, you can see which subtopic pages are missing links to their respective pillar pages.
Go through each topic cluster, and add any missing links from each subtopic page to your pillar page. Because these topics should closely relate, you should have no trouble finding a natural place to incorporate the link.
Sitebulb is also an awesome visualization tool that shows you the linking relationship between your webpages. Once you've implemented your linking structure, your web pages should form organized clusters in your Sitebulb report.
5. Create and execute a stellar content plan
After you've filled out your topic clusters with existing content, you'll probably have scores of new pages left to create.
Prioritize these topics in your content calendar based on their search potential and relevance to your business. Start with the subtopics that most closely relate to the challenges that your product or service helps your target customer overcome.
The next step is producing your content — the most critical phase of earning E-A-T.
It's important to remember that publishing weak, shallow content won't drive any organic search results. Writing in-depth, contextually rich content is the cornerstone of the topic cluster strategy. You must strive to be the best representation of that search query to gain trust.
Here are a few steps we take during the content research stage at Human to create contextually rich, search-friendly content:
Evaluate the top three search results for your target topic or subtopic before developing content. You can also use Moz's Keyword Explorer to compare the top search results and find additional keywords.
Compile the core questions searchers are asking around the topic using tools like AnswerthePublic or the "People also ask" section of the Google search engine results page for your primary keyword target.
Find semantically related topics to discuss on your page using LSIGraph and the Searches related to section of Google's SERP.
Research the SERP features and opportunities for your target topic. If the current featured snippet is a list, make sure to structure your article in a list format.
Incorporate targeted H2s and H3s around the primary questions or subtopics you narrowed down in your research.
Identify content gaps in the current search results and find relevant, reputable research to incorporate.
Adopt the searcher's mindset when writing your content. If you were searching for that term, what information would you like to see and which format would you prefer? Always put the reader first.
6. Measure and improve your content
One of the best things you can do to earn search authority is to continually evaluate and improve your content.
In the past, measuring your content and SEO efforts might involve hours of sifting through endless keyword rankings and movements, leaving you stumped about what to do next.
HubSpot's topic analytics dashboard simplifies the reporting and analysis process. Instead of evaluating similar keywords, you can see how your topic is performing as a whole — the number of organic visitors these pages are driving, customers that have engaged with these pages, the average time spent viewing the content, and more.
This view is insanely helpful for ideating future content topics or exposing weak content that should be improved.
For example, from the screenshot above, we can see that the topic "sweat proof shirts" has the highest customer conversion rate. From here, we can incorporate related subtopics into our content plan to help drive more revenue and provide increased value to this audience segment.
Ready to apply what you just learned?
Final Thought
Like anything with SEO, succeeding with topic clusters requires time, patience, and continual improvement. You can't expect overnight results.
Of course, dozens of other technical factors affect your search engine rankings. But taking a calculated approach to providing value and earning real search authority is one of the best steps you can take to establish a lasting online presence.
For more step-by-step tips for building and executing topic clusters, download our complete guide: Converting to Topic Clusters.
Want to connect with others on HubSpot tips, tricks, and updates? Head over to the HubSpot Community to join a conversation or start one of your own.