Service Hub helps customer service teams enrich the customer experience. It helps your team engage with your customers at any time and place through chat and email, guide your customers to solutions through knowledge base, and grow your business through customer feedback. But as a company grows and customers interact with more and more people across the business, it's apparent that the customer experience isn't solely owned by the customer service team anymore.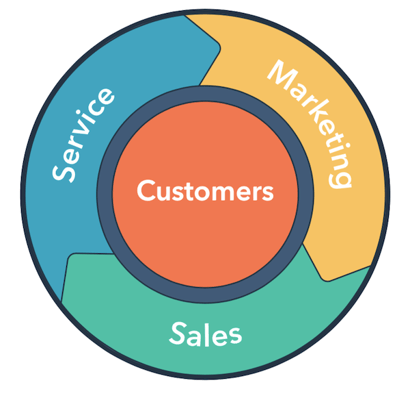 Everyone in your business — especially marketers — is in charge of the customer experience. The good news is that Service Hub isn't just here to help service folks do their job better; it's also here to help you — a marketer — do your job better. The tools in Service Hub Professional will help you improve SEO initiatives, gain insight into much-needed content, and turn your customers into some of your best marketers.
What's in Service Hub Professional?
Service Hub is a collection of tools that help you delight your customers. Within Service Hub Professional, there are two main tools that marketers should take advantage of: knowledge base and customer feedback. Let's dive into both of these tools and discuss how they can add value to your marketing initiatives.
Knowledge Base
A knowledge base is a self-service online library of information about a product or service. Having a knowledge base is a great value add for your customers, as 67% of consumers prefer self-service over speaking to a company representative. For this reason, make sure your prospects know they have self-service options if they choose to purchase your product or service. This could be a huge selling point.
Now, along with being great for customers, knowledge base is great for your SEO initiatives. Having more high-quality content on the web will not only help customers find answers to their solutions, but also increase your brand awareness. And to make your life easier, HubSpot's knowledge base is already optimized for readability and SEO so all your team has to worry about is producing the content.
Furthermore, the reports and analytics you glean from knowledge base traffic give you insight into what customers are searching for. What does it mean if your most-visited page is about a certain product you offer? Should you provide more information on the FAQ page about said product? If you know what your customers are searching for or confused about, you'll gain more ideas for high-quality content, as well as marketing collateral to provide prospects with a better experience.
Customer Feedback
In a world where only 3% of folks consider marketers to be trustworthy, we need to start relying on other mediums to explain all the ways our products or services are the best option. Enter customer feedback.
By collecting customer feedback, not only can you make strategic business decisions based on the voice of the customer, but you can also leverage the positive customer reviews as marketing collateral. About 55% of people rely on word-of-mouth referrals when considering purchasing decisions. For this reason, lean into your reviews to turn your customers into advocates.
Here are some tips for using customer feedback as a marketing tool:
Use a customer feedback tool, such as Service Hub, to send out Net Promoter Score surveys each quarter.
Create a list in your customer relationship management system for your promoters.
Build relationships. Reach out to your promoters and thank them for their positive reviews, or maybe even send them some company gear. It's important to keep these folks happy.
Ask your promoters for help, either by tweeting about your company, guest blogging, being the subject of a case study, etc.
Market this content. Your prospects want to make sure they're joining a community of happy customers. By showcasing your best customers, you're sending a great message to your prospects.
As you can tell, Service Hub isn't only meant for those in the services world — the results of Service Hub can benefit your entire company. Leverage your Service Hub tools so you can more readily personalize your marketing, empower your customers, and turn your customers into your best marketers.
Want to connect with others on HubSpot tips, tricks, and updates? Head over to the HubSpot Community to join a conversation or start one of your own.