In today's world, it is easier than ever to start a company, but harder than ever to scale a company. From hiring in an ultra-competitive environment, to securing office space in increasingly expensive business hubs, to hitting higher sales quotas each month - there are a myriad of hurdles to overcome as your company grows. Amidst all the focus on the short-term challenges of scaling, strategic thinking about how you grow your tech stack is often something that takes a back seat - but that is a big mistake.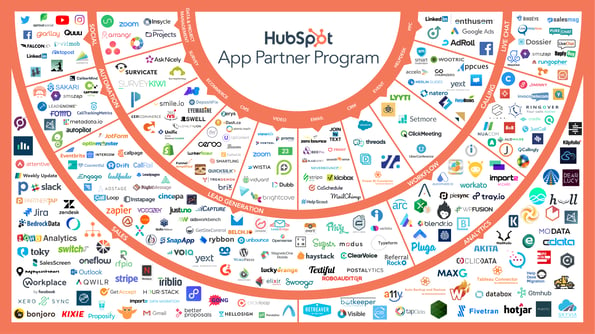 According to data from Blissfully, businesses with 101-250 employees have an average of 99 SaaS app subscriptions. As your business becomes more complex, so too does the integrated stack of software you use. The sooner you think critically about what you add to that stack, and how, the easier it becomes to manage complexity down the road. Mark Metcoff, Senior Manager of Marketing Operations at HubSpot emphasizes the importance of thinking ahead, "There's a beautiful simplicity in being small and scrappy...but as you start to scale, the time range you need to think about grows. Suddenly you're not solving for tomorrow, you're solving for 6, 12, 18 months out."
With the inevitability of incorporating many SaaS apps into your business processes comes the need to ensure your data is connected and consistent across these apps. This is why we're launching an even more powerful Marketing Hub Enterprise product with our ecosystem of app partners in mind. Marketing Hub is powerful alone, but integrating some of the 350+ robust apps in our ecosystem will provide you the connected and consistent experience you need across your tech stack. Below are some of our favorite apps that will help you scale your marketing efforts to the next level as you think about challenges like more advanced reporting, connectivity across teams, live chat, content partitioning, and more.
Interested in using HubSpot's new marketing enterprise tools? Sign up here.
If you use both HubSpot and one of these technologies, enable the integration in your HubSpot account to see it in action:


Supermetrics
Supermetrics is a reporting automation tool for PPC, SEO, social and web analytics. With the Supermetrics integration, you can move all your HubSpot marketing and sales data into Google Sheets, Microsoft Excel, and Google Data Studio. From there you can keep track of your marketing, sales, and business performance by analyzing and reporting all your HubSpot data. You can also combine it with data from all your other marketing platforms to get a complete overview to your growth.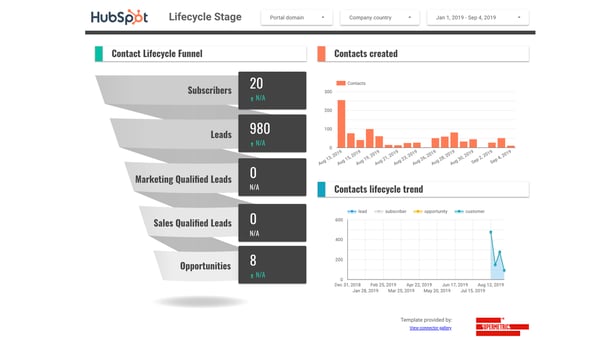 Get started on their app marketplace listing page —learn more about the integration here.
Gainsight
Gainsight is a customer success software that empowers companies to increase revenue, decrease customer churn, and drive advocacy. With Gainsight's HubSpot connector, you can automate the process of syncing your contact and company data from HubSpot. You will be able to sync both company and contact attributes from HubSpot into Gainsight's data models at pre-configured intervals.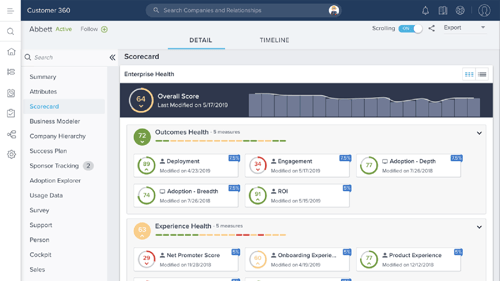 Slack
Slack is a digital workplace that connects you to the people and tools you work with every day—tools like HubSpot. You can now get HubSpot tasks, tickets, notifications, slash commands, and more directly within Slack.


Salesforce
Salesforce is an enterprise CRM service that also builds apps focused on customer service, marketing automation, analytics and development. This powerful integration provides an automatic, bi-directional sync between HubSpot and Salesforce so that you can use details from Salesforce contacts/accounts to do things like personalize marketing emails, segment your database, or send emails on behalf of a lead's sales rep. As sales reps close leads, Salesforce sends revenue data from closed-won opportunities to HubSpot to tie each marketing campaign to real revenue.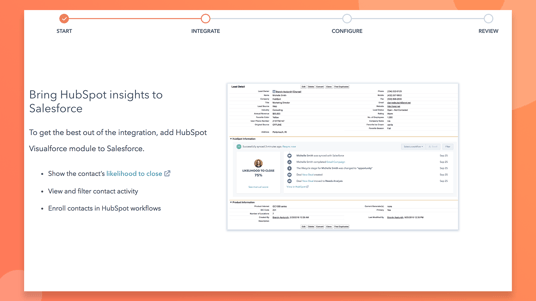 Intercom
Intercom is a customizable messaging suite that helps you drive growth at every stage of the customer lifecycle as you scale. You can capture more leads from your website with Intercom's automation and live chat, and then sync new leads and conversations with HubSpot.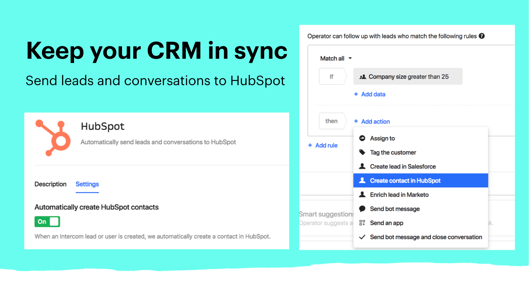 Attribution
Attribution is a multi-touch attribution solution that empowers marketers to optimize ROI by providing data to instantly know which touches and channels are working and which ones are not. The Attribution integration allows you to leverage HubSpot for multi-touch attribution. You will be able to see ROI in one dashboard by leads captured, deal stage, or closed/won. All your ad channels and spend will be available in one place, and your ROI will be available by cohort.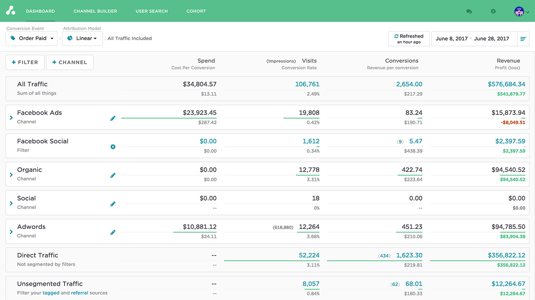 Databox
Databox is a business analytics platform built to help you understand what's going on with your business by including KPIs from cloud services, spreadsheets, database all in one place. The Databox integration helps view analytics data on your mobile, desktop, and TV from HubSpot Marketing/Sales, Google Analytics, SEMRush, Facebook Advertising and many more sources in just a few clicks.
UpContent
UpContent's curation platform helps communications teams surface and triage trustworthy articles to measurably increase engagement while reducing manual workflows. With the UpContent integration, you can seamlessly support your strategy for social media posting and email marketing by bringing the content you curate directly into the HubSpot social and email campaign tools.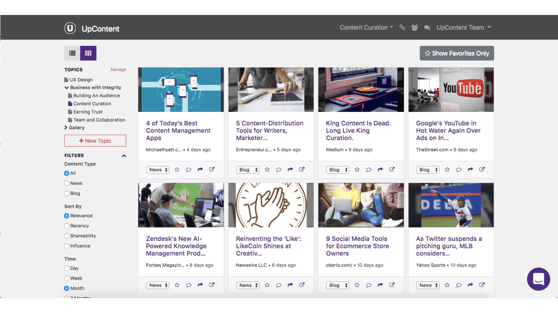 Uberflip
Uberflip
is a content experience platform (CEP) that allows you to reorganize your existing content according to different audience profiles so they experience your website in ways that are relevant to them. This can be applied for a variety of use cases including: demand generation, ABM and sales enablement. With the Uberflip integration, you can aggregate all of your content and easily organize specific experiences for your different buyer personas, topics, events, and prospects.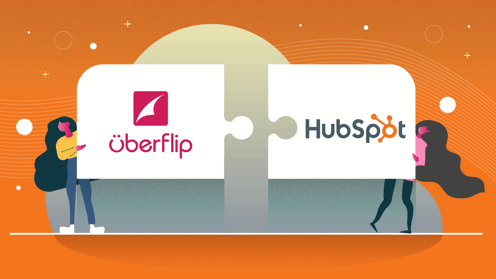 Power BI
Power BI helps analyze your data fluently without the hassle of spreadsheets. With this integration, HubSpot data can be queried and edited inside of Power BI, without affecting the integrity of the HubSpot database. You can then leverage one easy-to-use dashboard that contains all of your company's key data.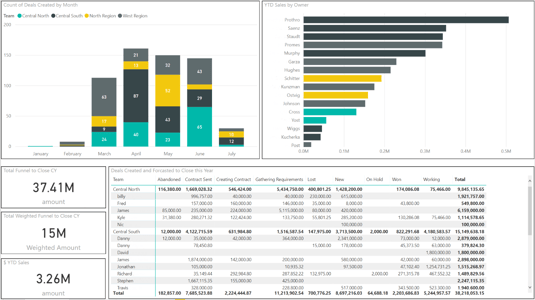 Interested in more integrations?
Let us know what you think of these integrations. Know of any other technologies you'd love to integrate with your HubSpot account? Email us at appmarketing@hubspot.com.
Want to connect with others on HubSpot tips, tricks, and updates? Head over to the HubSpot Community to join a conversation or start one of your own.