The algorithms powering search engines are changing to better solve for user behavior and intent. But when's the last time you evaluated your content strategy to account for this shift? Critically examined the format and information available across the different areas of your site?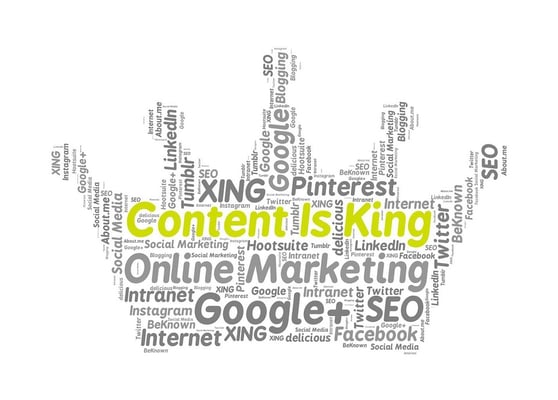 Understanding the relationship between landing pages and pillar pages can be key to determining how to attract, engage, and delight visitors coming to your website.
So, how did we get here?
In 2006, the internet was a different type of competitive landscape when it came to marketing content. In the early stages of inbound, writing 350-word blog posts with the correct balance of links and keywords was sufficient to get in front of your ideal audience.
But then something happened.
Small and medium-sized businesses across different industries found success through the adoption of inbound. Word spread. More companies began to implement the same best practices, the same tactics, and created the same types of content.
Today, over a decade later, the internet is saturated with content, and strategies and tools that became comfortable to an inbound professional are becoming less effective (RIP Keywords). Search engines like Google and Bing have begun to sift through content for relevance and surface only what best matches the intent of a user's query.
And these changes are being felt—keenly. According to the 2018 State of Inbound report, 61% of marketers list growing their SEO and organic presence as a top company priority. 61% (not a typo) also list that generating traffic and leads is their top marketing challenge.
We're facing an online world of shrinking organic real estate. It's harder to surface your content and your answers in front of the correct eyes and actually attract net new visitors to your site. What's a content marketer to do?
Well, it can't be all doom and gloom. Enter pillar pages.
What's a Pillar Page?
Also known as a content pillar, a pillar page is a website page that covers a broad topic in depth and is linked to a cluster of related content.
A pillar page covers all aspects of the topic on a single page, with room for more in-depth reporting in more detailed blog posts (called clusters) that hyperlink back to the pillar page. While pillar pages broadly cover a particular topic, "cluster" content addresses specific keywords related to that topic in depth.
For example, say you wanted to create a pillar page about content marketing, your broad topic. You might want to pursue clusters about blogging or social media posts, which are more specific keywords within the topic of content marketing.
Currently, there are two major types of pillar pages: resource pillar and 10x content pillar pages.
A resource pillar page is known for the following characteristics:
Heavy on internal and/or external links
"Bookmarkable" reference page
See an example here.
A 10x content pillar page is known for the following characteristics:
Deep dive on a core topic
Format is similar to ungated ebook (usually with an option to download)
See an example here.
But, how does creating a pillar page help you?
In short, search engines reward websites whose content is organized by topics. This can help you rank for queries that matter most to your business and your customers.
Looking to learn more about creating and using pillar pages on your website more generally? Check out this lesson and head over to your content strategy tool to get started today.
What Is a Landing Page?
As the cornerstone of the marketer's traditional conversional path, landing pages are essentially website pages designed to convert visitors into leads. Unlike a pillar page, which is built around the principle of ungating your content, landing pages and their forms act as the gatekeepers to some of your most valuable content offers. See examples here.
Regardless of the exact asset being offered, the simplified flow of a conversion path including a landing page is as follows:
Visitor becomes aware of content offer.
After clicking a link, ad, or call-to-action button, the visitor is redirected to a landing page.
They choose to fill out the form on the landing page.
The visitor is redirected to a thank you page, where they can download their offer or receive the offer in an email follow-up.
You may notice that's a lot of steps—a lot of opportunity for a visitor to not complete the desired action. Conversion optimization (yes, that's a pillar page), of course, can help you frame your offers in a way that best suits your audience's preferences, but it's not a silver bullet.
Already, marketers, sales, and services reps across different industries are declaring the form is dead. The efficacy of new conversational tools like bots and messaging apps certainly seems to support this claim.
But, not all hope is lost for the longtime landing page lovers. That's where the relationship between landing pages and pillar pages comes in.
Creating substantial pillar pages, ones that actually rank well for your desired broad topic or "head term," takes time. It can also be difficult to determine the exact topic your website visitors find the most interesting or what resources they find the most useful. You don't want to put all your effort and resources into creating and ranking in an area that isn't conducive to building relationships and powering your flywheel.
So what do you do?
If you have existing landing pages and you're just getting started with your pillar page strategy, great. Landing pages and your existing offers can give you a wealth of data on what your website visitors find interesting and are willing to "pay" for with their personal information. This insight can help you determine what topics your buyer personas care about and where you may want to build authority.
Repurposing is a core tenant to an inbound marketer. Longer form assets that you've already created (think ebooks, white papers, etc.) can be the best fodder for your pillar pages.
Sometimes, however, the journey to your pillar page won't be so clean cut. Keyword research and building authority can be difficult and time consuming (even if you're using awesome tools like Keywords Everywhere). You can use your landing pages as testing grounds for new and potential pillar pages.
How?
Identify which of your offers are substantial enough to eventually become the backbone of a pillar page. Then, begin to progressively ungate your content bit by bit into the copy of your landing page. Over time, the copy that frames the conversion opportunity will evolve to become more of a resource. This is one of the most organic ways to create a 10x pillar page from a traditional landing page.
The function conversion opportunity (read: form) will likely also change. You can eventually remove it completely. However, you don't want to leave your pillars without conversion opportunities. The form that initially gated the content offer can become the method by which visitors download the offer, thus adding additional value to their learning experience.
So certain landing pages and their offers can gradually become pillar pages. This will help you meet the need of changing user behavior. So is there a case for creating landing pages at all?
In short, yes.
Unlike pillar pages, which aim to cover topics broadly, the strength of landing pages is their focus on a single objective. If you're running social media advertising, for example, you can craft the page to perfectly match the intent of the ad that your visitors clicked on. They help your marketing efforts remain flexible and highly curated.
Additionally, every business is an expert in something. The reason content is an effective marketing mechanism is because it enables you and your team to become a knowledge broker. You provide value by offering your expertise (and eventually your product) as a means to help solve your visitors' problem. This helps build trust over time and thus the flywheel continues to turn.
But you can't provide the best experience without personalization, without understanding who you're talking to. So while it does make sense to create pillar pages and topic clusters to create awareness and education, it's still helpful to have some of your most qualifying offers as part of an information exchange.
That is, your conversion ecosystem shouldn't degrade because you offer this exciting new resource. Quite the opposite, in fact. Pillar pages offer an opportunity to provide a lot of immediate value, create trust, and showcase your company's authority as an expert on a topic. Much like the tide, which raises all ships, this should positively impact your conversion opportunities.
And having a diverse conversion ecosystem, one that includes both pillar pages and landing pages, allows you to:
Take into account the many different ways people prefer to exchange information.
Cater to your website visitors' preferences.
Get the information you need to continue to nurture your leads, prospects, and customers.
And that's pretty powerful. Want to learn more? I chatted about gated vs. ungated content with IMPACT and Justin Champion, another HubSpot inbound professor, on The Hubcast podcast. Check it out below:
So rather than thinking about how one tool could replace another, think about difference in the purpose and functionality of each. Think about how landing pages and pillar pages can connect or communicate. When matched against your buyer personas and website visitors, how are you currently using both to drive the most impact?