Hey there, and welcome to this special INBOUND edition of the Product Spotlight.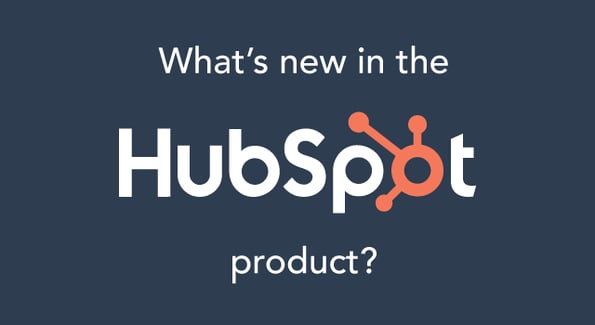 INBOUND is the most exciting time of the year here at HubSpot, and this year is no exception. With an all-new, one-of-a-kind online-event experience, INBOUND 2020 is our most innovative event yet, featuring dozens of breakout sessions and keynote speakers like Alicia Garza, Bob Iger, Van Jones, John Legend, and more.
But it wasn't all about the celebrities. This year we rolled out some exciting new features and tools to help you grow better. Let's take a look at what we announced at this year's INBOUND.
What's New in Service Hub?
Advanced Team Management Functionality
Now more than ever, managers need the tools to effectively unify and manage their teams. With the new team management view in Conversations, admins and super admins can view and change their team's chat statuses. Admins have increased insight into which reps are available and which are away, and they can adjust the status themselves if a rep's availability is set incorrectly. With this increased control, managers can better manage their teams to greatly improve the customer chat experience.

Ready to get started?
Jira Integration
To ensure seamless team collaboration behind the scenes, HubSpot has introduced a revamped HubSpot-built, two-way sync with JIRA. This integration brings your front-line support closer with engineering to solve customer inquiries as quickly as possible.
Ready to get started?
Logged-in Visitor Identification
HubSpot has added logged-in visitor identification to the Conversations inbox to help you deliver on higher-than-ever customer expectations.
This means that if your site has a login feature — whether on a HubSpot-hosted page or an external site — you can now identify visitors who are logged in when they chat with your team. You'll see a visitor's chat history and contact record alongside the message in the Conversations inbox, giving you a record of past conversations with your team. With more context, you can respond faster and more personally to deliver a better customer experience.
This feature is now available in all Hubs at the Professional and Enterprise tiers.
Ready to get started?
Ticket Sidebar in Inbox
Another enhancement to the inbox is the ticket sidebar. When you're responding to conversations from the inbox, there is now a dedicated ticket view that surfaces any tickets associated with the current conversation. You can use the contextual information about the associated ticket, contact, and past conversations to inform your response to the contact's inquiry. Want to adjust the information you see? No problem — you can customize which contact and ticket properties you see to meet your needs.
With tickets, contact, and conversation information in one central place, teams can reply more efficiently and personally to customers.
Ready to get started?
Custom Bot Template
Additionally, new help desk automation makes sure your team never misses a beat. With new custom bot templates, you can now turn to an automated bot to manage common service interactions like answering FAQs or informing a visitor of your business hours. Or you can create your own bot from scratch.

Ready to get started?
Ticket Status Automation
With new ticket status automation, you can use automated workflows to trigger actions when tickets reach a certain status. For example, you can send an email from the Conversations inbox when a ticket is created or closed. This means you can send consistent, proactive communications to your customers through all stages of a ticket via reliable automation. This'll give you peace of mind that your customers get the right experience.
Ready to get started?
Multi-language Knowledge Base
To support companies with an international customer base, we've added multi-language knowledge base capabilities, enabling companies to translate current knowledge base articles into twenty-five different languages.
You should never need to choose between customer delight and team efficiency. And with HubSpot's multi-language knowledge base, you don't have to.
Ready to get started?
What's New in Sales Hub?
Custom Objects
We're excited to announce that custom objects are now available in the Enterprise tier across all Hubs, giving you the flexibility and control you need to architect your business on HubSpot. With custom objects, you can store any data you need in HubSpot, including SaaS subscriptions, students, shipments, and more. And the best part? Custom objects work just like standard objects in HubSpot (contacts, companies, and deals), meaning you can easily create and manage them, set up workflows, and report on custom object data.
Getting started with custom objects requires use of the HubSpot API.
Ready to get started?
AI-powered Sales Acceleration
The power of custom objects combined with previous improvements like HubSpot's new ABM functionality and field-level-permissions creates a powerful foundation for sales teams. But we've gone further and introduced a slew of new tools to help reps work faster and more efficiently.
HubSpot has always leveraged the power of AI, finding subtle ways to make your life easier. One of the newest AI improvements is a feature that automatically scans a prospect's email signature and automatically pulls relevant information like name, job title, company, and more into your CRM. This feature alone is estimated to save reps one hour and fifty minutes every week. Plus, we have even more time-saving improvements to HubSpot's sales engagement tools.
AI is baked right into HubSpot and runs behind the scenes — no technical set up required. All Sales Hub customers get access to AI. Simply head over to your contact and companies settings to turn it on.
Ready to get started?
Sales Engagement Tools
Over the past several months, Sequences has seen a ton of improvements, including bulk enroll, sender score, a tighter integration with LinkedIn Sales Navigator, and more. Sequences now makes it easier than ever to tee up a series of emails and follow up tasks to ensure nothing slips through the cracks. And the new Today view within tasks gives reps a personalized command center to stay focused on their next steps and daily to-do list.
To explore the new Today view, navigate to Sales, then Tasks. You'll be dropped into your Today view home page. From there, you can interact with your tasks, meetings, and more.
Today view is now available for all Sales Hub users, including mobile. The mobile app has seen a ton of usability improvements, with more to come. Soon, a new keyboard on iOS and Android will bring your snippets, meetings link, documents, and quotes to all of your apps like Whatsapp, Slack, and more. These are just a few of the ways our mobile app is getting better and helping you work more efficiently, wherever you are.
Ready to get started?
CPQ Tools
We've added an accounting extension and all-new accounting integrations to help you turn quotes into cash faster and more efficiently. The new integrations with NetSuite, QuickBooks Online, Xero, and Nubox enable you to use your favorite accounting software directly within HubSpot to generate invoices, associate tax codes, and sync currencies. These additions eliminate friction from your closing process and allow your salespeople to continue building relationships with new customers.
Navigate to the HubSpot App Marketplace to explore the new integrations. From there, connect the integrations of your choice and follow the on-screen steps to connect your accounts. These integrations are available to all HubSpot users.
Ready to get started?
Sales Analytics Tools - Forecasting, Pipelines, and Coaching
The all new Sales Analytics tool gives you rich insights into the overall health of your sales pipeline. Use these insights to coach your team and improve outcomes over time.
Sales Hub Professional and Enterprise customers can now access over twenty powerful reports. It also gives you a classic view to understand the efficiency of your sales funnel.
The deal pipeline waterfall report can help you understand the "why" behind changes to your pipeline. Here, you can easily see all of the specific types of changes to deals in a given time period, and then drill deeper to access important information.
For far too long, companies have turned to sales CRMs that are powerful and well-known but painful to use. At HubSpot, we believe you shouldn't have to settle for bloated CRM software. Sales Hub Enterprise is easy-to-use and loved by all. It eliminates friction, brings tools together, puts people before processes, and empowers sales teams to do their best work. The new Sales Hub Enterprise is now available.
Ready to get started?
What's New in CMS Hub?
CMS Hub
Earlier this year, we launched HubSpot's newest Hub, CMS Hub. CMS Hub makes it easy for marketers to take ownership of their website by leveraging SEO recommendations and a variety of reports to optimize their content. Developers, on the other hand, can leverage their preferred tools and technologies to create flexible content systems for their marketers to work within. That way, developers aren't constantly being asked to make small adjustments to the website.
We also launched CMS Hub Enterprise. CMS Hub Enterprise is for growing teams that want to start creating interactive web app experiences like dynamic calculators or event registrations. You'll also have all the tools you need to manage a growing team at scale and expand your website as your brand grows.
Ready to get started?
What's New in Marketing Hub?
Always Easy, Now Deeply Powerful
At HubSpot, we're uniquely invested in ease-of-use. Using HubSpot is fun — using legacy enterprise software is not. But marketers shouldn't have to sacrifice features for a great user experience. Over the past year, we've been focused on making HubSpot just as powerful as it is easy to use.
Back in January, we launched the all new Marketing Hub Enterprise to give you access to the tools scaling teams need to execute complex marketing campaigns like ABM, revenue attribution reporting, and a suite of automation improvements.
Ready to get started?
Account-Based Marketing (ABM)
We built Account-Based Marketing (ABM) tools to make it easier for your marketing and sales teams to partner closely to target and close high-value accounts.
Set up an Ideal Customer Profile to automatically identify key prospects in your pipeline and monitor the effectiveness of your marketing and sales efforts using the ABM Dashboard.
Ready to get started?
Revenue Attribution Reporting
You know that marketing teams are often the lifeblood of your company. But as you grow and your customer journey gets more complex, showing your impact and understanding how to improve gets harder and harder. A better view into the customer journey and an understanding of how you're moving it forward with marketing is the solution.
HubSpot's multi-touch revenue attribution reporting gives you this power. Revenue attribution has been live since January, but it keeps getting better. Multi-touch revenue attribution reporting helps you pinpoint which channels are bringing in the most revenue.
Ready to get started?
More Advanced Automation Engine
There's been a lot of exciting updates to our automation platform this year, but one of our favorites is the improvements to building and maintaining complex workflows.
Our Workflows engine has had a complete under-the-hood renovation, enabling you to create campaigns with multiple paths that you can easily clone and rejoin as necessary.
Now, you also have access to new features within Contact Workflows and a redesigned workflow builder, built to save you time by automating more tasks than ever before. For example, trigger Slack notifications or update CRM properties when a new lead is created or changes stages.
Ready to get started?
CRM-Powered Marketing
Today, consumers are flooded with marketing content. Their inboxes are full of underwhelming emails, and their social feeds feature more ads than updates from friends and family. Unsurprisingly, they are putting up walls and tuning out.
Using data to guide them, some companies manage to break through this noise to treat customers as the unique individuals they are.
With this in mind, we've re-engineered Marketing Hub to make it easier for you to create and deliver CRM-powered marketing that breaks through the noise. Tools like all-new custom objects, behavior-triggered events, and much more will give you new ways to unlock CRM data and use it to power better marketing.
Ready to get started?
Custom Objects
At INBOUND this year we introduced custom objects for your CRM, and we just want to point out how great custom objects are for marketers. They allow you to represent your business better in HubSpot. And with a more granular view of your business, marketers can now fully own customer data and use it for better segmentation and campaigns.
For example, you can run more personalized and segmented upsell and cross-sell campaigns based on criteria specific to your business that's stored as a custom object. Being able to target cohorts so tightly in campaigns means a better ROI for you, a more tailored and engaging experience for customers, and faster growth all-around. This is CRM-powered marketing in action.
Ready to get started?
CRM-Powered Ads
With our latest Ads updates, we're making your paid efforts even more effective by giving you the power to optimize your ads for audiences that will actually convert.
Most ads are optimized to get users to click — not to get users to buy. But with the new HubSpot Ads Optimization events, a signal is sent directly to Google every time a contact's stage changes. This better informs their algorithms to target audiences that take action after seeing the ads, putting your ad budget to better use.
Ready to get started?
Performance Reporting
You shouldn't have to have a Ph.D. in statistics to report on how your marketing is working. To make reporting more accessible, this year we've made big investments into reporting to give you access to your most important data in one place.
Ready to get started?
Custom Report Builder
Our new custom report builder is now in beta for Pro and Enterprise customers across all Hubs. The custom report builder gives you access to all of your HubSpot data in a beautiful and streamlined workspace. Now, you can access over 10 data sources (with many more to come) right within HubSpot, making it much easier to answer key questions that drive business growth.
Ready to get started?
Flexible Dashboards
Flexible dashboards are now in beta. This new functionality makes it possible to pull your most important metrics front and center, enabling you to tell a great data-driven story of your results.
Dashboards give you a high-level overview of your business performance and help you understand what actions you need to take to move the needle. But that's pretty hard to do when you have to scroll through an endless series of reports to access your most important business metrics.
Now, you can customize your reporting dashboards to give you access to the data you need at a glance. Flexible dashboards is in beta for all HubSpot customers.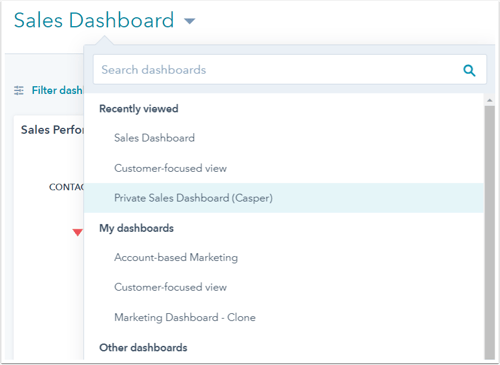 Ready to get started?
What Else is New in HubSpot?
Marketing Contacts (Coming Soon)
There are many reasons to keep contacts you won't market to in your CRM. Bounces, unsubscribes, partners, sales contacts, one-off support tickets...the list goes on. And if you're not marketing to them, you shouldn't have to pay for them.
We're thrilled to announce that marketing contacts will be released this October.
As a Marketing Hub customer with marketing contacts, you'll only pay for the contacts you choose to market to using email or ads. For all the rest, get free storage of up to one million contacts. Plus, new scaled-contacts pricing across all tiers makes individual contacts cheaper as you grow.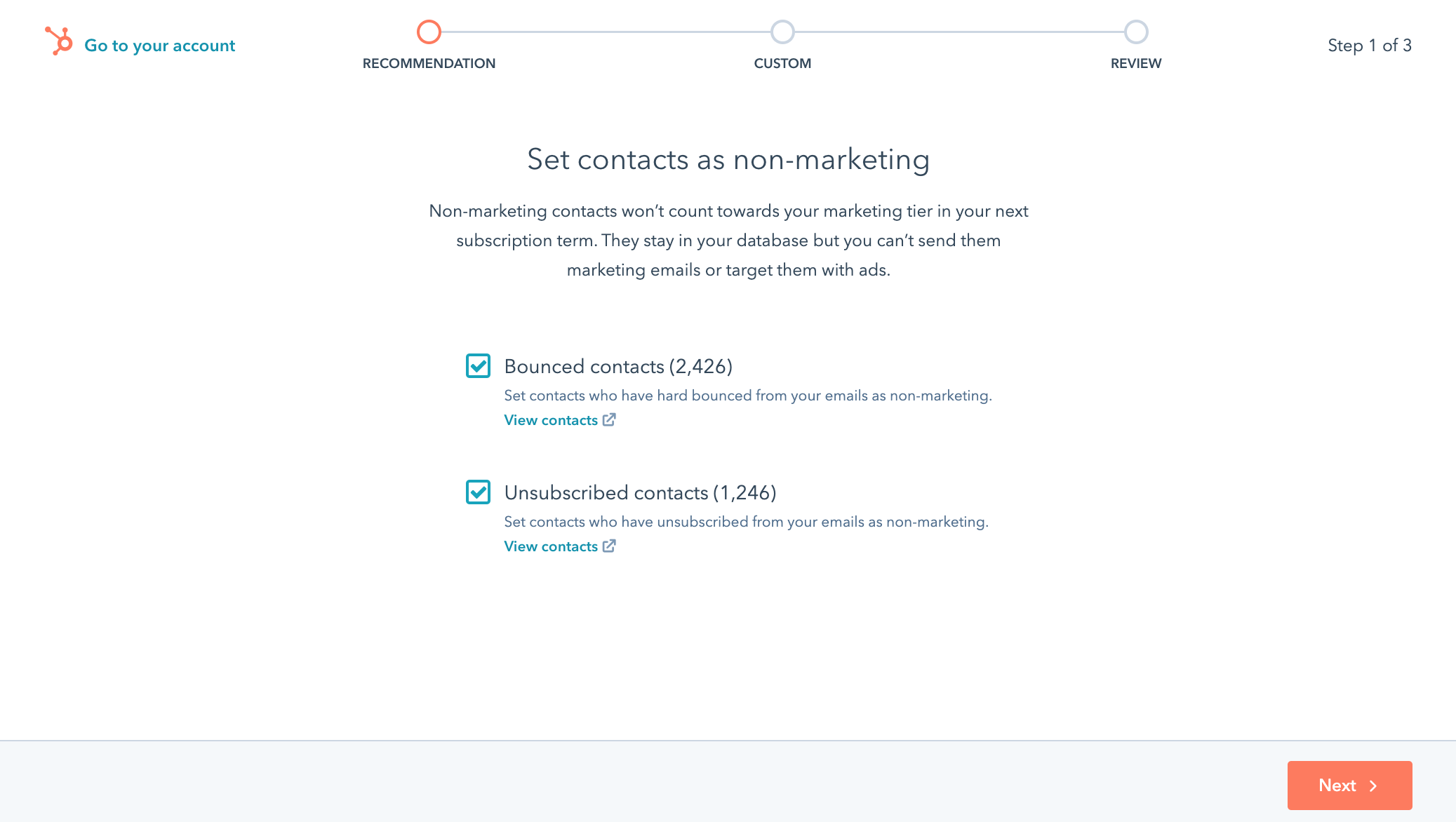 Ready to get started?
Solutions Directory
HubSpot is more than software. With the HubSpot ecosystem, you can tap into a network of service providers and solutions partners, too. New in the HubSpot ecosystem is an updated Solutions Directory that makes it easier to find help implementing HubSpot.
Whether you're looking for marketing services, web development and design, CRM implementation, or systems integrations, you can choose from thousands of providers and partners who will get the job done for you.
The updated Solutions Directory now includes upgraded search functionality, a self-service listing experience, a refreshed new look, and more.
Ready to get started?