Tl;dr (Too long; didn't read): Duplicate data stinks. Finding dupes manually is hard. So we built a tool that uses AI to find duplicate contacts and companies for you; this tool makes merging them easy, too. Read on for the full details.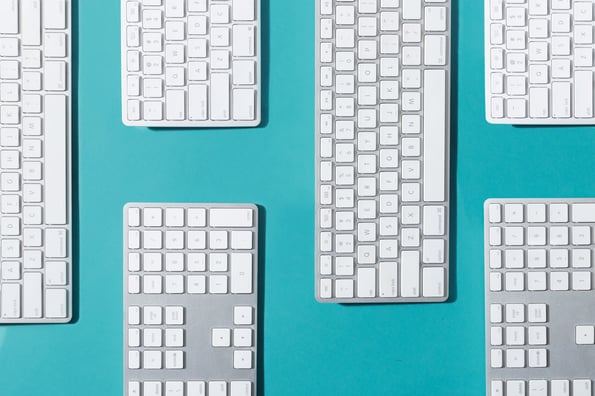 Duplicate data leads to bad experiences, both for your teams and for your customers.
For your team, duplicate data leads to inefficiency. Your marketers pull lists that include the same contact twice. Then they have to manually remove one from their next send. Your sales reps have to search through six copies of the same company, all with incomplete data, to find their most recent call. Three members of your service team are in touch with the same customer, but none of them are aware, because they're all communicating from a different place.
If duplicate data is bad for your team, it's even worse for your customers. They might get the same marketing email multiple times, have three different sales reps reach out, or have two onboarding consultants assigned to their company. With customer expectations higher than ever, poor experiences caused by bad data will lose you business.
Oh, and keep in mind: Duplicates cost your company real money. According to Harvard Business Review, bad data costs companies around the world $3 trillion per year. Some studies have shown that bad data could potentially cost companies as much as 10–25% of their revenue.
Before today, your options for cleaning up duplicate data in HubSpot were painful. Do it manually, sifting through spreadsheets for hours every week. Hire an extra set of hands to do it for you. Buy an expensive third-party tool whose price explodes as your database grows. Or do nothing at all, and let the dupes pile up. You haven't been shy about this pain — finding and merging duplicates is the second highest vote-getter on our ideas forum.
Today, all that changes: You've got a brand new tool that finds duplicate contact and company data in HubSpot. No extra spreadsheets, tools, or costs. Plus, because it uses machine learning, it'll get smarter as you grow. So you'll be more efficient, and your customers will have more frictionless experiences with your brand.
How does it work?
Navigate to your contacts or companies home screens, then click Actions > Manage Duplicates.
You'll be taken to a screen that lists pairs of records that are likely to be duplicates. If it looks like the two are, in fact, duplicates, you can review and merge them. If not, you can dismiss them.
How does HubSpot identify duplicates?
The model considers name, email(s), IP-derived country, phone number, zip code, and company name when comparing two objects. When you accept (merge) or reject (dismiss) a pair as duplicates, you're providing feedback to the model to help it improve over time. We're likely to add more data to the model in the future.
Any other tips for keeping a clean database?
Glad you asked. Here are three more tips to maintain clean data:
1. Remove data over time.
Do you have contacts or companies that have grown stale? Unsubscribed? Changed jobs, so they're no longer a fit for your product or service? Stopped engaging with your emails? Remove them from your database. While there's no single best practice for when to delete a contact or company, decide what works best for your company. Don't let your database become bloated with outdated information and uninterested contacts.

2. Remove old properties.
When getting organized over time, it's easy to create property bloat: Every time you have a new data point, you create a new place for it. But property bloat can cause serious headaches. Every few months, do an audit of your HubSpot properties. If you're storing meaningful data and using the property for other things (like lists or automated emails), keep the property. If not, export it to save your historical data, and delete it.

3. Have a process for associating your records with each other.
When managing records in any CRM, objects don't exist in a vacuum — they're connected. Having John Smith as a contact in your database is great, and having his company (Acmecorp) on file is great, too. Have a sales opportunity at Acmecorp? Even better. But the power of CRM doesn't truly come to life until the connections between those three things are made. By associating records to each other, you unlock the power of their shared context; see all the interactions between Acmecorp contacts and your company on a single timeline, run deal reports based on original contact source, and more. Regularly working to ensure the proper associations are in place will help your marketing, sales, and service teams better serve your customers. Failing to do so can make it difficult to find the right person to contact within the company and hamper your personalization efforts.
4. Keep track of who's engaged.
A core premise of inbound is to create remarkable content that attracts your buyers to your brand. If you do, you'll attract a loyal following of enthusiasts. A part of that philosophy that's sometimes overlooked: Even if you're doing it right, your content won't be a fit for every prospective buyer at every moment, and that's okay. With that in mind, if a contact isn't engaging with your content, it might be a signal to give them space. In HubSpot, you can use the property "Sends Since Last Engagement" to filter out contacts who haven't interacted with your emails. To do so automatically, simply click the "Don't Send to Unengaged Contacts" checkbox, and HubSpot will automatically remove contacts who haven't engaged with your last 16 marketing emails. If you'd prefer to have more control over the specific criteria, add a "Sends Since Last Engagement" filter to your email list. Over time, you may consider removing contacts from your database that don't engage with your emails.

5. Associate contacts to companies.
Over time, it's common for HubSpot users to find that they have a lot of disconnected contacts and companies within their data. Regularly working to ensure the proper associations are in place will help your marketing, sales, and service teams better serve your customers. Failing to do so can make it difficult to find the right person to contact within the company and hamper your personalization efforts.
Want to take the new AI-powered duplication management tool for a spin?
Want to connect with others on HubSpot tips, tricks, and updates? Head over to the HubSpot Community to join a conversation or start one of your own.