If you've been reading about content marketing trends to watch in 2018, it's likely the term "conversation" has appeared on your radar.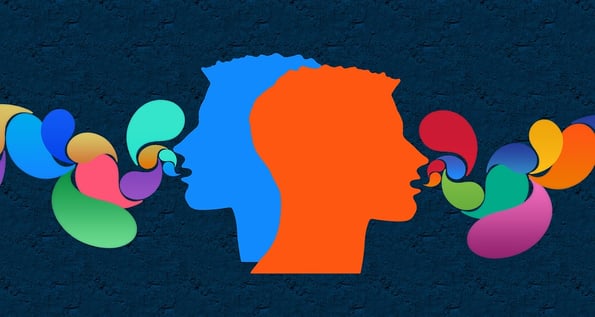 But what is a conversation, and where does it fit into the inbound methodology?
Understanding how these puzzle pieces fit together ensures you're thinking of the best ways to optimize your website experience.

What is a conversation?
Generally, a conversation is defined as an oral exchange of sentiments, observations, opinions, or ideas between two or more parties.
Today, however, these connections can happen through multiple channels, such as phone, email, Facebook Messenger, and text, just to name a few.
With this in mind, we can expand the definition: A conversation is an interactive communication between two or more parties.
As technology continues to advance, the way people are choosing to interact is likewise evolving. According to a recent study by Facebook, one-to-one messaging is becoming a preferred way to communicate across generations. 56% of people would rather message than call customer service.
This demonstrates the beginning of a paradigm shift for marketers and sales representatives.
Users are expecting more one-to-one interactions with companies and instantaneous answers to their questions. But how do you do it?
In the context of marketing and sales, this means using tools that can create one-to-one interactions with your website visitors. Sound crazy? This is where the power of technology is on your side. With the use of messaging apps and programs like chatbots, you too can begin adding this type of interactive element to your website.
What tools can you use to have conversations with visitors?
You can currently conduct conversations using tools like livechat, HubSpot messages, email, and Facebook Messenger. Due to their interactive nature, chatbots too are in the early stages of becoming powerful conversational tools.
By diversifying the ways people can choose to interact with you and your team, you're enabling all website visitors to have the experience they want to have.
As a result, using conversations in your inbound strategy can ensure your company is seen as helpful, human, and holistic across all channels.
Where do conversations fit into the inbound methodology?
The saying goes, with great power comes great responsibility. Unfortunately, in the case of chatbots and messaging apps, that has led to a lot of spam.
But using these two conversational tools doesn't mean you aren't adhering to the inbound fundamentals. Quite the contrary! Using either means that you're on the way to taking your website personalization to the next level.
Conversations can be a helpful way to identify, convert, and qualify your website traffic. As a result, conversations can occur across channels and at any stage of the inbound methodology.
Let's take a look at some examples:
Attract: Add a chatbot to your company's Facebook Messenger. This allows for a touchless interaction where Facebook visitors can find out more about your company, content, and product. Take a look at some great examples of this here.
Convert:

Installing a lead generation chatbot on your website's homepage with the ability to answer the most important or frequently asked questions.

This could also help your website maintain a helpful, human, and holistic presence, even when your team has gone home for the night.

Close: Connect your sales reps directly to your website visitors using HubSpot messages to

build better relationships and close more deals. This type of interaction helps you sell in a way people prefer to buy — when they're interested, willing, and ready.

Delight: Using a live chat feature could help customers returning to your site get the answers they're looking for

— fast.

They can delight your online audience by expediting how quickly information is delivered.
You may find messages is a useful tool to close current opportunities. Or maybe installing a chatbot on your homepage helps power lead generation. Perhaps conversations via live chat allow you to drive customer success and overall retention rates.
Ultimately, where and when you choose to use conversations is going to be highly contextual.
You might find that only certain opportunities really make sense to the experience you're trying to create. Take a second to examine how adding a conversational element fits in with the needs and preferences of your specific buyer personas. Does it add to or detract from their buyer's journey?
Where does the HubSpot conversations tool fit in?
At Inbound 2017, Dharmesh Shah, co-founder and CTO of HubSpot said:
"Whether it's between two humans, or a human and a bot, one-to-one messaging is the future of communications. Messages are simpler, smarter, and truly essential for creating an amazing customer experience."
With that vision in mind, HubSpot is developing conversations, a universal inbox for all one-to-one communications. Conversations not only makes it easy to manage one-to-one messaging, it helps your whole company rally around the customer. It focuses on transparency and collaboration, making it easy for people from any team — sales, marketing, or services — to respond with the right information the customer needs.
Starting in 2018, HubSpot conversations will be one of the first platform-level features available in the soon-to-be-released HubSpot Service Hub.