Last month, the HubSpot app partner ecosystem passed a notable milestone in our platform journey: we officially welcomed the 500th app to our App Marketplace.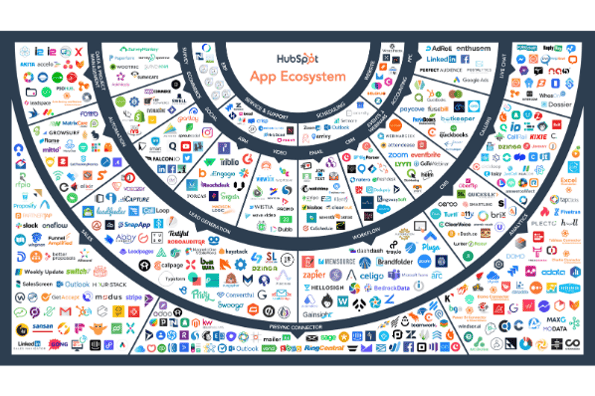 App #500 was FaleMais VoiP, a popular virtual calling platform headquartered in Brazil that now integrates with the HubSpot CRM. It was great to celebrate the 500-app milestone with their launch in the marketplace, as they represent the growing number of international partners in our ecosystem.
We're thrilled to have apps from over 30 countries worldwide, from giant market-makers such as Shopify, Slack, and Zoom to entrepreneurial startups that are building apps exclusively for HubSpot, such as DepositFix, GeoMapper, and PSOhub. A wide variety of solutions, from front-office ABM to back-office ERP, are available.
Now, to be candid, the number of apps in our marketplace isn't our key performance indicator. We value quality over quantity, and we primarily measure success by how many customers find the apps in our ecosystem to be useful for their business. We're much more excited by the fact that customers have installed over 1,000,000 instances of these apps.
In fact, most HubSpot customers each install 5 or more apps, indicating customers know the value of an integrated stack. We're not the only ones seeing this growth, Blissfully's 2020 Saas Trends report shares mid-market companies (101-1,000 employees) average over 137 apps to grow their business — a 30% increase year over year.
For our customers, HubSpot is able to serve as their system of record — "a single source of truth" — for customer data and engagement activity across their different tools. Acting as the glue to bring greater cohesion to their stack of SaaS business apps.
As the ecosystem grows, HubSpot has launched improvements to the App Marketplace to help ensure customers continue to gain value.
Leaning into the pursuit of quality apps and improvements to aid customer choice, we added ratings and reviews and a new certification process to our App Marketplace last quarter.
Ratings and reviews allow customers to share what they like best about these apps, how well they work with HubSpot, and what they want to see improved. Reviews include sub-ratings for ease of use, features & functionality, value, and support & documentation.
We are happy to see how thoughtful customers are in sharing their feedback and opinions. App certification helps signify quality and trust for the customer. App certification is the process of having the HubSpot product team complete a technical review and approve an app for quality and efficiency.
To celebrate the ecosystem's growth — in number of apps and in improvements to usability — we want to highlight some of our top apps.
Top 30 Apps by Ratings and Reviews
One of the best indicators of our customers preferred integrations is to look to the top rated and review apps in our App Marketplace. The top rated apps from June 2020 include a wide variety of capabilities offered by partners from all around the world and show the diversity of tools customers use to grow better.
Top 10 Fastest Growing Apps
Our customers are always eager to learn about new popular apps they can leverage to grow better. The fastest growing apps help customers get a sense of what peers are using to build out their software stack. The following are the fastest growing apps in Q2 2020 that were first listed in Q1 2020.
Top 10 Remote Selling Apps
The world has rapidly shifted to an almost fully remote sales experience for both sales teams and consumers. Most sales teams today are remote and lack the previous experience of selling remotely.
Recently published HubSpot benchmark data reveals, "The ratio of call prospecting to email prospecting was almost 1:1 before the pandemic. Now it's closer to 1:2." With the increase in email and decrease in calling, response rates are historically low. Sales teams are entering uncharted waters.
To aid the change we've compiled a list of top remote selling apps from July 2020 to help get the numbers of calls back to equilibrium and resources to help companies sell from anywhere.
10 Newest Certified Apps
A certified flag on an app listing page signifies trust and quality for our customers. Our app partners apply to be considered for certification after being listed for six months and reaching a minimum number of installs. Certified apps gain HubSpot's stamp of quality after undergoing a technical review by our product team.. Below are the newest certified apps available in the App Marketplace for July 2020.
We're grateful to our app partners who continue to innovate and build as our customers' needs evolve. We look forward to continuing to elevate these new solutions to help our customers' businesses grow better. To learn more about these apps or discover additional ones, visit the App Marketplace.