2020 has presented unprecedented challenges for businesses. COVID-19 has forced most to pivot their strategies online and adapt to a growing digital landscape. While some have been able to stay afloat, others haven't been as successful and many have had to close their doors permanently as a result.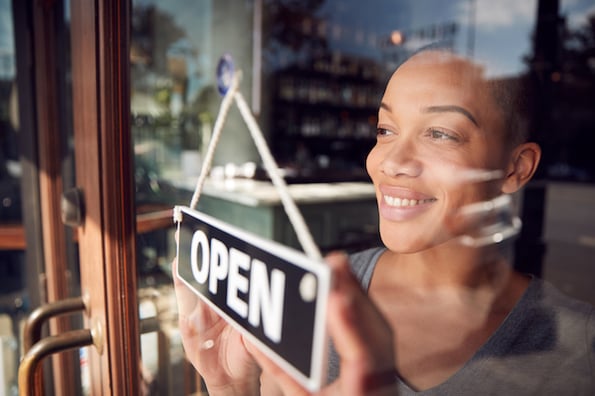 Black-owned businesses have been disproportionately impacted by the global pandemic. In the United States, 26% of Black-owned businesses closed their doors permanently between February and May of 2020, compared to 11% of white-owned businesses.
That's why, this holiday season, HubSpot is joining Google, the U.S. Black Chambers, Inc., and other companies participating in Black-owned Fridays — an initiative to drive visibility and support for Black-owned businesses.
I spoke with Gianne Doherty, Founder of Organic Bath Co., to learn more about what businesses, and consumers, can do to support Black-owned businesses during this holiday season. Below are a few thoughts she offered during our conversation.
How to Support Black-Owned Businesses
1. Tell someone about a business or product.
Doherty started by saying that the simplest way to support Black-owned businesses during the holiday season is to tell people about their products. When you buy something cool or get a good deal, tell a friend. Online customer reviews are great, but a one-on-one interaction is usually the best way to convince someone to check out a business or product you love.
If you don't know of any Black-owned businesses in your area, Doherty recommends heading to Google and doing a quick search. There are plenty of resources that can direct you to a Black-owned business in your area — one of which is the Official Black Wall Street Directory.
She also proposed searching social media sites to find Black-owned businesses online. For instance, if you search "#BlackOwnedBusiness" on Twitter, you can find plenty of accounts managed by Black business owners — liking, reposting, and sharing their content is also a great way to support these businesses.
2. Refer customers to Black-owned businesses.
Word-of-mouth marketing is incredibly important for small businesses, especially if you're operating in a B2B setting. Doherty noted that customer referrals make a huge impact on buying decisions, because customers will trust each other's recommendations more than they'll trust your brand's advertisements. If you have the opportunity this holiday season, refer a Black-owned business to your customers or peers and help promote their brand.
Doherty also emphasized the importance of focusing on the value of the products and services you're referring — and not just the fact that they're Black-owned. After all, "shopping Black or shopping small doesn't mean lower quality," as she put it. When making a referral, Doherty encouraged people to highlight the benefits of the product or service along with the fact that they have been created by individuals who have been historically underfunded.
3. Shop early during the holidays.
The holidays are already a busy time for small businesses, and COVID-19 has made it even more difficult to keep pace with customer demand. In the United States, 99% of minority-owned businesses are small businesses, which means that many don't have their own shipping operations like Amazon or Walmart.
Most small businesses in the United States use the United States Postal Service (USPS) when shipping their products, which can lead to delays as orders pile up around the holidays. Doherty recommends that customers try to buy their products early in the holiday season to avoid any potential problems that might occur with shipping.
4. Be patient with small businesses.
Alongside shopping early, Doherty also noted that customers will need to be a little more patient with small businesses this year. The holidays are already busy as it is and now, with COVID-19, many businesses are still learning how to adapt their marketing, sales, and customer service strategies. There are likely to be some new roadblocks to tackle this year, and customers need to be patient with small businesses as they work to overcome those challenges.
Black-owned businesses have already saw an increase in customer demand this year when searches for Black-owned businesses increased by over 7,000% between May and July. Unfortunately, this growth has declined since, creating a greater need for buyers to support Black-owned businesses during the holidays. While it's wonderful to see a sudden spark of interest over the summer, Doherty encouraged buyers to continually support Black-owned businesses year-round and not just when it's trendy.
5. Partner with Black-owned companies.
If you're a business owner, one way you can partner with black-owned businesses is on promotional campaigns. Doherty, for example, has been partnering with other Black-owned businesses to hold giveaways. She'll give away another brand's product while that brand will give away one of hers. This is a great way for each company to raise awareness for the other among their customer bases.
Here's one example from her company's Instagram page, where she partnered with two other Black-owned beauty brands to give away products.
6. Buy from Black-owned businesses.
At the end of the day, the best way to support Black-owned businesses is to buy their products. Doherty said, "We're voting with our dollars." The businesses where we spend our money will be the ones that grow and thrive. If we don't consciously shop at Black-owned businesses, we will continue to lose them at a disproportionate rate. If you really want to support Black-owned businesses this year, go out and purchase one of their products and tell a friend about them, too.
These are just a few of the ideas that Gianne Doherty wanted to share for Black-owned Friday. We hope it brings some attention to Black-owned businesses, especially those that have been significantly impacted by COVID-19.
If you're a Black business owner and are looking for ways to optimize your visibility this season, below are a few resources from Google that can help you reach new customers.
How to Get Support If You're a Black Business Owner
Here are three things that Google recommends doing if you're a Black business owner.
Add your business to the U.S. Black Chambers, Inc.'s ByBlack directory. You can add your listing and become a part of the community for free.
Highlight that your business is Black-owned on your Business Profile on Google. By adding the Black-owned attribute, you'll stand out to customers looking for your business on Google Search and Maps. Here's how to get started.
Get free coaching to help your business reach new customers, thrive online, and grow. Grow with Google Digital coaches provided dedicated support for Black and Latinx small businesses.