Medtech Marketing's Secret Weapon

We're about to enter into one of the most important and fascinating spheres of marketing: the world of medical technology (medtech) marketing, where the marketing material and digital assets don't just promote products and services, they help introduce devices and technologies that have the power to improve quality of life, advance the world of medicine, and save lives.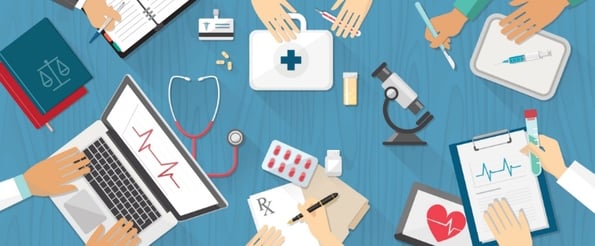 This is a different part of the marketing world. One where the case study serves as the ultimate trust builder. How many marketing case studies are written where one of the core questions is, "Can this solution help improve the physical well-being of humanity?". For medtech marketing, that is the sole goal behind every published case study.
The Power of the Case Study
Case studies are important to the medtech buyer persona because before they make a purchase, they have to know that the solution or device being promoted has been safely and successfully used by others. They want to be assured that the purchasing decisions they make will lead to positive patient outcomes.
For the medtech buyer, the review of the case study is an important investigative stage that does more than just tell a story. In the medical technology world a good case study can provide vital evidence by presenting medical data and testing results.
The medtech buyer looks to case studies for trust signals and peer recommendations in order to make a case for the reliability and credibility of your offerings. They want to know that your solutions have been used in the real world and have produced positive outcomes. Most importantly this persona looks to case studies to help them establish that your product or solution can provide an economic advantage over their existing systems. In the age of value-based healthcare purchasing, this last part is critical.
Medtech Case Studies Must Make a Case with Outcomes-focused Numbers
Case studies for medical technology are more important than in most industries. A cheery testimonial and a good relationship story goes a long way in promoting a business relationship, but for the healthcare industry you have to tell more than a story, you have to show the outcomes.
The medtech buyer has to know that the solution or service offered by the medical technology company will deliver on stated results. This is partly achieved through the use of detailed product data like product specifications, statistics on patient outcomes, and specific information about deployment time.
In the world of healthcare these numbers may dive even deeper than your typical case study. In medical case studies you will potentially see data on patient recovery time, machine calibrations based on bone density, use of a medical device based on capillary size in microns, blood viscoelasticity, or any number of data points related to the minutest measurements of the human body. You don't see many business case studies touting numbers related to microscopic measurements. These details are very important for case studies in the world of healthcare.
Outcome Focused Case Study: An Example
The patient handling case study section of the medical device manufacturer Stryker encourages people to "learn about the positive impact Stryker products can have on your facility, caregivers and patients." Outcomes are highlighted in the case study through the presentation of specific statistics about the benefits of the given device. The stats outlined throughout the page promote Stryker's attention not only to the health of the patient, but also the positive outcomes for the caregivers.
Getting the attention of the medical technology buyer persona, on its own, is a daunting challenge. Gaining their trust and respect without hard numbers and solid science is even harder. Doctors, surgeons, and hospital buyers are looking for statistics and outcomes, not fluff. Case studies present an opportunity for medical technology companies and medical device manufacturers to promote product details that will be essential to final purchasing decisions.
MedTech Buyers Rely on Trust Signals
The medtech buyer has to be ever vigilant in looking out for false claims and overstated outcomes. Statistics, while valuable, can be fabricated. Trust signals are critical, since the outcomes of a new medical technology can potentially influence thousands of lives.
The typical trust signals of case studies take on even greater significance to healthcare professionals. A buyer doesn't want to just see logos, awards, and quotes. They are going to make deeper judgements based on the company, the credibility of the awards, and the people who are being quoted.
These trust signals let buyers know that someone else at another hospital or clinic has used this technology in the past and has formed an educated and positive opinion of the solution or device. While many industries might be able to get away with a generic case study that presents a positive review from a 'director of operations at an east coast manufacturing company,' the medtech buyer is looking for more details. This trust matters because these buying choices have real world implications that are beyond legal and financial repercussions.
Promoting Trust Case Study: Examples
In this Smith-Nephew case study, Dr. Samir Mehta, the Chief of the Orthopaedic Trauma division at the Hospital of the University of Pennsylvania is quoted, creating a sense of authority and trust for readers. In another case study on their Revision Femoral System REDAPT, surgeons Reid B. Brown and Justin Klimish give their input on the reasons they chose the system, the results, and their personal satisfaction. These case studies not only provide the names of the various doctors but also their pictures. Seeing the real faces of the people involved in the case study helps promote trust and shows a willingness of those involved to offer more than just a quote or two, which speaks to their confidence in the technology.
Doctors and medical technology buyers need to gain a deeper level of trust than the typical prospective purchaser. The content that will be most appealing to this persona will not only help them gain trust and prove the efficacy of a given solution, it will also make a case for the overall value of the solution.
Medtech Buyers Look to Case Studies to Establish Value
Given the ramifications of new healthcare laws, the drive for value is at the forefront of the medtech buyer persona's mind. These value points are shown through a combination of credibility, real world outcomes, and return on investment (ROI). They are looking for points in the case study that can show the key benefits to value-based purchasing:
Provide positive patient outcomes
Provide ROI versus current solution
Reduce operational costs
Increase productivity
Lower re-admission rates
Increase quality of care
Boost staff and administrative efficiencies
Value Based Purchasing Case Study: Examples
With the increased focus on value-based purchasing, buyers will look for case studies like this one from Siemens, for their Immunoassay Workcell solution. This case study shows how the Siemens solution enhances productivity and reduces operational costs. Specific numbers are cited that show how the solution reduces operator time, increases operator efficiency, and decreases total work time.
Another case study from Intel's Healthcare IT team specifically addresses how strategic technology initiatives at Presbyterian Healthcare Services helped to reduce readmissions. Reducing readmission rates are extremely important because of the Hospital Readmissions Reduction Program which penalizes hospitals for excessive readmission rates.
The increased importance of value-based purchasing and the rise of Accountable Care Organizations increases the importance of the value-based case study. The financial implications of value-based purchasing mean that doctors and hospitals may risk Medicare payment penalties if they fail to abide by certain purchasing guidelines and meet quality-of-care benchmarks. The buyers in the healthcare space will look for more than just trust signals and statistics, they will increasingly look for specific details on the overall value of the solution, with the goal of decreasing costs and increasing quality-of-care.
Building Customer-centric Content
By providing the medtech buyer with marketing material like product case studies, technical specs, and client testimonials, you start to paint a fuller picture of your products and solutions. Those involved in technology purchasing highly value the case study because they're focused on procuring solutions that do more than just show ROI, they potentially help save lives.
The medical case study is one of the key learning tools for people in the health care profession. Doctors and health care professionals look to this format regularly to learn about real-world examples that help them better diagnose and treat their patients. Marketing case studies that promote trust cite real world outcomes, show overall value, and help you to show the medtech buyer that you care about the key drivers of their purchasing decisions.
How and Where to Use Case Studies
Is your team using case studies in your medical technology marketing efforts? Arm your sales reps with both printed and digital versions of your case studies and make your case studies both easily accessible and freely available on your website. Your case studies are a vital part of the purchasing decision making. Make sure yours address the key points that they're looking for when evaluating a medtech solution.
For a comprehensive overview of the medical technology marketing landscape click to acess The Ultimate Guide to Digital Marketing for the Medical Technology Industry.