In the Cascade Mountains of Southern Oregon, there sits a volcano with no peak. But what takes the place of a billowing summit isn't a barren crater -- it's an electric blue lake, surrounded by pine trees and the jagged remains of the volcano's collapsed mouth, which crumbled during an eruption almost 8,000 years ago.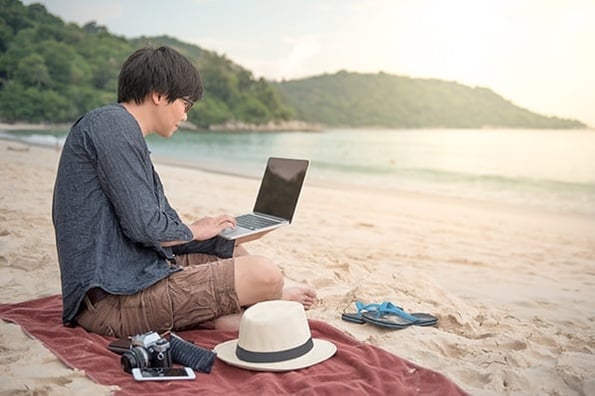 This place is called Crater Lake. It's considered one of the most beautiful national parks in the United States. It's also where Justin Champion, a Content Professor at HubSpot Academy, spent his work day last Thursday.
A striking landscape, like Crater Lake, is a normal office view for Justin and his wife, Ariele. After working in the National Park, they headed north to Portland and spent a day in Mt. Hood. Then, they drove through Redwood National Park. And next week, they plan to work in Yosemite National Park.
Justin and his wife have been living, working, and traveling across America in a Ford F-250 with an Airstream trailer hitched to its back for the past two years. And their alternative lifestyle has helped them prioritize life experiences and close connections over material possessions. They're modern day nomads. Or what most people call digital nomads.
What is a Digital Nomad?
Digital nomads are remote workers who usually travel to different locations. They often work in coffee shops, co-working spaces, or public libraries, relying on devices with wireless internet capabilities like smart phones and mobile hotspots to do their work wherever they want.
With 34% of remote employees working 4-5 days a week out of the office, the digital nomad lifestyle could be an exciting possibility if you've caught the travel bug and want to break free from the shackles of 9-5 life. Below, we'll cover the benefits, job opportunities, and realities of this alternative lifestyle.
Let's find out if it's the right fit for you.
Living the Dream? 5 Benefits of Being a Digital Nomad
1. You'll be more productive.
There's no time to waste when you travel to gorgeous places almost every day. Exploring your new surroundings will motivate you to get your work done as soon as possible. Adventure can be one of the best types of motivation.
2. You'll have more breakthrough ideas.
Creativity happens when you mash seemingly unrelated concepts together to form a new idea. Neuroscientists call this synaptic play, and the more incongruent the concepts are, the more synapses occur in your brain. Working in a different place everyday gives you a lot of diverse experiences that you call pull from to make these creative connections. And when your brain is chock full of these diverse inputs, your ideas are much more inventive.
3. You'll become more adaptable.
Constantly traveling to new places pushes you out of your comfort zone. And to adapt to new environments everyday, you need to be willing to engage with different people and cultures. This makes you more open to new experiences in the future.
Traveling also improves your brain's reaction to change. When you travel, the stress of navigating a foreign place sprouts dendrites in your brain. These dangling extensions increase your brain's capacity and attentiveness during new and challenging situations in the future.
In a nutshell, traveling strengthens your desire and ability to learn new skills.
4. You'll have more time to do the things you love.
Even though work can be great, we still work to live, not the other way around. Finishing work faster gives you more time in your schedule to explore your surroundings, do the things you're passionate about, and spend more time with loved ones.
5. You'll make lifelong friendships.
Adventure and memorable experiences forge close connections between people. When you embark on your journey, you'll meet other digital nomads and become friends with them. And if you travel with a friend or significant other, your relationship will be closer than ever before.
Common Jobs for Digital Nomads
Today, most companies embrace remote work. 43% of American employees spent time working remote last year, and this number will only increase. But being a digital nomad and working a few days at home are two different animals. If you want to keep your day job while traveling, you need to prove to your manager that you can handle full-time remote work before you can do work on the road. Justin Champion decided to work remotely for six months before he even asked to travel.
If you're looking for job, sift through sites that only list remote jobs, like We Work Remotely or Remote.co, and ask prospective employers if the role lends itself to your nomadic lifestyle.
Freelancing is also a common role for digital nomads. Before you embark on your journey, though, you must be realistic with yourself. How will you be able to make a living? Answer the following questions to help you figure this out:
What am I good at?
What do I like to do?
Is there a need for my skill?
Can I do this job online?
Once you know how you'll be able to make money, you can enter the gig economy by marketing and selling your services on your own, or finding work on a freelance service marketplace like Upwork or Fiverr.
Whether you chose to work for a company or yourself, becoming a digital nomad doesn't mean pigeonholing yourself in a specific role. Your job just has to be fully digital. Listed below are some common roles that lend themselves well to a fully remote lifestyle:
Accounting
Customer Service
Design
Editing
Healthcare
IT
Marketing
Project Management
Quality Analyst (QA)
Recruiting & HR
Sales
Software Development
Teacher/Tutor
Transcription
Virtual Assistant
Writing
As you can see, there's a lot of different industries and roles for digital nomads. Remote work is becoming commonplace, which is exciting and beneficial for the workforce. But that doesn't mean anyone and everyone should be a digital nomad. It's still a tough challenge. You need to be organized and disciplined, or you won't be able to enjoy your travels -- which is the point of the lifestyle, right? So how do you set yourself up for success?
How Do You Become a Digital Nomad? 5 Things to Consider Before You Get Started
1. Get rid of unnecessary expenses.
Paying for things that don't greatly impact your life is never ideal. That's why you need to get rid of all the expenses that you won't need living as a digital nomad. Things like gym memberships, subscriptions, and debt are all expenses that'll bog you down on the road. And if you're a freelancer, they'll be even more of a burden because you might experience some periods of inconsistent income. Getting rid of these expenses and paying off debt will allow you to fully focus on your work and travels.
2. Make sure you have income you can rely on for months in advance.
Whatever lifestyle you pursue, it's always smart to have safety net. You never know when an emergency will arise. This rings especially true when you're a digital nomad because you're mostly own your own. You can't find solace in a warm, comfortable home or family, and if you're freelancer, you don't have the luxury of a consistent paycheck. To widen your safety net, you should sell any unnecessary belongings, move the essentials into a storage unit, sell or rent your house, and save as much money as possible.
3. Get travel health insurance.
Traveling can give you some of the best experiences in your life, but it not always a blissful, perpetual highlight reel. It's still real life. You'll get sick, have emergencies and accidents, and need regular checkups. You also need immunizations to enter certain parts of the world. Your health should be your number one priority during your travels, so make sure you buy a solid health insurance plan that's valid in all the places you visit.
4. Set yourself up for financial success.
Ample funds are the key to successful travel. American credit cards will usually charge you a fee if you use it abroad, so ask your bank for an international credit card. You should also sign up for credit monitoring services that'll alert you if anyone tries to steal your identity.
5. If you travel internationally, unlock your phone.
Most countries have different cell phone carriers, so if you want to bounce from country to country, you need to call your current carrier and ask them to unlock your phone. You'll be able to use your phone in any country because you can put a different sim card in your phone from each international carrier you use.
Once you square these things away, it's time to start your new life on the road. But actually living life as a digital nomad is an entirely different ballgame than preparing to be one.
7 Tips for Living as a Digital Nomad
1. Make a budget.
As a digital nomad, your budget should be your bible. And if you follow it, you can live quite comfortably. To create a successful budget, calculate your living expenditures, the cost of traveling to each destination, staying there, the activities you'll do there, the costs of working, and how it all affects your savings if you can't earn a salary for a while.
2. Plan for the worst-scenario.
When you live abroad, It's crucial to have multiple backup plans in case of any emergencies. Nothing really ever works out the way it's supposed to. Things happen. What if your truck breaks down? Or what if you get stuck in a foreign country with no backup plan? What's your plan B and C? You need to set these processes in place to handle the inevitable bumps in the road.
3. Join a digital nomad community.
Digital Nomad communities like Couchsurfing and Nomadlist will help you learn the nuances of the digital nomad lifestyle, and reduce its steep learning curve. Fellow nomads will be happy to answer any pressing questions about your new lifestyle and any areas you plan to visit. They'll also teach you how to work effectively on the road. And arguably the most beneficial perk of these communities is that you can connect with other traveling professionals, which can lead to new business opportunities, partnerships, and friendships.
4. Make sure you have cell reception or wifi.
If your employer lets you work remotely, show them and your team some respect by being available as much as possible online. Not having wifi or cell phone reception should never be an excuse for missing a meeting or failing to get an assignment done. The same goes for client work, if you're a freelancer.
To make sure you'll always have internet connection, consider investing in a cell phone booster and a mobile hotspot mifi device. Cell phone boosters can detect the smallest shred of cell phone reception and send the signal to your vehicle. Mobile hotspot mifi devices strengthen your mobile hotspot service, so you don't have to rely on a spotty, public wifi connection.
5. Make sure you can communicate with locals.
Knowing the language of the country you're going to or knowing that they speak your language is crucial for successful travel. Assuming that there has to be someone who will understand English is a dangerous move. But if you must go to a place where you don't know the native language or they don't speak yours, use Google Translate or another translation app to navigate your new environment.
6. Research your destinations.
If you're not living in an RV, find affordable housing on AirBnB or Couchsurf before you arrive to your destination. And make sure your lodging is near a hospital, emergency room or clinic in case of an emergency. You should also research the area to find safe neighborhood to stay in.
7. Draw cash from ATMs.
Airports are notorious for charging ridiculously high currency exchange fees. If you need cash, draw it from an ATM. Your bank will charge you a fee, but it'll be much lower than the one at the currency exchange desk.
Before you set off ...
If an adventurous lifestyle sounds appealing to you, then being a digital nomad can be one of the most rewarding yet challenging ways to live. But if you arm yourself with organization, discipline, and a thirst for learning, you could enjoy an exciting and fulfilling life on the road. Just ask Justin and Ariele Champion. They're living the alternative American Dream. And they've never looked back.