An employee handbook is a critical document for setting clear expectations for new employees, providing policies for all employees to follow, and making it easier for you know how to deal with problems with your employees when they arise.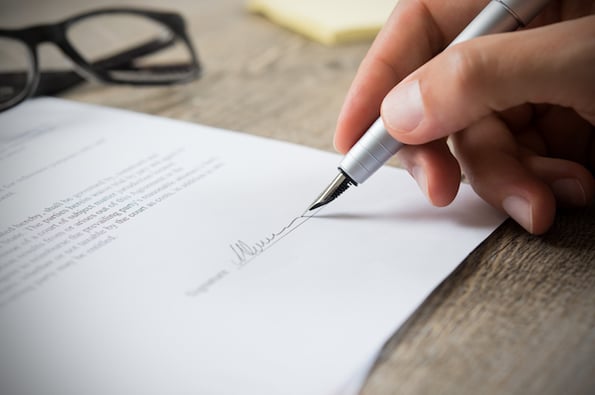 Among other things, your employee handbook should cover everything from dress code and vacation days to your code of conduct and nondiscrimination policies.
Additionally, it should set the tone for what it's like to work at your company -- your employee handbook isn't just a list of "what not to do". It's also a chance to express your company mission statement, and workplace culture.
For instance, maybe you want to allow for casual dress Friday's, to provide your employees the opportunity to feel more comfortable before the weekend. This is an exciting employee benefit, and one you should clearly outline.
Here, we'll cover the nine elements you must include in your employee handbook in an employee handbook template, and provide a sample employee handbook for further inspiration.
Employee Handbook Template
To know what to include in your employee handbook, take a look at our template.
Employee Handbook for [Company Name]
Introduction to company & values.
Here, you'll want to describe your company's history, including when you were founded, by whom, and why. Additionally, you'll want to briefly include your company mission statement, and add some insight into your company culture. What do you prioritize in the workplace? Autonomy, continuous education? Include that here. Essentially, give your new employee the elevator speech of why your company matters, and why they should be excited to be apart of it.
Code of conduct
In this section, you need to give your employees a general overview of information regarding ethics and compliance. Ultimately, a code of conduct allows you to emphasize your company's values, and the desired behavior you wish to foster in your leaders and employees. These rules can allow you to fairly regulate and assess an individual's behavior.
You'll want to include as many specific details as possible -- for instance, let employees know your definition of excessive tardiness, and how tardiness will be disciplined. Alternatively, you might include specific dress code requirements in this section.
Additionally, your code of conduct section will be a reference point for employees when they're dealing with difficult ethical dilemmas in their day-to-day. It's a section that tells them what your company values and considers right from wrong, along with resources for employees when they encounter ethical predicaments.
Equal employment and nondiscrimination policy
The U.S. Department of Labor requires many businesses to include an equal employment and nondiscrimination policy in their employee handbook. Plus, you want each employee to know that discrimination or harassment of any kind won't be tolerated in your workplace. Even just one instance of discrimination can create toxicity for an entire company's culture.
Computers and technology policy
You'll need to make clear what your employees can and can't do with the technology you provide them. Among other things, let employees know whether you have the right to see emails they send on company computers, whether you expect them to avoid social media while on their work computer, and how much privacy they should expect while using company property.
Additionally, you'll want to inform your employees whether certain actions on company technology are fireable offenses.
Compensation and benefits policy
Simply put, your employees want to know about their benefits regarding health care, dental, vision, life insurance, stocks, etc. In this section you can also let them know about benefits such as tuition reimbursement, commuter benefits, parking, employee referral bonuses, and 401(k) plans.
You'll also want to include critical information regarding salary, payroll deductions, and compensation increases for specific job descriptions to convey how each employee can advance their income. Additionally, you'll want to document the payment schedule for each employee (weekly or bi-monthly).
New hire and separation policy
Let your new employees know whether they need to wait to receive their benefits (and how long), what steps need to be taken if an employee wants to quit, and information regarding your progressive discipline policy. By outlining the steps you take for discipline, you're ensuring a level of fairness and establishing prohibited behavior.
You'll also want to outline what an employee is entitled to if they are terminated, and for how long they can expect certain benefits.
Leave policy
It's critical you outline how much paid and unpaid vacation time each employee gets, as well as how much time they get for medical leave and paid family leave, as well as sick time. Some of these policies, such as family medical leave, are enforced by the U.S. Department of Labor, so you'll often need to comply by the same standards as other businesses in your state.
Non-disclosure Agreement and Confidentiality policy
To ensure your employees don't misuse confidential information either regarding your internal operations or your clients, it's critical you outline what you constitute as confidential information. Your business is bound by law to protect certain information, and you'll want to make a list and ensure your employees are aware of what information they can and can't share. Among other things, this likely includes your company's internal business plan, your client's information, and employees' financial account information.
Signature page
A signature page is important for two reasons -- first, it confirms the employee received the handbook, and incentivizes each employee to read it through before signing. Second, if you're ever dealing with a wrongful termination lawsuit, it could help with your defense.
Sample Employee Handbook
While your employee handbook will be undoubtedly unique and particular to your culture and company values, we've created a sample employee handbook to help get you started.
However, many of these sections are too personal and legally sensitive to include in a sample. For instance, when writing a non-disclosure agreement, you'll need to review state and federal laws and will need the guidance of a lawyer.
Employee Handbook for Healthy Tea & Co.
Introduction to company & values.
Welcome to Healthy Tea & Co.!
Started in 2011, Healthy Tea & Co. aims to create healthy, organic tea and drink products and market them to people who want to live healthier lives. Founded by Hannah Jones and Mark Pluto, we pride ourselves on being a workplace that focuses on employee happiness and autonomy, diversity and inclusion, and helps our customers find products on the shelves that are both delicious and nutritious.
What is important to know when joining our team at Healthy Tea & Co.?
We value independence and autonomy, and for that reason, we allow our employees to work either in-office or remotely.
We like to have fun, which is why we have casual-dress Friday's, ping pong tables, and monthly team outings.
We encourage continuous learning and want our employees to seek out growth opportunities, so we offer employee-taught trainings on a variety of topics, tuition reimbursement, and a free book program.
Ultimately, as an employee at Healthy Tea & Co., we expect you to remain honest and trustworthy with your team, willing to think outside the box, and excited to experiment and ask questions about our products and our systems, because we as a company value growth and innovation.
[Code of conduct would go here]
Compensation and benefits policy
The amount of compensation you will receive is provided in your offer letter.
In addition, Healthy Tea & Co. must deduct specific amounts from your paycheck. These mandatory deductions (required by federal law) include:
● Social security (pre-tax)
● Medicare (pre-tax)
● Federal withholding taxes (pre-tax)
● State withholding taxes (pre-tax)
Health & Wellness Benefits include:
[Medical, Dental, and Vision Insurance would go here, as well as Life Insurance, Dependent care, Healthcare Spending Account, Accident Insurance, etc.]
Leave policy
At Healthy Tea & Co., our vacation policy for PTO entails the following:
0-2 years tenure = 15 days
2-5 years tenure = 20 days
6+ years tenure = 30 days
Additionally, in compliance with state laws, we offer 5 sick days, which can be used for personal illness or to take care of a sick family member.
In the U.S., we observe the following holidays:
New Year's Day
Martin Luther King Jr. Day
Presidents Day
Patriots Day
Labor Day
Thanksgiving Day
Christmas Day
[Financial benefits, such as 401(k) or employee referral bonus, would go here]
[Equal employment and nondiscrimination policy would go here]
[Computers and technology policy]
[Anti-discrimination policy would go here]
I have read all of the provisions of this agreement and I understand, and agree to, each of such provisions, effective as of the date first entered above.
________________ (sign here)
________________ (date)
Code of Conduct Samples
To ensure you have all the inspiration you need to create your own code of conduct section in your employee handbook, take a look at some of these inspiring company code of conducts':