Remember the good old days of catalog shopping? A simpler time when you could flip through pages of a glossy magazine, ogling at advertisements that captured your attention, drew you in, and immediately transformed you into an interested customer.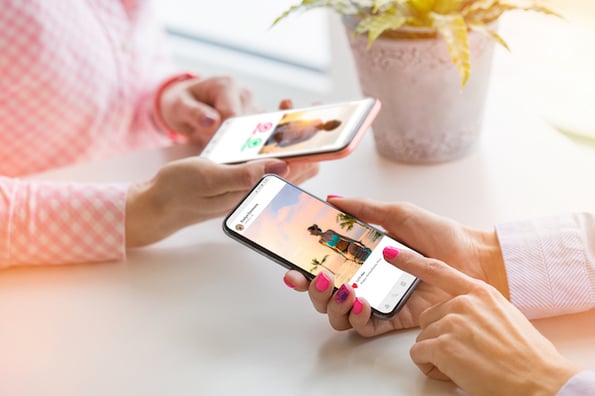 A lot has changed for brands since those nostalgic times. Thanks to social media and content inundation, brands are bridging the gap between browsing and buying.
My first interaction with the bridge happened on Instagram. I was idly scrolling my feed and ran into a post of an enamel pin with a shopping bag on the top right corner. By tapping that bag, I could see the price information, and with another tap, I was entering my credit card number.
The whole time, I was astounded at the ease of the process — in about five minutes, I was brought from engagement to conversion, all with shoppable content.
What is shoppable content, and what does it look like? Let's cover that, next.
What Is Shoppable Content?
Shoppable content is a form of visual commerce in which marketers use compelling imagery (often formulated in a storytelling format) with actionable purchase points or product recommendations, streamlining the conversion path from browsing to purchase.
Shoppable posts are a prime way to boost sales and round out your marketing campaign. Providing your audience with the power to shop on their favorite platforms gives them an accessible way to discover brands. It also helps out content marketers who want a new way to promote a catalog on social feeds.
Let's go over some examples of Shoppable posts, starting with Instagram.
Instagram Shoppable Posts
Instagram's platform is rich with shoppable features and capabilities. For instance, Instagram's Discover page has a section dedicated to finding new brands.
Instagrammers can interact with shoppable posts in a number of locations on the app: Stories, the main feed, and the Discover page, shown below:
If you want to start posting shoppable content, it's a great idea to use Instagram — especially if you have a catalog of products to show your audience. 81% of people start their buyer's journey on Instagram, using the platform to browse new products. This means, for lead generation, Instagram is a star player.
To post shoppable content on Instagram, you'll need an Instagram Business account to upload your catalog, set up listings, and integrate shoppable options in posts. When your posts show up to users, they'll be able to tap on white dots in the content to see a quick view of the product:
Image Source
Additionally, users can shop in Instagram's Stories feature. Since tapping on the screen in the Story tool switches the one being played, users can swipe up to shop instead. For a more in-depth tutorial on using Instagram for business, be sure to check out this guide to using Instagram for Business.
Otherwise, let's look at some examples.
The Best Examples of Instagram Shoppable Posts
1. World Market
A great way to frame your shoppable post is to show how your catalog can fit into the lives of your target customers. Take World Market, for example, a HomeGoods store. To showcase a picture frame and globe, the post shows how the items look as part of a decorative display:
By tapping on the "View Products" button in the bottom left of the post, users can see which products on the bookcase are shoppable. They can see the price, item name, and when tapping those blurbs, they can purchase. Notice the Afterpay logo on the blurb, letting users know how they can pay.
2. Stil Classics
Stil Classics is a brand that sells organizational products, and this main feed post is a great example of how a product can be useful to audiences. Additionally, like this photo, your product doesn't have to be the focal point — as long as it's shoppable, the "View Products" button will highlight what's being sold:
This product in particular, a pouch for working from home, fits in elegantly with the post without interrupting it. Another superstar element is how it works in the minimalist aesthetic of the brand, as well as the brand colors: white, black, and cream. A tactic like this supports brand awareness.
3. Glacelis
Are you using seasonality or holidays as part of your current campaign? Look at this post from art shop, Glacelis, for inspiration. As part of a Mother's Day promotion, this shoppable image promotes some items that are perfect gifts for mothers:
Notice how, because there are multiple items for sale in this post, the shoppable items are featured in a grid fashion. This is a setting you can configure when you're building your post in Instagram Business.
4. UBTECH Robotics
Shoppable videos are a thing, and the marketers at UBTECH Robotics uses them to their advantage. To show off a new product in a commercial-like format, the team decided to go with a video that users can tap to shop:
Image Source
Notice how, because this post is a video, the only option to make it shoppable is to choose the "In This Video" format. Even so, videos are a super engaging way to catch a browser's attention — I can say that this video definitely stopped me while I was idly scrolling.
5. AYR
Pronounced "Air," and being used as an acronym for All Year Round, AYR is a clothing company offering basics, such as tee shirts and jeans. The promotion in this post is part of a throwback paparazzi photo of actor Hugh Grant:
AYR's products are clothes that people likely have in their closets already, so this post gets inventive, and shows how stars wear their basics. This marketing technique is fun and shows the brand's personality, while demonstrating how to style their clothes like stars.
6. iPort Products
Maybe your company sells accessories, and they look best in context. This is similar to iPort Products, which sells cases for Apple products, as shown in this shoppable post:
This post keeps the Apple-lover in mind. The ode to minimalist, sleek design is reminiscent of the Apple brand, but also supports iPort's brand. An extremely branded post like this one will stay in the mind of users, some of whom might be scrolling on their iPhone or iPad, and need a new case.
7. Frances
This adorable post is from an Arizona-based boutique, Frances. The marketers at Frances took advantage of a holiday, similar to Glacelis. To celebrate Earth Day, this post offers sustainable products available for purchase:
The caption of this post is a wonderful display of using brand voice to sell a product. From the laid-back language and use of emojis, it can be inferred that Frances's target audience is younger. So, the wording and execution of the post is made to attract the eyes of tech-savvy audiences who are interested in sustainability.
Now that you've seen some Instagram post examples, let's move on to another social media platform that's offering shoppable post tools, Pinterest.
Pinterest Shoppable Posts
Almost half of Pinterest users visit the platform to shop. Because of that, shoppable posts on Pinterest are an engaging way to generate leads and build brand awareness.
Similar to Instagram, Pinterest users can use a main page to find shoppable posts. Instead of the Discover page, this will be on the homepage, like shown below:
Users can tap on the pin to expand it and shop the product within the pin. These are called Product Pins. When users interact with a Product Pin, they can click on it to see more information and shop by clicking on the picture in the post, or by clicking on the link in the copy of the pin's description:
If users want to specifically search for Product Pins, they can select that option from the dropdown menu on the homepage and begin to browse from verified merchants.
Pinterest's Verified Merchant Program lets you enable shopping directly on your Pinterest page. In addition to appearing on the Product Pins page, verified merchants will also be able to measure the ROI of their Product Pins (and receive a slick, shiny Verified Merchant check on their page).
This is a free program to apply for — all you'll need are products to sell and a Pinterest Business account. Remember, Pinterest users leverage the app to save ideas and find new brands, so this is a great lead generation platform.
Facebook Shoppable Posts
If you have a Facebook account, it's likely you've encountered shoppable posts while scrolling through your News Feed. If you interact with any ads or Sponsored content on Facebook, you've probably encountered CTA buttons such as "Install now" or "Shop now":
These can appear in carousels (Swiping through an ad to see a catalog of content), a static Ad, or in your Sponsored content sidebar.
Shoppable content on Facebook is a bit different because they're part of the larger Facebook Ads ecosystem. So, if you wanted to post Shoppable content, you'd need to create a Facebook Business account and run an Ad campaign. Even though there are a few more steps involved, Facebook Shoppable posts can be a great asset to your advertising strategy.
This is because Facebook is a widely used platform, and one known for audience discovery. You can also use Facebook's Ad Manager to make sure your shoppable posts are being seen by the right target audience.
Shoppable posts can also appear on websites and in online publications. Let's look at how these websites are presenting their shoppable content, next.
5 Examples of Creative Shoppable Content
1. Scotch & Soda
Traditionally, lookbooks were an industry insider tool. They were used to attract coverage from press and to showcase new products to potential retail buyers.
Over the years, lookbooks have transformed into public-facing marketing assets used to convey the inspiration of a collection, and to breathe life into the products being sold.
The marketers for Dutch clothing retailer Scotch & Soda fully capture the creative inspiration behind the Spring/Summer collection in this shoppable lookbook experience. The exotic scenery conveys the story behind the product. A story of creative discovery found in nature -- specifically the rainforest.
The interactive design elements provide an engaging experience that drives sales and increases time on site -- while the content communicates authenticity and the brand's identity.
2. All Saints
User-generated content (UGC) is arguably one of the most popular marketing tactics. It infuses personality into products by transforming them from objects into relatable lifestyles, making it an awesome asset for sales and customer engagement.
Social media has inspired us to be fascinated with the lives of others, and UGC capitalizes on this trend. By incorporating visual content from actual customers, All Saints campaigns successfully alleviate the pressure of purchasing with an experience similar to that of scrolling through a social media feed.
The images act as a product endorsement from other satisfied customers, and the shoppable elements make it easier to discover the product information necessary to make a purchasing decision.
3. Net-a-Porter
Fashion lovers and lifestyle brand enthusiasts have always had an immense love for magazines. Nobody knows this better than the marketers at Net-a-Porter, a magazine which was established on the foundation of exceptional content.
The digital publication and luxury ecommerce retailer has continued to attract customers with insider interviews, seasonal trend reports, and style edits similar to the content traditionally produced by lifestyle magazines.
The company's success was built on the largest flaw of lifestyle publications: shoppability and product discovery. Net-a-Porter capitalized on this frustration by adding the ability to shop directly within online content.
4. Kate Spade
With video marketing undeniably on the rise, allowing users to shop products directly from videos is an obvious progression to bridge the gap from viewer to customer.
However, the popularity of inserting shoppable product tags in videos highlighted a critical issue: viewers of shoppable videos weren't completing as many purchases because checking out would interrupt the viewing experience.
Marketers at clothing and accessories label Kate Spade realized this early on. For a holiday marketing campaign, featuring actress Anna Kendrick, the marketers behind the brand tried something new. They eliminated the friction of exiting a video when shoppable elements were clicked, trading it for a feature that compiled the list of products into a cart viewed at the end of the video.
Instead of ruining the viewing experience for interested consumers, the brand tailored their marketing efforts and technologies to their needs.
5. Crate & Barrel
Crate & Barrel's blog is a haven for DIY lovers and food enthusiasts. The brand regularly partners with social media influencers across many beats to amplify their reach. This strategy ensures that they consistently provide quality and authentic content their target audience will love.
Everyone knows that content is king. However, many retailers have struggled with converting blog readers into buyers. Crate & Barrel makes it easier for website visitors to purchase the items featured in posts by adding shoppable product tags into images that feature the brand's products. Pairing shoppable content with how-to guides allows the brand to leverage moments when readers have the highest intent to purchase.
Closing the Gap Between Engagement and Purchase
Traditional content marketing efforts no longer suffice when attracting and engaging customers. Brands and retailers must lessen the friction between content and their products.
These brands have perfected the art of using shoppable content to engage new audiences, convert more customers, and increase discovery. Use these examples to guide you on your journey for the ultimate customer engagement strategy.