When I'm looking for a business that will have what I need, whether it's food or office supplies, I use Google Maps. I know that the search results will give me enough information to pick the best option, like reviews, ratings, photos, and location information.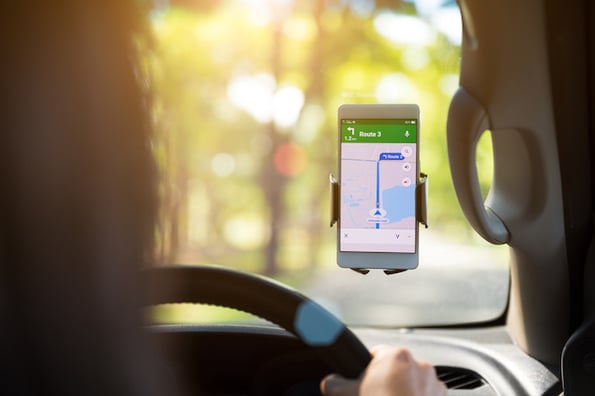 I'm not alone in my preference for Google Maps, as it is six times more popular than other navigation apps. Given its popularity, it's critical you optimize your business to appear in Google Maps search results.
In this piece we'll cover the basics of Google Maps marketing, best practices for optimizing your Google My Business for search results, and marketing tactics you can employ to improve your local SEO.
What is Google Maps marketing?
Google Maps marketing is a process where businesses include relevant information in their Google My Business profile, like hours of service and customer reviews, to rank higher in search results. Ranking higher in search results in turn increases business visibility and drives revenue.
Google Maps marketing is beneficial for large and small businesses alike, especially because of Google Maps Local 3-Pack. Local 3-Pack is the first three businesses shown in search results that Google considers to be most relevant based on a user's current location or the location where they're searching.
The image below is an example of a Local 3-Pack for a restaurant query in Cambridge, MA. These three businesses are what Google considers to be most relevant based on the search query and the location where the search is being conducted.
You can think of it like this: if your Google Maps marketing strategy is focused on optimizing your Google My Business profile for search results, Google will take note of this and show your business in the Local 3-Pack for relevant queries relating to your company. This increases visibility, and increases the likelihood of consumers visiting your business and making a purchase.
What is Google My Business?
Google My Business is a free tool for business owners to manage and optimize their business' profiles on Google Maps.
A Google My Business profile typically includes your business' name, location, and hours of operation. The image below is an example of a typical Google My Business profile from one of the top restaurants from the image above.
When you claim your business using a Google My Business profile, you can optimize your Google Maps presence by ensuring that customers only have access to relevant, up-to-date information.
You can also use your profile to interact with customers when they leave reviews and track Google Maps Ads insights to understand how customers interact with your profile.
Google Maps Ads
Although marketing on Google Maps is free, local search ads can boost your business' visibility in Google Maps search results.
Using these ads will bring your business listing to the top of search queries for keywords relevant to your business. Google Maps ads use location targeting, so they'll only show up for location-relevant searches. These ads appear in desktop and mobile searches (shown below).
When you create ads for your business, you can track their performance to get a sense of how customers respond to your ads and take further actions like using your address to get Google Maps directions or click on the listed phone number to call you.
How To Optimize Your Google My Business Account
To appear in Google Maps results, you need to optimize your Google My Business profile to include up-to-date information. Let's go over the profile elements that marketers should focus on to perfect their Google Maps marketing strategy.
Verify Your Business
The first thing you'll want to do is claim and verify your business. This means that you claim a business as your own within Google Maps, so you're the only person with the ability to change information in your business profile.
This verification process is done through Google, and most businesses can do so through postal mail.
Mark Relevant Categories and Attributes
Categories describe your business and the services you provide. Customers often come across businesses in Google Maps by searching for categories, like "pizza restaurant" or "coffee shop."
Google recommends that you choose a primary category that describes your overall business, like "Pet Groomer." A further best practice is using additional categories that let customers know more about what your business offers. So, continuing with the previous example, if you're a pet groomer that also sells pet supplies, you'd want to include an additional category for "Pet Supplies."
Attributes are the amenities a business offers, like accessibility functions or outdoor seating. Google has recently added attributes to mark when businesses are black-owned, women-owned, and LGBTQ friendly. Google recommends that businesses select the most-relevant attributes to display in their profile.
Location and Service Areas
If your business has a store-front location, using the right address is crucial for optimizing your profile. Google recommends using a USPS or postal service approved address that includes all relevant information like room or suite number and a nine-digit zip code.
If your business services customers at their homes or businesses, like a cleaning service, you'd want to include an address for your primary location and add specific service areas where you do business.
Optimized Introduction
One of the most essential optimization factors for your Google My Business profile is an optimized introduction that gives customers a summary of your business. These introductions should be brief and include relevant keywords that users may search for. Short descriptions of your business are shown in tile search results, as shown below.
Longer descriptions appear when a customer clicks on your specific business, as shown below.
Reviews
Google recommends responding to online reviews of your business, which enables new people to find you online, and demonstrating to existing customers that you value their feedback. You might consider asking happy customers to leave reviews or even incentivizing them with a coupon in exchange.
Having reviews on your profile is also a great way to build social proof based on a psychological idea that says people determine what is good by finding out what other people think is correct. Reviews help build social proof because consumers value enthusiasm from other consumers, and they spend 31% more when a business has positive reviews. Consumers also trust user-generated content (UGC), like reviews, 9.8x more than paid advertisements.
Alternatively, if someone leaves a negative review, it's still essential you respond. Look at Google's guidelines for how to respond to a negative review.
In search result overviews, reviews appear as star ratings in a business profile, as shown below.
When a user clicks on the business they're interested in, reviews appear towards the bottom of the business' profile. Anyone can read these reviews, view ratings, and leave their own. This is demonstrated in the GIF below.
Photos
According to Google, businesses with photos receive 42% more requests for driving directions to their location and 35% more click-throughs to their website. To optimize your account for search, it's vital that you provide pictures of your physical store and images of your products or services.
Customers can also upload photos, which is another form of UGC to benefit from in business reviews.
Best Google Maps Marketing
Let's look at two examples of businesses in the Boston area that have successfully optimized their Google My Business profile for effective Google Maps marketing.
When I searched for "bakery" in my area, Flour Bakery was one of the first results. Flour Bakery has taken advantage of all Google My Business optimization options to build their Google Maps presence. They've included a brief summary of their services, accurate location, hours, and links. They also used the Google Attributes feature to call out relevant aspects of their business, like being women-led and LGBTQ friendly.
They've also included relevant photos and allow customers to leave reviews.
Flour Bakery also responds to reviews, showing existing and future customers alike that they care about consumer experience and are willing to rectify problems, should they arise (shown below).
Say you're looking for a black-owned business to support during your next meal. If I query the words "black-owned," Blue Nile Restaurant comes up.
They've successfully optimized their Google My Business profile and selected an attribute that makes them easily identifiable (being black-owned). They've included an accurate address, hours, and phone numbers and allowed customers to leave reviews and add their own photos (shown in the gif below).
Marketing Strategies to Improve Local SEO
Google Maps is the most popular navigation app by a landslide, with 67% of total navigation users — second to Maps is Waze, with only 12% of total users.
This means it's a critical tool for ensuring local consumers can find your business.
Google Maps can help bolster your online presence in local search results, which demonstrates your legitimacy and relevancy as a company — you wouldn't be able to rank #1 for "nail salons near me" if you'd closed down months ago. Additionally, ranking high in search will ideally convince consumers to choose your business over a competitor's.
To improve local SEO, try these three tactics:
Get links back to your site from local businesses or bloggers.
To improve your local SEO, consider crafting a strategy to get backlinks from other local businesses. You could create a deal in which you link to another business' site in exchange for a link from them.
Alternatively, depending on your industry, try reaching out to local bloggers to ask for reviews — for instance, if you run a Bed & Breakfast, you might ask travel bloggers to stay for free in exchange for an online review.
Submit your site to local business directories.
Try submitting your site to local business directories like Yelp, Local.com, and Superpages, and ensure all information across each of the sites is accurate — ultimately, the more websites that reference your business, the better.
To submit your site to Yelp, for instance, go to https://biz.yelp.com/signup_business/new and fill in the form. Once the site is verified and approved by moderators, you'll receive an email on how to claim your business page.
Keep track of performance via Google's Insights tool.
Once you've created a Google My Business profile and optimized it for Google Maps, you'll want to track analytics using Google's Insights tool.
To access Insights on a desktop, sign in to your Google My Business account, open the location you'd like to manage (if you have multiple locations), and click "Insights" from the menu. On mobile, open the Google My Business app, click "More," and then tap "Insights."
Insights allow you to see how many times people have seen your business information, how many times people have requested driving directions to your location, and how customers can find your listing.
Optimize Your Google Maps Presence
Ultimately, an optimized Google My Business profile is another addition to your digital marketing strategy that gives your business more visibility, especially in Google Maps search results.
A business profile that gives an accurate address, phone number, and contains a significant amount of customer reviews will likely attract new customers, helping you grow your reach and drive revenue.