In 2020, working remotely is now more popular than ever.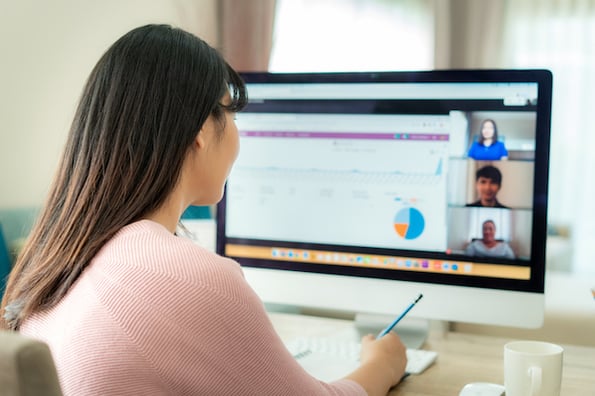 In fact, over 60% of U.S. employees between the ages of 22 and 65 say they work remotely at least occasionally — and 99% of people would choose to work remotely, at least part-time, if they could.
As a fellow part-time remote employee (I typically work from home two days a week), I can understand the benefits.
For instance, I find I get the most 'heads down' work done during those two days. Without the opportunity for kitchen chats, friendly debates with my desk-mates on the recent Cats movie, and hour-long team lunches, I'm incredibly productive.
Of course, there are plenty of challenges that come with remote work, as well. To name a few: awkward pauses during meetings when my computer freezes, an inability to have off-the-cuff brainstorming conversations with colleagues, and the lack of random check-ins from people around the office.
These challenges, while legitimate, become easier to manage with online communication tools like Zoom and Slack.
Which brings me to my point: if there's anyone I'd imagine could handle remote challenges with ease, it's Brad Armstrong, the Vice President of Business and Corporate Development at Slack, one of the world's most popular workplace messaging platforms (the tool is already widely used at HubSpot, as well as major brands like IBM, Target, and Cole Haan).
At Slack, Armstrong is responsible for partnerships, alliances, the Slack Fund, and M&A. Additionally, he's VP at a business with incredibly distributed teams: Slack has 2,000 employees at 18 different offices across 10 countries.
Here, I spoke with Armstrong about Slack's culture when it comes to remote inclusion, the management style he uses when leading remote teams, and how to align and increase collaboration across distributed teams.
Whether you find yourself suddenly needing to switch to remote work due to circumstances outside your control or you've been managing a remote team for a while, keep reading to learn Armstrong's three biggest remote leadership tips.
1. Make the time for face-to-face interactions, even if you're fully remote.
The shift from partially to fully remote at Slack wasn't as difficult as it might've been for companies with less reliance on online collaboration tools.
For instance, Armstrong told me, "As you can probably guess, we rely heavily on Slack to get work done and stay connected with our teams both in the office and when we're fully remote. With that in mind, our culture at Slack HQ has always lent itself well to distributed teams. It isn't unusual that communication and collaboration happens in channels, but also through our integrations with Hubspot, Zoom, and the more than 2000+ apps in the Slack app directory."
However, Armstrong adds, "With that said, being fully remote is new for all of us, and I've found that being face-to-face in times like this makes all the difference in keeping my team engaged. We often join quick Slack or Zoom calls to check in on one another and to connect on high-priority items."
It's ultimately critical you continue to foster opportunities for casual conversations among team members to build psychological safety and create an environment in which remote employees feel comfortable sharing ideas and collaborating with one another.
Consider how you might implement daily or weekly check-ins with various members of your team, or use an internal Google Doc to share ideas cross-departmentally as they arise.
Additionally, Armstrong says, "We also are relying on channels more than ever to keep up-to-date on what our teams are working on. By using topic- or project-based channels to share daily updates, everyone has the information they need to keep things moving, despite being fully remote."
2. When managing remote employees, additional flexibility is needed.
There are plenty of changes that occur when your team goes remote — and your leadership style may need to change as a result, as well.
Fortunately, Armstrong has plenty of experience with remote leadership. His team is global, so he manages teams in HQ, Europe, and Japan.
As Armstrong told me, "Additional flexibility is required when managing remotely. Whether it's varying time zones, different home situations or changing schedules, managers and team members need to adjust accordingly to accommodate and support each other."
Additionally, as a manager, it's critical you communicate top-down information so your employees have a firm understanding of what's going on in your organization as a whole.
In fact, Armstrong suggests, "Clarity is just as important right now. Taking the time to thoroughly explain and over-communicate priorities is critical to ensure everyone on the team is aligned. We kick off team meetings with pass-downs from leadership to make sure none of the key messages are being missed."
3. Rely on digital communication tools for effective cross-department collaboration.
There are plenty of online communication channels you might use to stay connected to your team.
For instance, along with Slack and video conferencing tools like Zoom, you might use Google Docs to brainstorm with team members, Trello to collaborate and align on product or content launches, or Confluence to create an internal wiki for company-wide announcements.
Ultimately, it's critical you continue to communicate effectively with team members — in fact, it might be more important than ever when working fully remotely.
As Armstrong says, "We know that sharing information and communicating is more important now than ever. Across departments at Slack, people are using DMs, channels, Slack calls, and apps to stay connected."
"Our product has ultimately always been at the heart of our business, and we're relying on the principles we've established to keep our business running smoothly in the face of uncertainty."
4. Continue to emphasize transparency and alignment across teams when working fully remotely.
It can seem more difficult to provide transparency cross-departmentally when working remotely. When everyone is in-office, it's easy to walk by someone's desk and ask what they're working on, or have a conversation with a colleague while grabbing a cup of coffee on the latest product launch.
Fortunately, Armstrong has a few tactics his own team uses to combat these challenges.
As Armstrong told me, "Without hallway conversations and in-person meetings, it can sometimes feel like you're missing out on a piece of the broader conversation around a project."
"At Slack, we know that alignment and transparency are key, especially while we're fully remote."
To make sure everyone at Slack and on his respective teams is in alignment, Armstrong told me his team relies on two collaboration strategies: announcement-only Slack channels, and weekly stand-ups.
He says, "We have announcements-only Slack channels for both company-wide announcements and for department-specific news like our bd-announcements channel. It's an easy way to broadcast important messages and share updates and resources across teams."
Additionally, Armstrong adds, "We also have weekly stand-ups: everyone shares their top three priorities on Monday, and top three accomplishments on Friday. This provides visibility on how projects are progressing, as well as allowing the team to celebrate each others' wins."
Ultimately, whether your company has had remote employees for years or is just segueing into remote culture in 2020, it can present its own unique set of challenges — but, equally importantly, it presents its own set of opportunities, as well. Hopefully you can use some of Armstrong's tips to build transparency, trust, and collaboration across your own teams.
Additionally, check out this easy-to-use, free guide by HubSpot and Slack, Remote Sales & Marketing: A Guide to Moving Your Business Online, to learn how to set up remote work at your own company.