Fall is finally upon us. Time to pack away our beach towels and flip flops and trade them in for sweaters and scarves.
After months of sunny weather and hopefully a little vacation (come on, you deserve it), getting back to the grind can be difficult, and finding inspiration to create killer marketing campaigns can be a challenge. That's why we perused our brand spankin' new Marketing Library -- which is now free and available to everyone -- and created an inbound marketing syllabus so you can have a successful transition from summer to fall.
If you're looking to spruce up your inbound marketing knowledge, or you're hoping to take a new employee (or your boss -- cough cough) to school on inbound, this is a great resource for you. Below I've compiled what I think is an excellent syllabus for anyone to get started or caught up on inbound.
Back to Basics: Laying the Groundwork for Inbound
Lesson 1: Refresher Course
Read through this free ebook, 100 Ideas That Changed Marketing, and learn about some of the most pivotal points in marketing's past. Before moving ahead with your marketing plans for the rest of the year, it's good to go ahead and take a step back -- you know, for a little perspective and context. Review where marketing has been as a whole and where your company has been. Then, think about where you're going.
Lesson 2: Inspire Yourself
If you're having trouble figuring out where to start with inbound, I'll give you a hint: Content is never a bad choice. Start by scrolling through The Treasure Chest of Remarkable Content. And every time you feel writer's block coming on, before slamming your laptop shut in frustration, browse through these examples of great content and do some exercises to get the juices flowing. Keep this page handy and refer back to it throughout the "semester."
Lesson 3: Marketing Analytics 101
Sure, you can create tons of content & have the most effective marketing strategy of all time, but all of it means nothing without being able to show some ROI for it. Use this Introduction to Inbound Marketing Analytics to find out how to measure and analyze all of your marketing efforts from email campaigns to blogging.
Lesson 4: Creating Personas
In order for any of your inbound marketing initiatives to really take off, you'll need to keep your target audience in mind. Don't know who your target audience is yet? Or do you have an idea, but you've never really documented it in black and white? Start now with this customizable template for buyer personas.
Inbound Fundamentals: Attracting Website Visitors
Lesson 1: SEO 101
Use SEO to generate more leads! Don't know what SEO is? You should definitely watch our Introduction to Search Engine Optimization webinar to brush up on the importance of SEO, how it works, and some basics on where to get started. This isn't like that time your professor popped in a movie and you snoozed through class. SEO optimization is an important way to generate leads from your website visitors.
Assignment: Use this template to organize your website's on-page SEO strategy and coordinate pages and keywords easily.
Lesson 2: Developing a Content Strategy
Stop blindly writing content for your customers. Take a step back, understand who you're talking to, and what they're looking for. We want to make it easy for you to serve the right content to your customers. This ebook shows you how to implement a strategy that helps you create relevant, stellar content.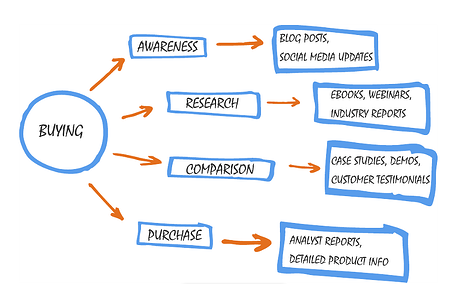 Assignment: Ensure that you never fall behind on your blog by filling out this Excel template that will help you stay organized and maintain a solid blog publishing schedule.
Lesson 3: Business Blogging
Confused about where to start with blogging? I get it. Blogging can be daunting. Here's a guide to the "who, what, where, and why" of business blogging. It includes promotion, measurement, and some best practices that you can implement on your own blog.
Lesson 4: Introduction to Social Media
Make sure you're using social media in the most effective way possible. We've gone through and curated our best resources on "how-to" for each different social media platform so you can become a pro at using Facebook, Twitter, LinkedIn, Pinterest, and Google+.
Assignment: Create compelling visual content! Here are some easy-to-use customizable templates that you can use to post to social media. Then, when you're ready, start using this social media publishing schedule to make sure you're posting consistently.
Inbound Fundamentals: Converting Visitors to Leads
Lesson 1: Introduction to Lead Generation
Reach the people who have already shown interest in your business and convert them to leads. Read Introduction to Lead Generation to get the full scoop on who qualifies as a lead, how to get a lead from your website, and what you should do for your first lead-gen campaign.
Lesson 2: Building Landing Pages
Confused on where to even begin? Well, you need some landing pages -- flip through this ebook, Intro to Building Landing Pages, and learn the basics of what a landing page is, why it's important, and how to optimize your usage of them. Learning how to effectively use landing pages will help you convert more of your website visitors into leads.
Assignment: Time for the dreaded math homework ... just kidding! All the math is done for you in this template that tells you how many leads you need to generate, how much traffic you need to drive to your website, and what your conversion rates should be so you can reach your marketing goals!
Lesson 3: Optimizing Landing Pages
Once you've created your landing page, make sure that it's optimized to convert your website visitors into leads and eventually customers by flipping through this ebook. It covers how to add social media sharing buttons, set up lead-nurturing campaigns, and optimize your landing pages through testing.
Inbound Fundamentals: Converting Leads to Customers
Lesson 1: Lead Nurturing
50% of your leads aren't ready to buy yet. But if you ignore them, you're losing out on an opportunity. In this ebook, learn how to leverage lead nurturing to make sure you're converting high-quality leads.
Lesson 2: Lead Management
Don't be too pushy. Managing your leads can be tricky. You don't want to move too quickly ... or too slowly. In this ebook, you'll learn how to qualify your leads, nurture them so they continue to convert, and connect them with a salesperson.
Lesson 3: Elements of Context Marketing
It's all about time and place, especially in marketing. Reaching the consumer at the right time with the right message is the most effective way to do business. Learn all about the elements of context marketing by flipping through this ebook. You'll learn the basics of context marketing, how other companies have used it, and how you can implement it.
Final Exam: Determine your marketing goals and make sure they're SMART by using this template that helps you figure out what goals are reasonable and how you can achieve them.
Image credit: West Midlands Police
Originally published Sep 27, 2013 5:00:00 PM, updated July 28 2017
Don't forget to share this post!