We all have different reasons for getting up every morning and doing what we do every day.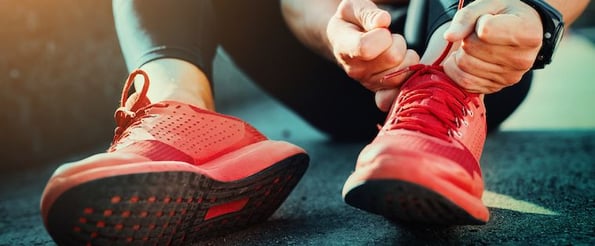 So why is it that, on some days, it can feel harder than others to get up when your alarm goes off, do your workout, crush a work or school assignment, or make dinner for your family?
Motivation (or a lack thereof) is usually behind why we do the things that we do.
There are different types of motivation, and as it turns out, understanding why you are motivated to do the things that you do can help you keep yourself motivated -- and can help you motivate others.
In this post, we'll dive into the two types of motivation -- intrinsic and extrinsic -- to learn the differences between the types, the benefits of each, and how to use both types to inspire productivity.
Definitions of Intrinsic and Extrinsic Motivation
Intrinsic motivation involves doing something because it's personally rewarding to you. Extrinsic motivation involves doing something because you want to earn a reward or avoid punishment.
What Is Intrinsic Motivation?
When you're intrinsically motivated, your behavior is motivated by your internal desire to do something for its own sake -- for example, your personal enjoyment of an activity, or your desire to learn a skill because you're eager to learn.
Examples of intrinsic motivation could include:
Reading a book because you enjoy the storytelling
Exercising because you want to relieve stress
Cleaning your home because it helps you feel organized
What Is Extrinsic Motivation?
When you're extrinsically motivated, your behavior is motivated by an external factor pushing you to do something in hopes of earning a reward -- or avoiding a less-than-positive outcome.
Examples of extrinsic motivation could include:
Reading a book to prepare for a test
Exercising to lose weight
Cleaning your home to prepare for visitors coming over
Intrinsic and Extrinsic Motivation: What's the Difference?
At first glance, it might seem like it's better to be intrinsically motivated than extrinsically motivated. After all, doesn't it sound like it would be ideal if you didn't need anyone -- or anything -- motivating you to accomplish tasks?
But, alas, we don't live in such a motivation-Utopia, and being extrinsically motivated doesn't mean anything bad -- extrinsic motivation is just the nature of being a human being sometimes.
If you have a job, and you have to complete a project, you're probably extrinsically motivated -- by your manager's praise or a potential raise or commission -- even if you enjoy the project while you're doing it. If you're in school, you're extrinsically motivated to learn a foreign language because you're being graded on it -- even if you enjoy practicing and studying it.
So, intrinsic motivation is good, and extrinsic motivation is good. The key is to figure out why you -- and your team -- are motivated to do things, and encouraging both types of motivation.
When Intrinsic Motivation Is Best
Research has shown that praise can help increase intrinsic motivation. Positive feedback that is "sincere," "promotes autonomy," and "conveys attainable standards" was found to promote intrinsic motivation in children.
But on the other side of that coin, external rewards can decrease intrinsic motivation if they're given too willy-nilly. When children received too much praise for completing minimal work or single tasks, their intrinsic motivation decreased.
The odds are, if you're reading this blog post, you're not a child -- although children are welcome subscribers here on the HubSpot Marketing Blog. But the principles of this study are still sound for adults.
If you're a people manager, be intentional with your praise and positive feedback. Make sure that it's specific, empowering, and helps your direct reports understand your expectations and standards. But make sure you aren't giving too much praise for work that's less meaningful for your team, or they might lose intrinsic motivation.
If you're an individual contributor, tell your manager when their feedback is motivating -- give them positive feedback, too. By providing positive feedback to your manager when they give you praise that keeps you motivated, you, in turn, will extrinsically motivate them to keep managing you successfully. (Meta, huh?)
When Extrinsic Motivation Is Best
Extrinsic rewards don't just involve bribery (although bribery can work). In some cases, people may never be internally motivated to complete a task, and extrinsic motivation can be used to get the job done.
In fact, extrinsic rewards can promote interest in a task or skill a person didn't previously have any interest in. Rewards like praise, commissions, bonuses, or prizes and awards can also motivate people to learn new skills or provide tangible feedback beyond just verbal praise or admonishment.
But tread carefully with extrinsic rewards: Studies have shown that offering too many rewards for behaviors and activities that people are already intrinsically motivated to do can actually decrease that person's intrinsic motivation -- by way of the overjustification effect.
In these cases, offering rewards for activities the person already finds rewarding can make a personally enjoyable activity seem like work -- which could kill their motivation to keep doing it.
If you're a people manager, use extrinsic rewards sparingly to motivate your team to take on new responsibilities or achieve lofty goals. Bonuses, commissions, recognition prizes, and promotions can be an effective way to motivate or reward your team for learning new skills, taking on new challenges, or hitting a quarterly goal. But make sure you're giving your team members the time and resources to explore skills and projects they're already excited about independently -- without making them a part of their regular responsibilities, which could demotivate them.
If you're an individual contributor, work for the rewards you want, but don't over-exhaust yourself in the pursuit of extrinsic prizes. Make sure you're taking time, in your job or in your personal life, to explore activities that you enjoy just for the sake of doing them, to keep yourself balanced.