Did you know that LinkedIn has more than 500 million active members?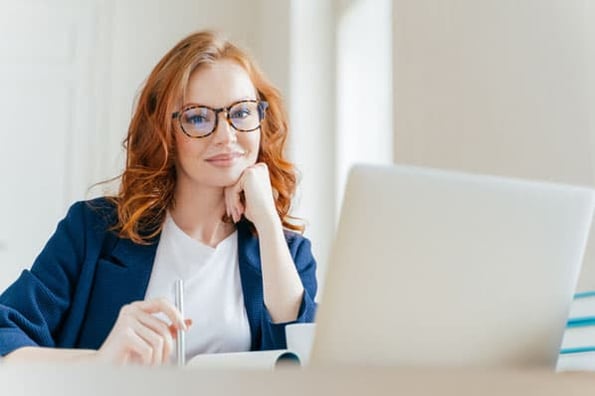 If you're a professional who wants to branch out as a thought leader in your industry, LinkedIn is an excellent place to gain visibility, demonstrate your credibility or expertise, and create valuable discussions within your industry's community.
Why would you want to be a LinkedIn thought leader? Because gaining a presence as an online expert could improve visibility in your industry, expand your network, and result in many more job opportunities.
For example, if you're an entrepreneur and want to gain brand awareness or trust for your own company, sharing tips, advice, or content related to your industry will show your audience that you're a credible expert in your field who works for a trustworthy company.
Even if you aren't a CEO, thought leadership and developing connections on LinkedIn can make companies you work for look great. And, if you leave a company, future employers might identify you as an expert in your field because of how you've contributed to your online community.
It might seem daunting, but building your social presence on LinkedIn is more accessible than you think. In this blog post, I'll show you a few effective ways to build your presence on LinkedIn as a thought leader.
How to Become a LinkedIn Thought Leader
Optimizing Your LinkedIn Profile
1. Optimize your LinkedIn profile so people in your industry can find you.
By now, you've probably created a LinkedIn profile. However -- if you want to be a thought leader with a large following -- just making an account won't necessarily help you get seen by people in your industry. To ensure that you're popping up in search results related to your skillsets or feeds of individuals within your industry, you'll need to take steps to refine and optimize your LinkedIn page.
Below is a great example of a fully optimized LinkedIn header. As you can see, Virgin Group CEO Richard Branson has included his title in the headline area; his geographic location, company, and school in his basic information are. He also includes a thoughtful, but keyword-heavy description of himself in the About area. This description, as well as a well filled-out profile, will make it much easier for those searching for thought leaders in industries like "leisure" or "financial services" to find him.
Aside from the header area, shown above, you'll also want to get detailed in your Work and Academic Experience areas. While thought leadership is ultimately about the content and thoughts you post, this area will serve as evidence that you are in fact as credible as you say you are.
For each role, be sure to share your daily duties, big wins, and links to projects from each role if possible. Think of this as a resume mixed with an online portfolio. Here's an example of how Larry Kim, WordStream's Founder and an SEO thought leader, highlights his previous role on LinkedIn:
2. Use Skills, Endorsements, and Recommendations to Validate Your Expertise
When people read your insights, facts you've noted, or consume your thought leadership content, they might want to ensure that you're an actual expert in your field before taking your advice. While skills, endorsements, and recommendations aren't directly related to creating thought leadership content, they will help you ensure that people will take your expert opinions seriously.
Listing items in the Skills & Endorsements section will allow you to highlight strengths you have expertise in while also optimizing your profile in search results related to your industry or keywords relating to certain skills. Aside from making your profile more searchable to those in your industry, endorsements from past colleagues can also validate that you actually have the skills you've noted.
Here's what Kim's Skills & Endorsements section looks like:
Visible endorsements or recommendations will show those who view your profile that you're trustworthy and have a solid track record as an employee and thought leader. Although you'll still want to create valuable LinkedIn content to establish yourself as a thought leader, skills, endorsements, and recommendations serve as solid evidence that you have -- in fact -- reached a certain level of industry expertise.
Interacting with Others in Your Industry
3. Connect with other experts.
Connecting with colleagues and other experts in your industry will allow you to build your network and raise your connection numbers. But, it will also allow you to follow what they're doing and learn from their insights as well.
If you have a smaller following, don't panic. All you need to do is dedicate a small amount of time each day to networking with others on the platform. In this blog post, you can find a mini-schedule of networking practices that can be done in under 15 minutes each day.
4. Use LinkedIn Groups or comment threads to interact with your following.
LinkedIn Groups is a feature that allows professionals to create, manage, and post on group pages about a specific topic. In these groups, you might see industry novices asking questions as well as professionals sharing tips. When someone posts something that's engaging, people will discuss it or give advice related to it in threads.
Communicating in these threads or creating your own post within a group related to your industry can help you communicate with others who might be interested in your thoughts and ultimately build more connections or followers.
Not sure which groups to join and participate in? Check out this list of LinkedIn Groups that every marketer should join.
If you're too busy to identify the best Groups for you, you can also make your updates and articles more interactive by including a question and call to action at the end of your content. For example, if you're discussing technology or a new management strategy in an update or LinkedIn article, you could end your content by asking, "How do you inspire innovation at your company?"
By asking your following a question or giving them a call to action, you might enable them to start a deeper discussion that you can then continue to participate in to show off your skill and credibility on the topic.
Publishing Thought Leadership
5. Post updates about your achievements or re-share insights related to your brand or industry.
While people on Facebook might not care about professionalism or career achievements, LinkedIn audiences are there to hear about it. When you share a career achievement or insights on a project your brand has launched, your audience can keep up with you, see how credible you are, and watch you grow as an expert in your field.
In the post below, HubSpot's CEO and Co-Founder Brian Halligan announces the launch of our CRM's free email tool. With a post like this, he is both updating his audiences about his company's accomplishments, and he also includes content that marketers within his industry might be interested in.
6. Publish longer-form insights or thoughts related to your career or industry.
Aside from presenting your skills, achievements, and smaller updates related to your career, you can't forget about the most important aspect of thought leadership: Sharing your thoughts.
Your tips, insights, or big ideas can't always fit well into a small post or update, so be sure to also publish blog posts about topics related to your industry on your profile. You can post through LinkedIn's on Publish feature, or create and share a blog post from your own site or Medium.
TED Talker Susan Cain regularly posts articles about topics related to her business, Quiet Revolution on LinkedIn. In the example below, she publishes a post on the importance of special education during National Special Education Week:
7. Experiment with posting photos or videos on LinkedIn.
LinkedIn isn't just a site for your resume and short text-based updates, like Facebook and Twitter, it's also an evolving social network that's beginning to embrace and prioritize live videos, uploaded videos, and photos in its feeds.
So, when you go to share an update about your career or company, consider sharing a photo along with a text post. Or, if you want to share long-form advice, consider posting a video. Here's an example:
To get even more interactive with your following, you could also consider using LinkedIn's new Live Video feature to host content where you take questions from your audience or interview another thought leader in your industry.
Entrepreneur Gary Vaynerchuck, known in the sales community as Gary V, often shares standard updates and articles on LinkedIn with a mix of text, photo, and video content. This makes content eye-catching, but also gives his followers different ways to consume it. In the post below, Vaynerchuck shares an infographic slideshow about the impact that random acts of kindness can have on work environments:
8. Create cross-promotional content with other thought leaders.
If you work with or have developed a relationship with other LinkedIn thought leaders or brands, consider creating content together and tagging each other in your posts. Not only will this help you network and build connections, but these cross-promotional strategies will help the audience of the other person or brand to learn about you, while you inform your audience of their work.
9. Embrace your other social media platforms.
If you want to branch out and become a thought leader on more than just LinkedIn, be sure to promote your other social platforms, such as Twitter or YouTube. This will help you develop a well-rounded following on all of the platforms.
Here are a few ways you can do this:
Announce when you've joined a new platform, share your profile, and let people know what they can expect on this social network.
Share links to content, such as YouTube videos or blog posts, from another social platform.
Consider writing and sharing blog posts about your marketing strategies on other platforms, like Medium, so your following can both see your insights and know you're on said platform.
Aside from promoting your other social media platforms and building an overall web presence, be sure to share LinkedIn articles and your profile link on your other social channels so your audiences there will join your LinkedIn follower-base.
Navigating LinkedIn Thought Leadership
When it comes to positioning yourself as a thought leader, the key is to highlight your expertise and engage with people in your industry. So, regardless of which industry you're in, be sure to regularly post content or share insights that are valuable or helpful to your following.
To learn even more about developing a winning LinkedIn profile, check out this blog post.