I was playing with my nephew at the park recently, watching him run from the swings to the jungle gym to the slide.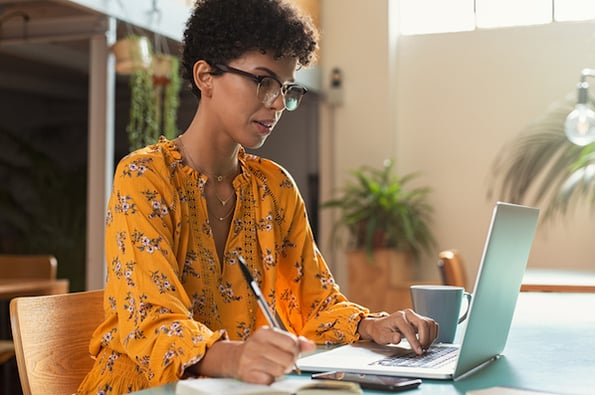 He laughed as he tried to climb up the slide instead of going down, and he skipped the paved walkway in favor of the large field of grass leading back to my car.
It suddenly struck me that park designers are really smart people, because they manage to entertain children of all ages for hours at a time.
What if I, as a marketer at Atlassian, could delight my audience the same way? Could I hold a reader's attention from channel to channel, or from tweet to article to video?
And, if this is possible, do the current frameworks and approaches to the buyer's journey help ... or impede me? Here, I'm going to explore why our current editorial strategy is limited, and how we can refine it for better results in 2020.
Evolution of the Funnel
We're all familiar with the traditional linear funnel. At its most basic level, there are three phases -- awareness, consideration, and decision.
Let's say we know we need content for each phase, so we decide to make three pieces for awareness, two pieces for consideration, and one piece for decision. That's a total of six pieces of content, so we divide that over six months and say we're going to publish one piece of content per month.
Now, of course, we know the buyer's journey is much more complicated than that. Over the last several years, we've moved from the linear funnel to the looping decision journey, which has four phases -- awareness, consideration, purchase, and up-selling (or cross-selling).
Since we've added a phase, we whip out our calendars and throw another two pieces of content on the calendar, creating eight pieces of content over the next eight months.
But again, we know that our buyers won't travel down a neat, linear path, even if we think we've cleverly turned that path into a circle.
Recently, I realized we need a new model -- one that allows our audiences to move up, down, and sideways, like a jungle gym, rather than forcing them to follow a linear path.
However, the "jungle gym model" has some problems. For instance, there's only two objectives when playing on a jungle gym: to scramble to the top as quickly as possible, or to travel horizontally across the rungs without touching the ground below.
So, once again, I'm forcing my audience down a specific, narrow journey that I want them to take. Even though I'm allowing them to enter however they choose, eventually, I'm making them fit into a journey that has one result: a purchase.
And I want to move them through that journey as fast as possible so I can secure their business.
There's still something missing from a "jungle gym" approach. Instead, I have a different proposal. Let's dive into that now.
A New Model to Fit the New Customers' Journey
Ultimately, times have changed, and marketers are no longer in charge. Customers are.
They want to enter and exit and travel forwards and backwards and up and down however, and whenever, they choose.
They want to consume content whenever, wherever, and however they please.
The marketer's job is no longer about rushing a prospect through the funnel to a purchase. Instead, it's about educating and empowering the customer to choose and implement their own solutions.
We need to build a content playground for this new journey. Traditionally, the "ideal" customer journey was one that resulted in the fastest purchase with the fewest number of touch-points. But today, the ideal journey is the one that offers the right content, in the right place, at the right time, with the most seamless transition between assets and channels.
So, how do we go about building a content playground?
How to Build a Content Playground
First, we need to step away from calendar-driven goals, like publishing once per month, or filling up a campaign schedule. Instead, we need to think about the ideas and stories we want to address at three content depths.
Conceptual: These are the overarching themes, and should be limited to 3-5 core ideas. These are theoretical and philosophical in nature, with a much more abstract application. These ideas are the foundation on which to build strategic and tactical ideas. When creating content at this level, the author shouldn't be too concerned about the "how". Instead, focus on the "what" and the "why" of the idea. The conceptual level will focus on high-level and aspirational outcomes. If there's measurement available, that's great, but at this level, it's unlikely.
Strategic: This level focuses more on the processes, tools, and key knowledge components that must be included to make the conceptual ideas a reality. This level should focus on tangible outcomes that can be measured in the long-run. Content should focus on equipping the audience to do their own research, give them frameworks and criteria for success, and help them envision the impact that conceptual ideas can have in their specific organization.
Tactical: This is the nitty-gritty "how" level, where the rubber meets the road. If you want to achieve the high-level outcomes described in the conceptual level, and you've put in the place the processes and tools at the strategic level, what are the daily tasks, habits, and conversations that need to happen? This content should be prescriptive in nature, and offer step-by-step instructions and links to specific exercises to help the audience implement the conceptual and strategic ideas.
A New Distribution Framework for 2022
Once you have your narratives laid out, it's time to consider where and how you will share and host your content. Instead of jumping straight into the calendar to schedule social posts or go-live dates for landing pages, you need to think about the formats and channels that make sense for each narrative. In many cases, the same narrative can take many forms.
Here are some questions you'll want to consider when choosing a distribution method:
Determine the asset type: Will this be written, audio, or visual content? Will it be short-form or long-form? Think beyond a blog post or landing page, and consider alternative options like a contributed 3rd-party byline, interview (written, pre-recorded or live video), live speaking engagement, webinar, podcast, ebook, case study, or testimonial (internal or customer, written or video).
Choose a distribution channel: Distributions channels are a mix of paid, owned, and earned channels. Some channels are a place to host content (content can live in multiple places), while others are a place to share content (content can be shared in multiple channels). These channels are quite fluid, and sometimes the place to host and share is the same, i.e. SlideShare, LinkedIn, or Facebook. All offer a place for the content to live in the long-run and allow the audience to engage, follow, and curate for their community.
Consider your metrics: Some types of content and channels are best-suited to solve the "awareness" or "reach" problem, while others are used to increase engagement. All assets and all channels do NOT need to accomplish all things at all times! You can create an ebook that you publish on SlideShare with the goal of reaching more people (i.e. get featured on the SlideShare homepage) and creating engagement by driving traffic to more content on your website.
The type of asset and channel mix will differ based on reach and engagement goals. This is especially true for social media assets. Most marketers treat social channels as a one-way broadcast and focus on the click-through rate to their website. However, your social followers don't want to click through to gain value, and platforms want to keep viewers in the feed.
To create content specifically geared towards social platforms, our job is to provide a mix of content that creates value and engagement in-feed, with a success metric attached to social metrics like re-tweets or shares, likes, comments, answering poll questions, or clicking through to an image gallery.
These steps should allow you to fill out a table for each narrative and distribution channel, and I've included an example below:
How to Create Content: Bottom Up, Top Down, or Free-for-All?
The answer is -- yes. While it's great to organize topics underneath a larger narrative theme and attempt to assign an asset type and a distribution channel, sometimes content fits into multiple buckets.
And, sometimes, what you end up with isn't what you set out to create. Additionally, some content has long legs, leading to a longer shelf life, which could enable you to do multiple spin-off assets and channels. Ultimately, these are meant to be frameworks, not rigid categories for every piece of content or idea that might result in content.
Again, the goal is to create a seamless, delightful journey for your audience. Focus on creating deep, high-quality content, building a long-lasting relationship with your audience, and influencing at every touch-point. The days of simply following an editorial calendar are over. It's time to build a content playground.