Whenever I go to Amazon, I see Harry Potter products all over the page. Why? Because I love Harry Potter. Duh.
But from a business perspective ... it's because Amazon has become incredibly smart at how they understand visitors coming to their site, and catering the right information to them for their interests. For quite some time now, we've been discussing the importance of such personalized calls-to-action on your website.

That's why my colleague Jeff Russo conducted an analysis of over 93,000 calls-to-action from our database of customers. He found that calls-to-action targeted to the user had a 42% higher view-to-submission rate than calls-to-action that were the same for all visitors.
We call these personalized, targeted CTAs "Smart CTAs." Smart CTAs allow you to provide the right CTA to visitors of your website based on their lifecycle stage. Let's use an example to explain to demonstrate what this means.
An Example of a Smart CTA in Action
At HubSpot, we try to include a smart CTA on every blog post. For example, on a blog post about social media, it'd be helpful to point our customers to social media workshops they can attend with our customer consultants. But for leads -- those who have already showed interest in our business by filling out a form -- we want to customize the CTA to further develop the relationship with the business. And for those who are visitors that haven't ever converted, we want to show them a more light-weight marketing offer that simply captures their attention and warms them up to the brand, something like an ebook or whitepaper.
Below you'll see how these different CTAs look for one of our smart social media CTAs. (And if you're interested in learning more about how to do this, check out this in-depth blog post on using dynamic, personalized CTAs.)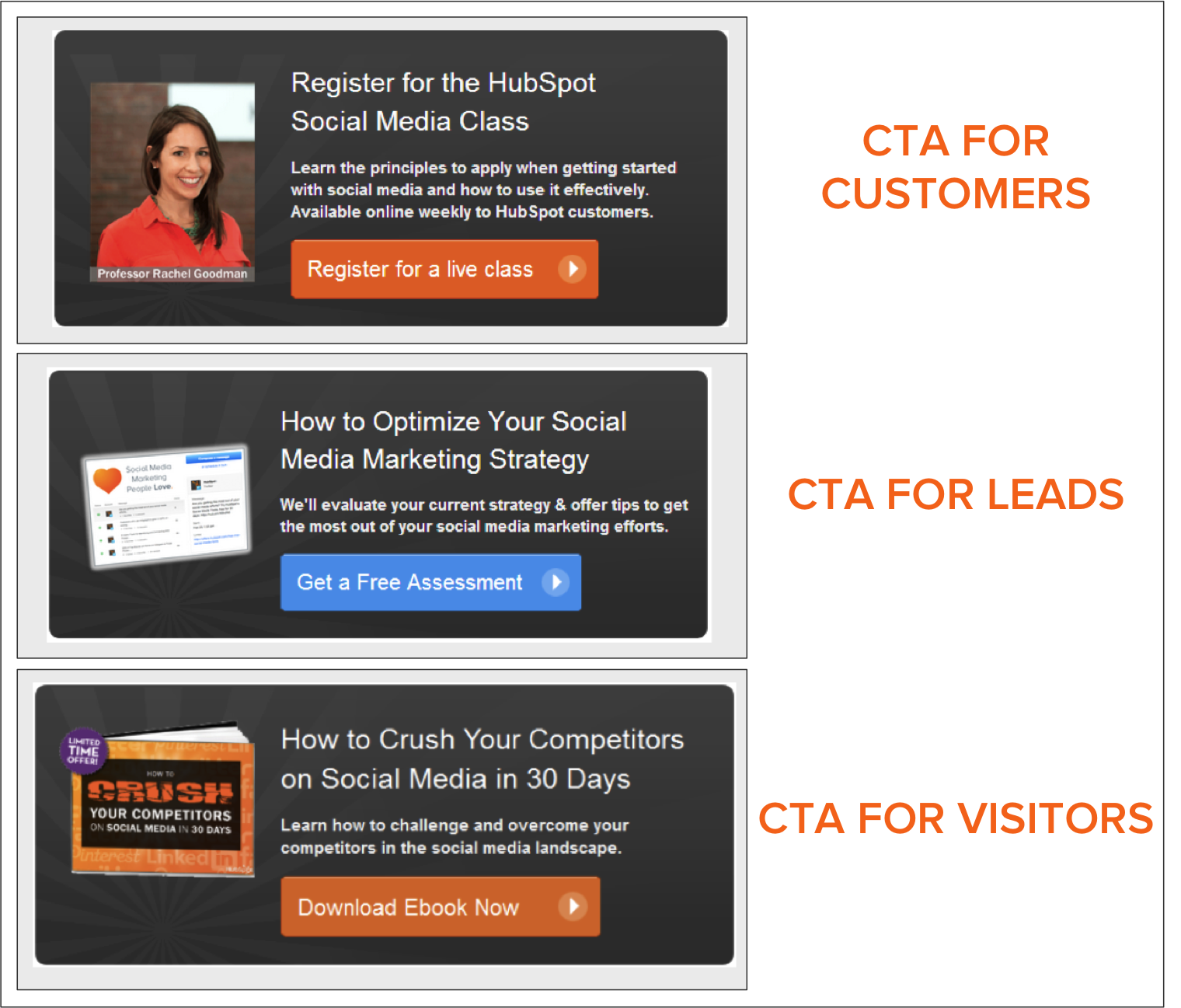 How to Design Your Own Personalized Calls-to-Action
Now that we've learned the importance of personalizing CTAs for driving more leads, let's actually design some! We've built 50 free, customizable templates in PowerPoint that you can download to get started on the right design foot. Here's how to use them.
1) Pick Personalization Stages
First, you'll want to figure out which marketing message you'd like to tailor to which audience. For my example I'm going to pretend I own a business called Inbound Real Estate, and I have the following two CTAs I'd like on my web content:
Visitor CTA: 5-Step Guide to Researching Craigslist Apartments
Lead CTA: 15-Minute Apartment Hunting Consultation
The goal of the CTA for visitors to my site is to convert them into a lead by reading a piece of content that warms them up to my business. And for everyone who is already a lead, I'd like to provide them 15 minutes of my expertise to assess their apartment needs and provide guidance. If you need help creating a marketing offer for a visitor CTA, check out this blog post.
2) Open PowerPoint
Once you have your PowerPoint template open, select a CTA you'd like to use. For this example, I'm going to use the two templates from slide 24:
3) Write Some Copy
Now that you know what your offer is, you'll need to write copy that gets your visitors and leads to click. In our in-depth blog post on writing CTA copy, one of the recommendations is to keep the copy succinct, which our pre-designed templates will help you do.
Using my template, I updated the title and body copy:
4) Select Helpful Visuals
You'll want your CTA to include a visual to help drive conversion. Make sure your images are legally obtained and available for commercial use. If you need help selecting images, we have 160 business-themed stock photos you can download and use for free. In fact, I'm going to leave the image in my second CTA here as is -- it's an image from that stock photo collection, and fits my message! For the first CTA, I used the shapes tool in PowerPoint to make a cover of my marketing offer.
5) Write Action Copy
Finally, you have the actual "action" button on your CTA. In our post of 20 Critical Do's and Don'ts for Clickable Calls-to-Action, our very first tip is to never use "submit" as your action word -- unless submit is the most appropriate word for your CTA button -- as submit doesn't accurately exemplify the proper action being taken. In my example, I'm having the first CTA make it clear that this is a free download. In my second, I use "let's chat" as a friendly way to start the pending conversation. Here's how these CTAs look with the images and action copy sorted out:
6) Save and Upload
Now that you're done designing your CTA in PowerPoint, you'll want to click on all the elements of the CTA (text boxes, shapes, images, etc.), and then right click, and hit "Save as Picture." This will save your design as an image so you can upload it into your next web page, blog post, email, or what have you.
7) Link to Proper Destination
The final step after uploading the CTA is linking it to the correct destination. If you don't currently have a tool that helps you set up a Smart CTA, have no fear! You can start a free trial of our CTA tool and use it to upload your created images. The tool will provide you with an embed code you can then paste into your web page, blog post, etc., and provide you with metrics on how each CTA is performing.
Originally published October 08 2013, updated January 29 2018