When Pinterest first opened its doors to the public, many people thought it was just a fad. They said it was "only" a social network for stay-at-home moms and people planning their weddings. Despite the fact that that its target demo (women in the U.S.) controls 85% of consumer purchases, naysayers believed that there wasn't a business case for Pinterest.
But the still-young social network has been making strides with new features to increase user engagement and drive revenue to products on ecommerce sites. And today, Pinterest released another exciting feature to help achieve that goal: price alerts for Product Pins that you've pinned. Now, when those shoes you've pinned that are just out of your price range but you can't help but long for them go on sale, you'll get an email alert and see the reduced price directly on the pin. Here's what Pinterest says it will look like: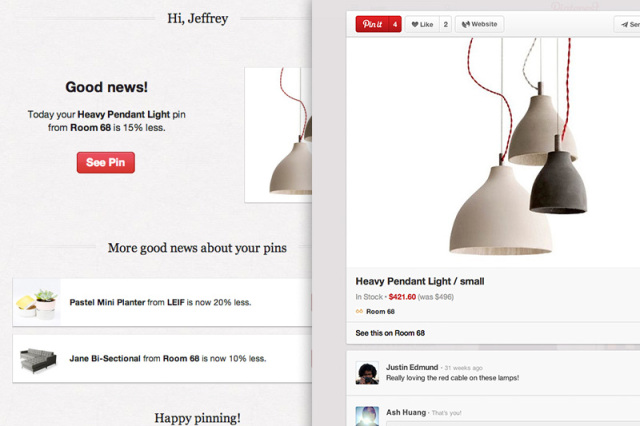 This new feature is rolling out slowly, so you should start seeing discount prices on Product Pins soon.
Including prices on pins has always been an effective marketing technique for ecommerce marketers, but this new feature could drive even more sales than previously thought. According to a study by Shopify that was released before this new feature came out, pins with prices on them already get 36% more likes than the average pin and people referred from Pinterest are 10% more likely to buy the product -- but this new feature could entice price-conscious pinners and skyrocket sales for ecommerce companies.
This new feature is also really exciting from an email marketing perspective. These new prices alerts are basically a targeted, personalized email send to your most engaged Pinterest users ... and you didn't have to do any of the work. Bonus: if your Pinterest users are Gmail users using the new inbox layout, you might be able to find a way out of the "dreaded" Promotions tab into the Social tab (or even the primary inbox if the Gmail user is a Pinaholic).
In other words, there's a lot to be excited about with this new feature beyond being alerted to a sale on your dream shoes!
Now, What Do You Need to Do About It?
So what do you need to do to take advantage of this new product feature? There are two fairly easy things you can do today:
1) Make Sure Your Products Can Be Rich Pins
If you sell products directly on your website and your buyer personas tend to hang out on Pinterest, you need to make sure your products will appear as Rich Pins when pinned -- that's the only way for this price information to be monitored and displayed on pins of your product.
According to Pinterest, Rich Pins have lots of benefits: "They get higher click-through rates than regular pins, make your brand more visible because your logo's on the pin, are more likely to appear in a category feed like Men's Fashion or Gifts, and include automatically updated details, like price changes."
Some pretty sweet benefits, eh?
It's not terribly difficult to get Rich Pins set up for your ecommerce site. It's very similar to adding rich snippets for Google -- you just need to add some snippets of code here and there on your site. Pinterest will even walk you through the process step by step. Once you've added the code, you can check to see if your code is configured correctly here.
2) Integrate Pinterest Into Your Marketing Activities Even More
One really important thing to remember about this whole update is that Pinterest won't alert people about your price change unless they've already pinned your products. So after you've enabled your products to be Rich Pins, you want to get people pinning your products so they'll be alerted when the prices drop.
There are lots of ways to get people to engage with your brand on Pinterest, but the most important (and easiest to implement) is to prominently display Pinterest buttons on your website. At the very least, you can put them right next to your products as a call-to-action to pin, but there are plenty of ways you could get creative.
And if you need more help optimizing and measuring your Pinterest presence, be sure to check out our ebook, "How to Optimize and Measure Your Pinterest Business Account."
Image credits: Bunches and Bits {Karina}; Pinterest
Originally published August 01 2013, updated July 28 2017