As marketers, we know that search engine optimization (SEO) is necessary. It helps webpages rank highly on search engine results pages (SERPs). After all, 67% of all clicks go to the first five organic search results on Google.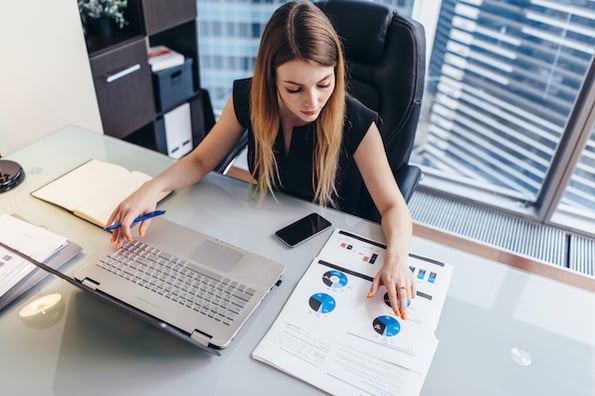 So for traffic, SEO is a must.
But have you ever considered using SEO practices for, say, informing marketing decisions? Or creating networking opportunities?
Only using SEO for traffic purposes is closing the door to different ways you can use the skills you already have to inform decisions in other areas. To get an idea of the different ways to use SEO, we're going to explain the types of SEO data, and a short list of how SEO data can lead to better marketing decisions.
Types of SEO Data
Organic traffic — Organic traffic refers to the visitors that come to a website from the search engine results as opposed to paid ads. Organic traffic is important because it indicates whether or not your website has the answer to search queries that audiences are looking for.
Organic impressions — Impressions are when digital content appears on the screen of the user, and organic impressions are when that happens without a paid ad. Impressions don't suggest the user took action, but does suggest how far your reach is.
Organic rankings — You might have noticed that Google ranks ads at the top of SERPs, and more rankings below. The rankings below those ads are organic, meaning they are what Google ranks your content based on how well it answers search queries.
Keyword monthly search volume — Keyword monthly search volume is representative of the number of searches a keyword has over the course of a month. It represents how much interest there is in a particular keyword. You can measure MSV by region, but also globally. For example, a keyword can have 100 MSV in the U.S., 900 MSV worldwide.
Number of backlinks — A backlink is the hyperlink on one webpage that links to another site. The number of backlinks your website has is important because it increases your chances of ranking highly on Google.
Number of referring domains — These are websites that do the backlinking. So, for example, if you were to backlink this post to your site, then your site would have one referring domain. If you backlinked another post from another website, then you would have two. Referring domains can go up by the number of websites, but not the number of times a website was backlinked.
Page speed (in milliseconds) — Page speed is determined by the amount of time it takes for a webpage to load. It's determined by a multitude of different factors, such as file size and image compression. Page speed is important to SEO because a slow speed could cause a visitor to leave the site.
How SEO Data Can Help the Business
We've defined the types of SEO data that you can come across and use in different ways. In this section, we're going to explain how the different components of SEO can positively impact business and marketing decisions.
1. Use search volume to guide product naming & branding.
Are you struggling to name your product in a way that will attract a large audience? Have your past few product launches not produced the results you were hoping for? Try using search volume to guide how you name and brand future products.
As I mentioned above, search volume refers to the number of times a search term is used by the public, and is usually presented in a per-month format. If you test the search volume of terms related to your product, you'll be able to develop a name that reflects the types of words and phrases the public already uses to describe your service.
For instance, if you're launching an online running apparel store, optimizing your product pages around the term "jogging shorts" won't reach as big an audience as "running shorts," because it's likely that more search volume is going to the latter term.
You would want to name the product using language that has the most search volume. Following the search volume ensures that you'll name the product in a way that aligns with how the public is referring to it.
2. Organizing your keyword strategy by interest level.
Every stage in the buyer's journey is different, and because of that, search queries will differ based on which stage the customer is in.
Let's look at an example of catering to the buyer's journey using SEO.
The search query "what is inbound marketing" is most likely used by someone who is early into their journey, and still learning about the concept of inbound marketing. Alternatively, the query "inbound marketing software" suggests that person is already looking for a tool to solve their problem, and that they're in a much later-stage of their purchase decision.
If you organize keywords by buyer's journey stages, you'll be able to develop a strategy that delivers the best experience to the customer. You can also analyze the traffic from these keywords to see how well your business is performing in the different buyer's journey stages.
3. Use collected data to create a strategy that caters to the customer.
When you collect traffic data from your website, are you using it to see how you can improve the customer experience? SEO data can be used to assess how specific areas of your overall content strategy can be improved.
For instance, if you've noticed that you're driving high traffic numbers on a content offer page -- an ebook or webinar, for example -- but aren't noticing much conversion to the offer itself, that could be an indicator that your consideration-stage buyers aren't finding their experience on your page useful.
Sort your content by topic, such as the buyer's journey stage or content type, and analyze the traffic of pages related to those topics. This will give you an idea of how you can optimize your content so it performs well at any stage of the buyer's journey.
4. Use organic rankings to find and understand competition.
You can use organic ranking to see how your product or content compares to your competitors. Not every business depends on a search engine to acquire customers, but even if you don't, seeing how your competitors rank for search terms related to your industry can tell you what they're doing that's working. So, when you Google your product, where does your business fall on the SERP as opposed to others? If there are websites ranking above yours, try doing a quick crawl.
Think about how the website's content might be valuable to customers, and how you can improve your content to convey messages in a way that resonates with them.
Note how competitors' websites are different than yours. Are the webpages quick to load? Do the webpages rank for keywords that you don't even show up for?
These are small technical changes that have a large impact on SEO. Loading time and keywords are two SEO factors that contribute to overall user experience and SERP rank. You may be able to pull inspiration that solves two problems at once by reviewing what high-ranking competitors are doing to see if they're offering a type of information that you're not.
5. Use backlink data to identify networking opportunities.
Maybe there's a specific topic you feel like you could write an expert blog post about. Identify keywords about that topic. If the keyword you find matches the intent of your target audience but the content would compete with some of your other website content, don't scrap the idea.
Instead, reach out to similar websites in the industry and inquire about a guest post or guest contributor space. That way, your work will still be seen by the right audience, and you can drive traffic to your website.
Use SEO metrics like backlinks to figure out which sites are already citing you in their own content, and then identify which domains are backlinking to them. This is a great way to hunt around for partners with whom you might want to guest post or even run a co-marketing campaign.
Keyword research tools like Ahrefs, SEMrush, Serpstat, Conductor, Moz, and more allow you to find backlink data on all of the pages on your website, making this prospecting process easy.
Contributing a guest post also begins a relationship with another business in the industry. This connection can be useful for future collaborations, and helps you build backlinks to your website from the sites you're contributing to. Remember, backlinks are a critical ranking factor in the eyes of Google.
Similarly, if you find there's a topic you think would be great on your blog but don't have the resources/time to write it, you can reach out to an industry professional to contribute. That way, you won't lose the chance for your website to rank highly on the SERP, you still build an industry relationship, and it gives your business more credibility. (Also, it's not a bad cross-promotion idea to fit into your social media content strategy).
SEO can't solve every job function, but it can lead to more informed marketing decisions. When you use data, like search volume, you can begin to make content that's more personalized for the customer. Additionally, you can cater to the customer experience at every level, and make sure your campaigns stay relevant.
The next time you find yourself stuck with branding, content ideas, or understanding your customer, think about how SEO can help with your challenge.