If you've been a marketer for a while, you most likely know the basic facts about social media marketing: It's cost-effective and it's a way to engage with your customers and potential customers. All that sounds great, but you might be wondering what the data actually says about social media use.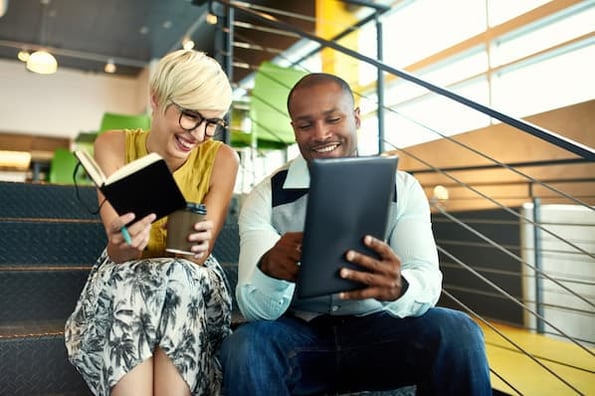 After all, when operating on a limited budget, you have to make sure every effort you're putting into marketing has a return that proves their worth.
Social media marketing is great for most businesses, and here are the statistics to prove it.
Benefits of social media marketing
Customer engagement
Marketing perspective
Product discovery
Brand building
Purchase driving
Customer engagement
1. If you're using YouTube to market to millennials, you're in luck: you may be reaching 91% of them. (Pew Research, 2019)

2. 90% of consumers are more likely to engage with posts that embrace the company's personality. (Sprout Social, 2018)

3. 71% of consumers with a positive interaction with a brand on social media are likely to recommend the brand to family and friends. (LyfeMarketing, 2018)

Marketing perspective
4. 89% of marketers believe social media is important to their overall social media strategy. (Buffer, 2019)

5. 65% of marketers have increased their social media marketing budget this year. (Buffer, 2019)

6. The top three ways marketers measure ROI of social media marketing are engagement, traffic, and leads. (Buffer, 2019)

7. 77% of marketers use social media analytics to measure campaign performance. (Sprout Social, 2018)

8. 73% of marketers have reported social media marketing as being effective for their business. (Buffer, 2019)

9. It is estimated that consumers will have spent over $500 billion in eCommerce by the end of 2019; which has implementations on Facebook, Instagram, and Snapchat. (eMarketer, 2019)

Product discovery
10. 60% of people say they discover new products on Instagram. (Instagram, 2019)

11. 66% of companies use social media to release new products to consumers. (Duke University, 2019)

12. Over half (54%) of browsers use social media to search for new products. (GlobalWebIndex, 2018)

Brand building
13. Over 200 million people visit at least one Instagram Business page every day. (Instagram, 2019

14. 74% of consumers share brand-related product videos on social media. (Sprout Social, 2018)

15. Engagement with consumers and providing customer service is a huge benefit. The top three reasons people engage with brands on social media are to ask a question, express an issue with a product, or praise a product. (Sprout Social, 2018)

16. Consumers say messaging businesses online through social media pages makes them feel more confident about a brand. (Facebook, 2019)

17. Social media is a great place to obtain new customers, as non-customers are three times more likely to increase traffic for brands. (Adobe State of Digital, 2018)

Purchase driving
18. A report by Curalate found that 76% of consumers have purchased a product they've seen in a social media post. (Curalate, 2017)

19. A Statista report concluded that 52% of respondents in a survey were interested in purchasing a product found on Facebook. (Statista, 2017)

20. 44% of consumers purchase items seen on a brand's social media post. (Curalate, 2017)


Investing in social media doesn't require a big budget, but cracking into the benefits of social marketing, especially moving towards the future, is imperative.

The online market is only growing, and the numbers show that if you're not online, you're missing out on benefits in eCommerce, customer service, and a universal brand.

These are only a few stats about the benefits of social media, but if you need just a little more convincing, we've got you covered. For example, you can check out 45 more here.