Since launching in 2018, TikTok has racked up millions of downloads globally. It can also be a bit of a mystery since TikTok doesn't always disclose of key app metrics.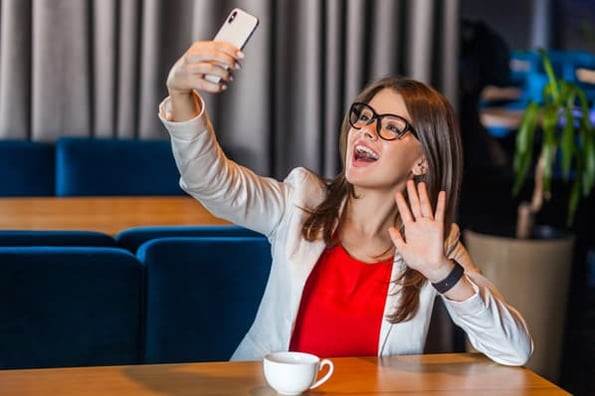 As someone who's gotten sucked into the app, hearted hundreds of posts, and even made a few videos, I'm fairly certain that this platform will stick around for quite some time.
To help you make informed decisions about your strategy, we'll cover key TikTok statistics and facts to know.
Already know what stats you're looking for? Jump there with this table of contents:
57 TikTok Stats to Know in 2023
TikTok Stats for Marketers
Before we jump into overall TikTok stats, let's review some key figures and best practices for marketers to know when using the app.
Userbase, Downloads, and Growth
Within TikTok's first year, it reportedly reached 500 million monthly active users. While once considered a fluke, TikTok's growth has only skyrocketed since then.
Demographics
While TikTok's user base is dominated by Gen-Z in the United States, adoption is growing among millennials. And, although it might feel like TikTok is huge in the U.S., the app's biggest audience actually comes from China, where the platform is called Douyin.
Here's a breakdown of TikTok's major demographics. Please note that audience data for individuals who do not identify within the binary are not reported.
User Behavior
TikTok is a fast-paced app. The second you log in, you see a video at the top of a feed that's algorithmically curated around your interests.
From my own experience, TikTok can easily cause you to spend more time than expected watching an endless stream of often comedic videos. Since these videos can be anywhere from 6 seconds to 10 minutes, the app is ideal for people seeking quick entertainment or longer-form content.
Because of TikTok's quick pace and entertainment factor, the stats below aren't that surprising:
The Impact of TikTok
Shopping on TikTok
Viral Trends and Influencers on TikTok
TikTok has opened doors for influencers, comedians, meme creators, and even some brands. Here are a few interesting tidbits about viral trends and influencers on the app:
Here's a compilation of TikTok's #CowboyChallenge where people wearing normal clothing cut to themselves in cowboy costumes to the song "Old Town Road."
Business, Revenue, and Competition
The launch of TikTok not only put its parent company, ByteDance, on the map, but it also resulted in competition from apps like Facebook, which launched a very similar app called Lasso shortly after TikTok went viral. While TikTok and ByteDance are less transparent about revenue and other major details, here's what we know:
The Mysteries of TikTok
Although TikTok is a top social platform and is ramping up its options for advertisers, it's still rather new. When a company or startup is new, it's not uncommon for leadership to hide early numbers, even when a brand is successful. In fact, we've seen this with other major companies like Snapchat and Netflix.
Despite the launch of TikTok For Business in mid 2020, there's still a lot more to learn as TikTok's global teams and ByteDance continue to remain hush-hush about major metrics. In the coming years, as TikTok continues to draw in more advertisers, it wouldn't be surprising if we started to see more transparent information about the app and its user base.
Where to Find TikTok Stats
In the meantime, If you want to learn more about TikTok, you can read up on its short history and early success in this post, or click here to find a how-to guide for using the app. In addition, you can discover important TikTok facts app on various websites:

Want to see what other businesses are doing on TikTok? Check out this roundup of brands on TikTok.