John Pugh, a creator of trompe l'Oeil optical illusion murals, has said, "It seems almost universal that people take delight in being visually tricked."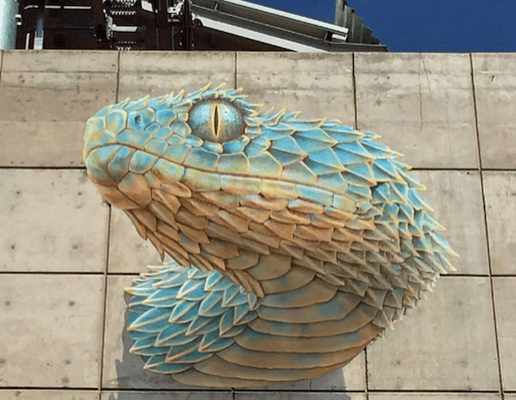 He has a point.
Consider the popularity of the infamous "Is That Dress White and Gold or Blue and Black?" debate. Or, the instant success of shows like Westworld or Black Mirror, both of which rely on an audience's obsession with being deceived.
Both of these examples support Pugh's statement -- people enjoy artwork that blurs the line between reality and illusion.
Trompe l'Oeil, a French expression, translates in English to optical illusion. Trompe l'Oeil murals appear to be lifelike and three-dimensional, and are typically displayed on vertical surfaces, like the walls of a building.
If you enjoy optical illusions, take a look at our favorite trompe l'Oeil examples to trick your mind.
Trompe l'Oeil examples
1. "Quetzalcoatl" by John Pugh
2. "Mezzanine en trompe l'Oeil" by Célia Kogut
3. "Cinema Cannes" by A.FRESCO
4. "Mueller's Waterfall" by Edgar Mueller
5. "Puzzling Realities" by Jenny McCracken
6. "Copenhagen Zoo" by Bates Y&R
7. "Venice, Italy" by Morgan Bricca
8. "Mural for Fontainebleau Hotel" by Richard Haas
9. "Flatiron Building, Toronto" by Derek Besant
10. "Le Radeau de Lampéduse" by Pierre Delavie
11. "Trompe l'Oeil books" by Paul Czainski
12. "Derelict building" by Nina Camplin
13. "Capri" by Rainer Maria Latzke
14. "Oh crumbs!" by Julian Beever
1. "Quetzalcoatl" by John Pugh
2. "Mezzanine en trompe l'oeil" by Célia Kogut
3. "Cinema Cannes" by A.FRESCO
4. "Mueller's Waterfall" by Edgar Mueller
5. "Puzzling Realities" by Jenny McCracken
6. "Copenhagen Zoo" by Bates Y&R
7. "Venice, Italy" by Morgan Bricca
8. "Mural for Fontainebleau Hotel" by Richard Haas
9. "Flatiron Building, Toronto" by Derek Besant
10. "Le Radeau de Lampéduse" by Pierre Delavie
11. "Trompe l'Oeil books" by Paul Czainski
12. "Derelict building" by Nina Camplin
13. "Capri" by Rainer Maria Latzke
14. "Oh crumbs!" by Julian Beever