By 2027, the live video market is expected to surpass $184 billion. And brands are taking notice.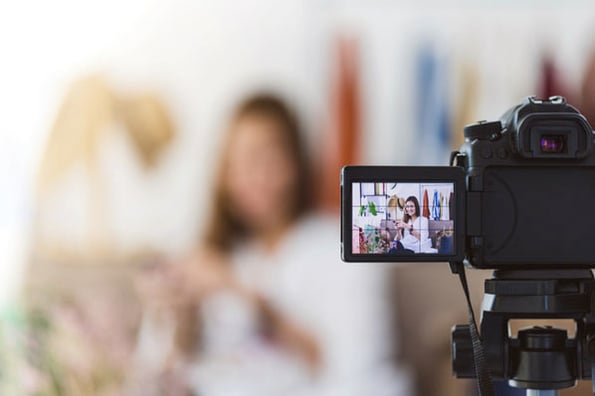 By the end of 2018, marketers were using live video as part of their social media strategy. Since then, this number has likely grown as brands continue to use a number of online platforms to stream virtual events, Q&As, and other content that their audiences will value.
Although brands are jumping on the live video bandwagon, you might still wonder if live video is really worth investing in. After all, creating any video costs your company time and money. Additionally, measuring the ROI of a live video can be tricky.
Before you decide to implement live video planning and production into your strategy, you'll need to learn more about this content's consumers, how often they watch this content, and which platforms they primarily use to stream it.
Learning about your prospective audience's live video behaviors will allow you to consider a strategy that offers them valuable content while meeting them on the platforms they're already on.
To give you insight on how often and where general internet users watch live video, I conducted a survey of more than 400 people using Lucid software. In the survey, I asked two questions: "How often do you watch live videos?" and "Where do you watch live video most often?"
How Often Consumers Watch Live
When I asked consumers how often they were watching live video, I didn't expect a large percentage to say they were consuming it more than once or twice weekly. As a marketer and social media user, I was expecting that only a few people would regularly stop everything and devote time to watching streams on fast-paced online platforms.
However, when I looked at the results, I was surprised by how frequently consumers were actually watching live videos.
According to the data, 57% of those surveyed watch live video at least three times per week, while only seven percent said they never watch live video.
While the result above is fascinating to think about, you should keep in mind that this is just a survey of one small group of consumers rather than a representation of the global internet user population. Additionally, just because our pool of consumers regularly watches live content, this doesn't necessarily mean they're watching branded content.
Although you should take this result with a grain of salt, the data above, combined with mounting research that shows how live video is growing, signifies that this format might be more than just a trend. .
Although you should consider your budget, audience, and the time involved in a live video strategy before your create or plan content, this result indicates that you might want to keep this tactic on your radar.
Where Consumers Watch Live Video
Now that you know live video is capable of generating solid viewership, you might be wondering where the best place to stream your first video actually is.
You'll want to pick a platform with a high user base, but you'll also want to make sure that the site you choose has an audience that aligns with the audience you want to engage with..
When you start by picking the best platform for your brand and audience, you can learn what it takes to be engaging on this site, and adapt your content from there.
But, simply choosing a platform can be easier said than done.
At the moment, almost all of the top social media platforms — including Facebook, YouTube, Instagram, Twitter, LinkedIn, Reddit, and now even TikTok — have live streaming features. Additionally, emerging platforms like Twitch.tv have gained notoriety for primarily hosting live content.
To help you identify a few platforms worth looking into, I asked the same Lucid participants. "Where do you watch live videos most often?"
While the results about how often consumers watched live video surprised me, I wasn't as shocked when I discovered where they were watching their content.
The platforms with the biggest audiences, and the most mature live streaming tools, took the lead. These platforms were YouTube (48%), Facebook (20%), and Instagram (13%).
One thing that did surprise me was that fewer people were viewing live videos on Twitter. Although the platform isn't primarily known for live streaming, Twitter's company was one of the first to invest in it with the 2015 acquisition of Periscope.
Although some platforms were less popular than others in this poll, you shouldn't necessarily rule them out. For example, if your most engaged audience is already on Twitter, or your followers love your B2B content on LinkedIn, you could consider testing those platforms first since you might already have a great sense of what those audiences will engage with.
Or, if you're selling a B2C product, you might want to focus on the bigger, broader networks like Facebook or YouTube since they have a large range of audience demographics.
As you plan your next live video event, here's a look at what other brands are doing on popular live video platforms.
The Top 3 Platforms Consumers Use to Stream Live Video
1. YouTube
As the world's second-largest search engine, YouTube's more than 2 billion-person user base is incredibly broad. This means that almost anyone will log on to YouTube and search its content for a number of different reasons.
Aside from being one of the oldest and biggest online platforms out there, YouTube's also offered a live stream feature, called YouTube Live, since 2011.
YouTube Live allows users to broadcast live content to viewers. With this live video feature, you can share unfiltered moments, as well as allow the audience to participate with real-time comments and reactions. Live videos on YouTube are recorded, appear on profiles and feeds like any other video upload, and can be watched even after the stream has ended.
Below is a great example of a live video launched by Adobe as part of its Sketch Party series. During each Sketch Party stream, Adobe films a graphic designer sketching or designing something with Creative Cloud software, such as Adobe Illustrator. While the artist is sketching something visibly on screen, they read comments and answer questions from viewers.
This stream allows Adobe to engage with audiences, highlight the raw talent of graphic artists, and show off how its software works at the same time.
2. Facebook
Today, more than one-quarter of videos uploaded to Facebook are live. This, plus the fact that one in five of the consumers we polled watch videos on Facebook Live most often, show that this platform might be incredibly useful for live video strategies.
Like YouTube, Facebook has the benefit of having a giant global audience that represents different ages, interests, and cultural backgrounds. While this broad audience has allowed B2B and B2C brands to effectively grow audiences on the platform, many companies have also developed successful Facebook Live tactics, too.
In the branded Facebook Live example below, a clothing store called By Alexa Rae Boutique highlights some of the clothing products that can be purchased from the store's website.
The video is formatted like a show you'd see on the Home Shopping Network as the host shows each clothing item to the camera, explains the perks of each, and notes when items are close to sold out to encourage urgency
3. Instagram
According to our survey above, 13% of people say they watch live video on Instagram most often, making it the third most popular live platform among the group we surveyed.
Instagram has been rising in popularity for years, especially to millennial and Gen Z audiences. The success of the overall app is due in part to Stories, live video, and IGTV.
Instagram's Live feature allows you to film streams that show up in your following's Stories feed for 24 hours before disappearing.
These videos are often filmed vertically, but have similar features as YouTube Live. For instance, those recording live video are able to see and respond to questions from viewers.
Before putting time and effort into creating an Instagram Live video, it's important to keep a few things in mind.
First of all, although Instagram will show followers that you're live through the Stories feed and via app notifications, the live symbol — as shown above — can be very subtle and easy to miss. This is unlike Facebook, which might prioritize a live video on your followers' News Feeds.
Another thing to note is that your content will disappear within 24 hours. However, you can send your pre-recorded streams to the IGTV tab of your profile when you're done with them. Although these videos would no longer be live, presenting them on IGTV might get them more additional views after they've aired.
Non-verified users can post a video between 10 seconds and 15 minutes to IGTV, while users who are verified or have more than 10,000 followers can publish videos or streams up to one hour long to this tab.
At this point, a number of brands have already gone live on Instagram and later added this content to their IGTV tab. Below is just one example of a live post that was later shared on IGTV. In the video, a representative from Providence, R.I.-based Bolt Coffee walks viewers through how to brew iced coffee with the brand's products:
Other Platforms for Live Video Streaming
Twitter
While Twitter allows you to connect with friends on its social network, many use the platform to follow news, trends, and topical discussions. This is why a large portion of the live videos you'll see include news coverage, video of current events, or someone discussing a hot trend.
Despite much of the live video being dedicated to news or trends, some brands have experimented with streaming content on Twitter. One example of a brand that's done this is Coinbase — a platform for storing and selling cryptocurrency. In a recent live stream, Coinbas's CEO did an AMA — or Ask Me Anything — session where he answered questions submitted live by users.
I did a live AMA yesterday answering people's questions on Twitter/YouTube https://t.co/Ifq7naVlA6

Let me know what you think. Maybe next time can add someone else from the Coinbase team, make it more conversational. Or just walk around the office and chat with folks!

— Brian Armstrong (@brian_armstrong) April 4, 2019
Although Twitter owns Periscope, a live video streaming app, you can go live directly through the Twitter app. To do this, tap the "Compose" button, then tap the "Upload" icon which looks like a camera. Once you're in camera mode, you can toggle from "Capture" to "Live" mode.
If you want to add a second video box where other Twitter users can stream with you at the same time, tap the symbol with two smiley faces in the upper right hand corner to invite guests.
Before you go live on Twitter, you should keep in mind that the platform doesn't center around live video. While it algorithmically might show your content in a followers' feed, Twitter does not have a specific home for past-recorded live videos like Facebook Live or YouTube Live does. This means that to see your video after it's streamed, users will have to go to your profile or search for it.
You should also note whether one of the other platforms above might be better suited for your audience targets. While Twitter does have a large audience, consumers — such as those who took our survey — might think of Twitter as more of a general social media network rather than a live video platform.
Reddit
While Reddit was later to the game by launching live video in 2019, brands have still leveraged it quite a bit to engage with the platform's niche communities, or subreddits.
One way brands have leveraged live streaming is by hosting live AMAs with celebrities, company leaders, or thought leaders. The AMA format originally started as text-based discussion threads in subreddits. For example, to promote Microsoft and his non-profit organizations, Bill Gates has published a number of threads in technology-related subreddits that asked his fans to ask him anything. From there, fans added their questions and he tried to answer as many as possible.
Since live video launched on Reddit, brands have re-formatted traditional AMAs into video streams. For example, Audi recently posted a series of live streams called "Think Faster." In each live stream, celebrities sped around in one of Audi's newest cars while answering Redditor questions. Here's a screenshot from one of the events which featured actress, Olivia Munn.
Twitch.tv
Twitch is one of the newest platforms on this list. However, the live-streaming site has notably gone viral as video gamers have been using it to stream their sessions.
But Twitch isn't just for gamers anymore. At this point, a number of marketers and brands have identified ways to leverage the platform.
One major brand that won a Clio for its Twitch-based campaign was the fast-food chain, Wendy's. In 2019, a mission set in the popular video game Fortnite, told players to harvest beef and place it in freezers of nearby restaurants to collect coins.
Because Wendy's claims to sell, "Fresh, Never Frozen Beef," its marketing team decided to launch a nine-hour Twitch stream where a Fortnite avatar dressed like Wendy ran around the video game attempting to destroy freezers. As a Fortnite player, you could join Wendy and help her smash the appliance.
According to the Clio sizzle reel, the Wendy's stream began to go viral as more people logged in to watch and post in the comment thread. Gamers also began to start attacking freezers to help Wendy's avatar.
Building a Live Video Strategy
Although live video might seem like a great opportunity to engage with your audience, it still could cost time and money to plan and produce. Like any marketing strategy, you'll want to research the tactic before diving into it.
As you determine if live video is right for you, and identify the platforms you'll experiment on first, it's important to lay out what goals you'll want to achieve with the content.
For example, if you're interested in pulling in views or awareness from broader, more general audiences, YouTube or Facebook might be the perfect live platforms for you. Or, if you're interested in pulling in a younger audience, you might want to consider Instagram, which has a slightly younger audience.
To help you learn more about the live video platforms and strategies out there, check out this list of live video stats.
Editor's note: This post was originally published in June 2020 and has been updated for comprehensiveness.