Now that 2020's global pandemic has taught most of the world how to live and work completely from home, marketers planning their 2021 strategy are asking one big question: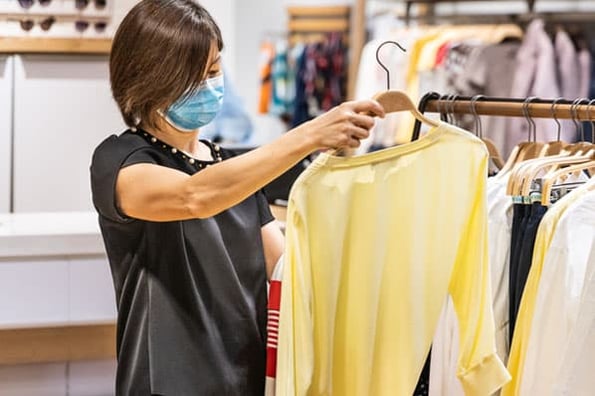 "Will this uncertain time change the way people spend money?"
McKinsey -- which recently polled consumers in over 48 countries about their 2020 spending habits -- says, "Yes."
One of the biggest findings in the McKinsey study was that 75% of consumers have changed brands at least once during the pandemic.
McKinsey's research also noted four other key shifts in consumer spending behavior that could majorly impact brands in the near or far future.
In this blog post, we'll walk you through all five shifts noted in the McKinsey study, while giving our insights on how marketers and brands can navigate them.
How Purchasing Behaviors are Changing in 2020
1. Brand loyalty is being tested.
At the beginning of the pandemic, as entire cities began to close non-essential businesses, consumers raced to stores or hopped online to order essential products they'd need in the coming months. This caused a major disruption in supply chains and product shortages around the world.
And, even in the earliest days of the pandemic, consumers were paying heavy attention to how companies handled shortages and bursts in product demand.
While some brands saw an influx of new customers that they once lost to bigger competitors, other companies lost customers to because they simply couldn't keep up with a high demand.
"Over 60% of global consumers have changed shopping behavior, many of them for convenience and value. In the US, the percentage was 75%," the McKinsey study notes.
When it comes brand shifts outside the U.S., a whopping 91% of Indian consumers and 82% of Chinese consumers say they've changed brands at least once since the beginning of the pandemic.
According to McKinsey, the top three reasons consumers changed their habits or brands were value, availability, and convenience.
As you can guess from the data points above, the risk of losing a customer to another brand is higher than usual in 2020. Even if a product appears essential or valuable to a prospect, they might not buy it if another brand can deliver a similar item faster.
How Brands are Navigating
At this point, some large brands are working to better align teams to ensure that products can be discovered, ordered, and delivered quickly -- even in times of high demand. Meanwhile, some smaller brands are making their products more available online and in-stores to prospective customers who can't get an item quickly enough from brands they've used in the past.
According to a post from Repsly, which included data from anonymous name brands, companies that thrived in 2020 used data and company-wide communication strategies to identify areas at risk of high product demand around March and continued to align with teams including marketing, service, and supply chain teams to ensure their shelves and warehouses stayed stocked.
In another recent report from McKinsey, researchers similarly predict that successful high-demand brands will develop an integrated approach between their supply teams, sales, and marketing departments. McKinsey also discourages brands from raising prices in times of high demand and focusing on other vital business and customer experience strategies instead.
"Operational concerns may be even more important than pricing strategy, including stabilizing the supply chain, keeping products on the shelves, addressing customers' urgent needs, and maintaining quality," the McKinsey report explains.
2. Consumers aren't rushing to grab their wallets.
Before the pandemic, Gen Z was the major age group that prioritized essential products over other purchases. Meanwhile, other generations were more likely to splurge on products based on their brand name or non-essential perks.
But, after business closures and financial uncertainty related to the pandemic, consumers in all generations are reconsidering spending habits.
Even as cities, businesses, and workplaces slowly reopen, shoppers plan to stay cautious about their budgets.
In the U.S. alone, 40% of consumers say they'll continue to be mindful of where they spend money, while 31% plan to buy less expensive versions of items to save money. And, whenever they make those purchases, 21% of consumers aim to do more brand and product research than they had for pre-pandemic purchases.
Image Source
How Brands are Navigating
While consumers might have made purchases with motives related to fun, entertainment, brand name, or other perks before the pandemic, many are now more budget-conscious than ever.
For the most part, consumers are primarily zoning in on essential product purchases. And, if someone does buy a less essential product, such as an item that entertains them, they'll do thorough research to ensure they're getting the best value for their money.
At this point, many essential and non-essential product companies have caught on to consumer budget concerns and have begun to leverage online marketing strategies to ensure that consumers can discover their products, learn about their value, and determine that they're worth purchasing.
Particularly, companies that sell essential products have created campaigns, advertisements, and messaging reminding consumers of how important the items are. Meanwhile, companies that sell less essential items are getting creative to identify new value propositions for their products or brands.
For example, in the ad below, Procter & Gamble acknowledges the COVID-19 crisis, explains how it will be donating products to families and philanthropies in need, emphasizes the importance of their household and health items, and reminds viewers of how its brand has helped consumers disinfect their homes for generations:
https://www.youtube.com/watch?v=M4xF40TnlS0
The P&G ad is effective because it highlights that the brand offers affordable and available products that people trust for cleanliness, shows how the company is actively aiming to help people impacted by the pandemic, and reminds audiences of how essential its products are to global households.
In another example, Ice Breakers, a mint company that sells products that might be considered less essential, made an ad to highlight how eating mints before you put on a mask can prevent smelling your breath.
https://www.youtube.com/watch?v=yXU7JFKaSJQ
While the P&G campaign acknowledges why its brand's products are essential to people around the globe, the Ice Breakers ad cleverly places new value into a non-essential mint product that people might not be rushing out to buy at this time.
3. Shoppers need ecommerce.
McKinsey notes that "most [product] categories have seen more than 10 percent growth in their online customer base during the pandemic."
Additionally, across most product categories, at least 30% of U.S. and U.K. consumers expect to make even more online purchases after the pandemic.
How Brands are Navigating
While many bigger brands are amping up their ecommerce strategies, a few prominent tech giants have begun to offer solutions that can help smaller or medium-sized brands, such as boutiques, retailers, or restaurants, generate revenue online.
For example, Facebook recently launched a tool called Facebook Shops, which enables any company with a Facebook or Instagram Business page to create a mini-online store that links with all platforms owned by the social media brand. Meanwhile, meal delivery apps like DoorDash temporarily reduced commissions of local restaurant orders so those business owners could sell food virtually while earning fee-free revenue for each order.
4. Health plays a role in purchasing decisions.
With the pandemic impacting thousands of Americans, people began to consider their health and safety more than ever before -- even when purchasing products.
In the past, health-conscious consumers might have glanced at back labels of various products, the interest in health and safety has gotten even deeper. Now, they might ask, "What's the packaging process for these products?", "Are the cashiers in the grocery store given PPE?", or "How are businesses actively preventing the spread of germs?"
While health and safety of consumers and brand employees might not be the biggest purchasing motivator, it's one people are thinking about much more in 2020.
Ultimately, when big or small businesses take action to show that they genuinely care about people, consumers might identify with, trust, and value them more.
How Brands are Navigating
Although it might sound easy to buy an ad spot with a commercial that simply says, "Our brand cares about you," this approach might not convince your audiences that the message is authentic.
Many of the brands that are thriving in this time demonstrate how they care, rather than just saying it.
For example, as global mask shortages occurred in the early days of the pandemic, fashion companies like Louis Vuitton and Burberry diverted clothing production to make face coverings.
Aside from creating PPE, other companies have donated to causes related to the pandemic or taking extra steps to keep their customers and staff safe.
Target, which is considered an essential business, has been publishing online content about how the company's aiming to help customers, employees, and communities at this time.
Rather than centering its YouTube page around content that highlights products, sales, and deals, Target features a playlist aimed to help shoppers and communities during COVID-19.
Along with health and safety tips related to shopping, videos on the playlist explain how Target is working to create safe in-store experiences and smooth online shopping options for customers.
Aside from creating videos on how the chain is aiming to help customers navigate COVID-19, the brand has also created a $10 million pandemic relief fund which dedicates $1 million to assisting Target employees. This demonstrates that Target is taking action to help its community, customers, and employees who work in essential in-store roles.
5. Shoppers have become homebodies.
According to the survey, 70% of consumers don't want to resume activities or work outside of their homes just yet, despite pushes to reopen the economy. If they won't leave home to work, travel, or dine out, McKinsey notes that many won't leave home to shop either.
When looking into the near future, "More than 3 out of 4 [consumers] who adjusted their behaviors due to the pandemic said that easing government restrictions will not change their cautious behaviors. Consumers are following guidance from medical experts for reassurance," notes McKinsey.
How Brands are Navigating
Brands can't just assume that people will flock back to stores as businesses reopen. While some consumers might not feel comfortable or safe leaving the house immediately after a pandemic, others won't want to shop in physical stores because they know they can buy almost any product they want online.
At this point, successful brands are trying to continue to meet customers where they are, even if they don't leave the house.
While some brands are building out online stores and digital services, others that don't sell a physical product are launching online events or virtual experiences to gain awareness, continue to generate revenue, and delight their customers.
One example of a brand that made an in-person experience into a virtual offering was an animal sanctuary called Sweet Farm. When the California-based farm, which runs on donation revenue, closed to the public amidst the pandemic, its owners created a virtual offering where businesses or individuals could pay $65 to $750 for a farm animal to guest star in their virtual hang out or meeting.
The campaign was cleverly titled, "Goat-2-Meeting," a play on GoToMeeting -- a popular video meeting software.
Image Source
According to Sweet Farm, the campaign, which began in March, was so successful that there was a waitlist for animal meet and greets by April, Sweet Farm has also partnered with more sanctuaries to increase meeting availability and share donation revenue with other organizations that care for animals.
How Marketers Can Navigate 2021 -- and Beyond
This year, marketers and businesses were tested by the global pandemic and economic landscape. As you consider what's next for your brand, keep these consumer behavior trends in mind:
Consumers crave value and availability.
More than ever, consumers will choose to shop from a company because of product value and availability, rather than brand loyalty. Business owners who've relied on loyalty and credibility to make sales should also monitor their supply chain and pricing to ensure that their products are worth the price and accessible to customers. Meanwhile, lesser-known brands can use a competitive analysis or other tactics to learn where they can help consumers that are struggling to find affordable or high-demand products.
Digital transformation is key.
Brands can no longer assume a billboard or foot traffic will generate vital revenue. At this point, many companies that were once mostly physical are building online stores, leveraging different online channels for marketing, and thinking outside of the box to create virtual offerings that will delight and retain customers.
"Human" brands will reap benefits.
In 2020, customers began to care more about how businesses treated employees, how they kept customers safe, and how companies stepped up to help others in times of uncertainty. Ultimately, brands with leaders who genuinely care about people will get better reviews, word of mouth, and positive awareness than brands that throw caution to the wind.
Looking to learn more about how businesses are evolving in 2020? Below you'll find content from HubSpot's Adapt 2020 series: