Two years ago, when we set out to build Workflows, HubSpot's answer to marketing automation, we challenged ourselves to build not a better spamming engine, but a tool and a methodology that would help our customers create a nurturing experience people would love.
This translates to being intentional with every single Workflow step, aligning it with the overarching marketing goal while keeping people at the center of it all. And yet, far too often, marketers lose sight of the purpose of their drip campaigns.
In order to architect the buyer's journey effectively, one needs to clearly understand the job of each Workflow and how well this job is being done.
Not surprisingly, this vision is well aligned with how our User Experience team thinks of building software. Each app should behave as a human being who is hired to do a job.
As HubSpot's interaction designer Dan Ritzenthaler says, "We don't think of our product as just software. We look at it as a fellow employee who is so helpful that you want to assign new projects to her."
This, of course, follows in the footsteps of Harvard professor and author Clayton M. Christensen's jobs-to-be-done framework -- people 'hire' products to get some job done.
In Christensen's famous case study, consumers purchased milkshakes in the morning, not because of their own demographics or because of the milkshakes' characteristics. Rather, they 'hired' the milkshake to do a job: to keep them busy in lieu of other snacks during the long work commute.
So ... what is the job a Workflow is 'hired' to do?
Defining the Job of a Workflow
Everyone knows that marketing automation is meant to shorten the sales cycle. So the job of a Workflow is clear: to convert leads into customers.
Such drastic jumps, however, rarely exist in marketing. Before a prospect turns into a customer, they reach specific milestones. They might request a demo, spend some time on your pricing page, or click to download your case studies. In other words, they go through different stages before becoming a customer.
A nurturing experience for someone who is barely engaged with your brand will drastically differ from a nurturing experience for someone who has been downloading your content for a while. The first one will be focused on engaging the prospect, while the second one will try to qualify them further. So the job of each Workflow needs to be aligned with the goals of these distinct nurturing experiences.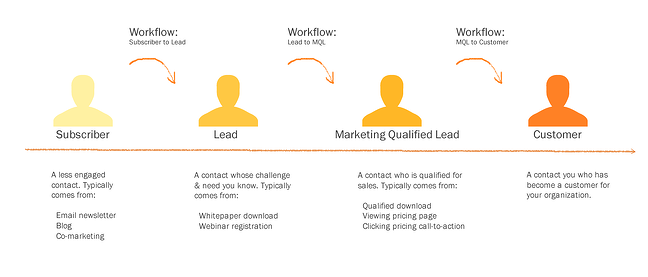 This framework aligns the content of each Workflow with its goal. It keeps people at its core by reinforcing who you are talking to and why. Understanding this becomes key for creating effective lead nurturing, enabling you to not only create the right content for different segments, but to also engage prospects in the right manner.
Measuring the Job of a Workflow
Once you're aware of the job each Workflow is 'hired' to do, how do you ensure this job is getting done?
Nurturing your contacts through the different stages takes a lot of time and effort. You rightfully want to know the extent to which it's working. To gauge performance, most marketers look at a set of metrics like email clickthrough and open rates.
While a good start, these metrics don't reveal the complete story of the job to be done. The job isn't to simply engage with email. Ultimately, marketers need to know whether the journeys they've built moved prospects closer to becoming customers. Does each workflow achieve its goal? Is there space for improvement? These are questions marketers have to ask themselves when measuring their metrics.
We focused on making it easy for customers to see how this overarching goal was being met. How did each Workflow impact the movement of contacts from one stage to the next and from one milestone to the next?
This exploration led us to introduce a goal for each Workflow. That way, users can't lose sight of the purpose behind their efforts and the tool. In the mock-up below, the Workflow starts for a list of people who request a demo and its goal is for these contacts to convert into customers.

Equipped with a starting condition and a goal, we can calculate the conversion rate between the two, reporting on the contacts' movement across lifecycle stages or other important milestones.

This conversion rate didn't belong to the Workflows existing Editing experience. We started working on an Overview screen of each Workflow, a page that would highlight the journey of all contacts and its performance.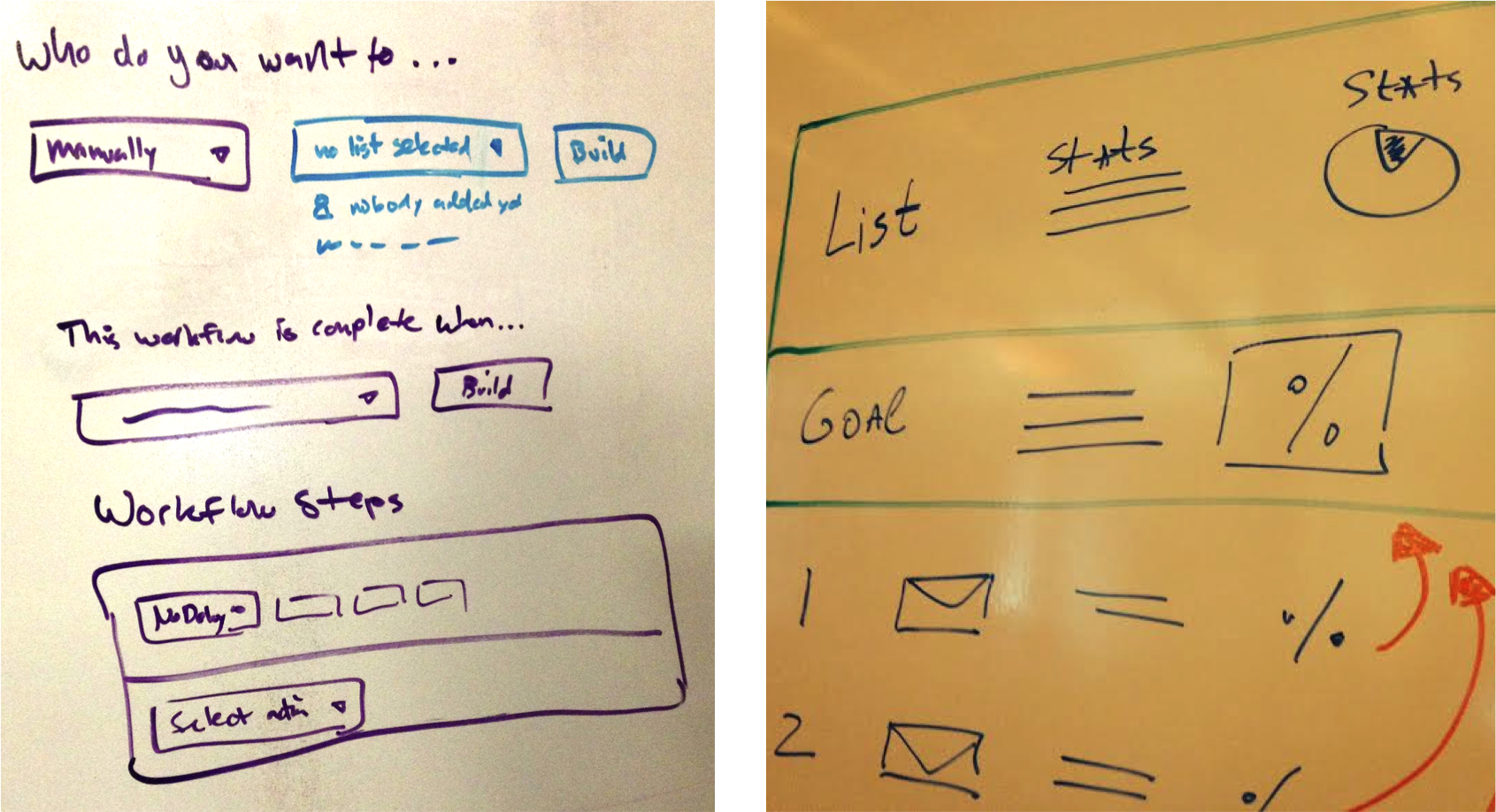 After a series of user testing sessions with prototypes, we learned valuable lessons on the best way to visualize the information and validated our work on the proposed conversion rate.
Once this screen was in development, we continued the user testing, now giving customers an opportunity to see their own work in this format, click through, and explain what they see. The tests were conducted by a few UX team members, the app's product manager, and developer(s) who have been working on the project.
The results? Each test showed we needed to gradually disclose information to keep the primary story clear and not distract the user with secondary content. We found opportunities to be more prescriptive and suggest goal ideas for customers who hadn't considered this before.
As Marc Neuwirth, one of the front-end software engineers who worked on this screen noted, "Sometimes, you finish a user testing session and wonder, 'Okay, what now?' In this round of user testing, we definitely had our work cut out for us."

After each test, the customers' ideas for action they could take after looking at this screen thrilled us. Some users wanted to optimize the emails used in the Workflow. Others focused on the conversion rate and wondered about their unsubscribe rates. As one of our customers Kevin Jorgensen put it, "Once we get a workflow working, we start thinking on how we can improve this."
We iterated the screen based on the customer feedback and invited the beta group of early adopters to share their thoughts and ideas. Opening up a forums discussion helped us solicit comments from a wider group of customers. We are now happy to announce that this Overview screen is visible to all HubSpot customers who have access to Workflows.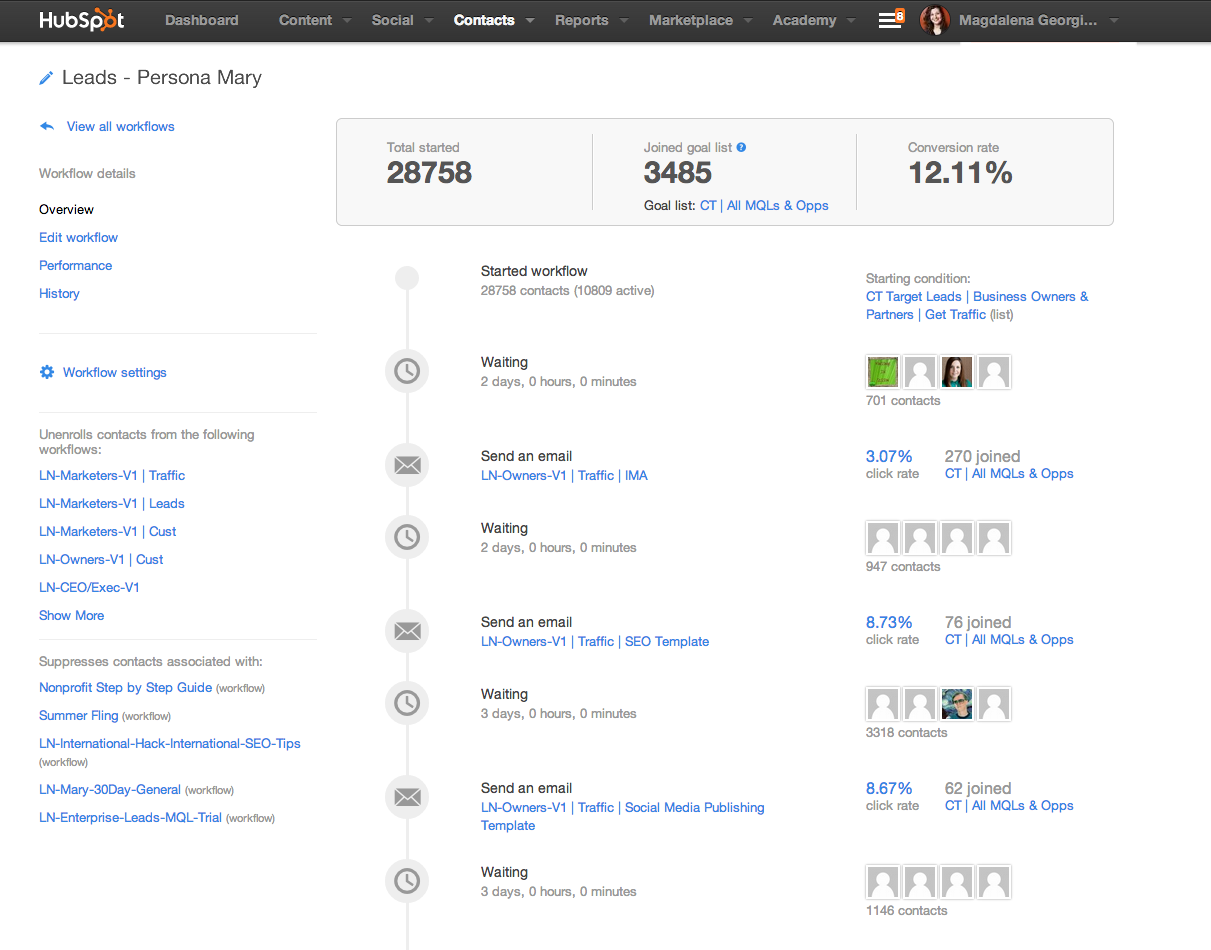 Check out the 2-minute video below to explore how it all works:

This addition helps us define the job of each Workflow and how well the job is being done.
Greg Devore of Blue Mango Learning Systems, a rock-star HubSpot customer, put it well: "It gets us focused on purpose; it's not just automation." Such a frame of mind will undoubtedly contribute to building nurturing experiences people love.
What lessons have you learned from setting up workflows? Tell us your story in the comments!
Originally published Dec 4, 2013 2:00:00 PM, updated November 27 2017