How much time have you spent sending emails today? Probably way more than you'd like to.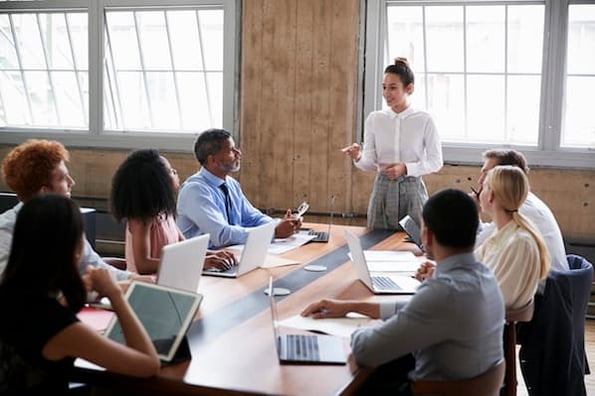 Unnecessary email coordinating takes up a lot of time for little return as only about 20% of emails that are sent get opened. Tools like appointment scheduling apps and booking software help automate the process of scheduling meetings with potential and existing customers without relying on email replies to nail down a good time.
Ready to see some of the best appointment scheduling apps? In this article, we discuss both free meeting scheduling apps and premium ones. Let's dive in.
Why use an appointment scheduling app?
Reducing your sales cycle length is the primary benefit of scheduling apps from an ROI perspective. But for your own peace of mind, they reduce administrative tasks that can be a burden to complete. Here are three characteristics of a great appointment scheduling app that you'll want to keep in mind:
It should reduce the number of emails you send to schedule a meeting.
It should sync with your calendar.
It should send reminders for your appointments.
Scheduling apps speed up your sales process by allowing prospects to book meetings when it's best for them. And it makes it easier for people to schedule time with you by eliminating unnecessary back-and-forth emails. Plus, many of these tools sync directly with your calendar and send out meeting reminders automatically so neither you nor your client miss a great opportunity.
Ready to see some of the best appointment scheduling apps? Below, we'll discuss both free meeting scheduling apps and premium ones. Let's dive in.
Best Appointment Scheduling Apps
HubSpot Meetings Tool
Calendly
Calendar
Booksy
Setmore
Square Appointments
Appointlet
CalendarHero
SimplyBook
Doodle
Arrangr
Rallly
Acuity Scheduling
YouCanBook.me
HoneyBook
Bookeo Appointments
ScheduleOnce
Appointy
Visibook
Bookafy
Chilli Piper
Here are the best scheduling apps with free options.
Free Scheduling Apps
Price: Free
The HubSpot Meetings Toollets you sync your Google Calendar or Office 365 calendar, set your availability, and have prospects and customers book time with you. Add form fields to your meeting page to capture contact information like name, phone number, email address, and more. The meeting page can be sent as a link in an email or embedded on a website or landing page.
When they book time with you, the time is blocked off on your calendar and a confirmation email is sent to the prospect or client who booked. This simplifies the scheduling process so you can book more meetings in less time. Plus, it integrates directly with the CRMso you can keep track of your contacts and meetings. As prospects schedule meetings, HubSpot automatically creates records for new people.
Price: Free (Basic), $8 per user/month (Essentials), $12 per user/month (Pro), $16 per user/ month (Teams)
The free version of Calendly allows you to connect one calendar, book unlimited meetings, create a custom Calendly link, and send out automatic email notifications and reminders to invitees who book with you.
The paid version of Calendly provides multiple meeting types like one-on-one, round-robin, collective, and group meetings. It's great for teams and provides team pages, metrics and reporting, and administrative features to manage bookings. In addition, there are plenty ofCalendly alternativesyou can try and test out depending on your use case.
Price: Free (Basic), $6/month (Standard), $8/month (Pro)
Calendar is an AI-enabled digital calendar, scheduling, and time management solution for individuals and teams. It brings together your Google Calendar, iCal (Apple Calendar), and Outlook Calendar into one dashboard view that you can customize and share. The digital calendar syncs across devices as well as offers a virtual assistant that can learn your schedule and begin taking over meeting planning, invitations, and scheduling changes. The paid versions also add meeting transcriptions and a wide range of analytics so you can see how you spend your time in meetings and with people.
Price: Free, $29.99/month (Lite), $29.99/month (Pro — Limited Offer)
For businesses in the beauty and personal care industries that need to schedule several meetings and manage multiple calendars, Booksy offers an affordable scheduling app and booking solution. This app is great for small to medium size businesses looking to manage bookings, client management, inventory, and payments all from one app.
Price: Free (Basic), $9 for 3+ users/month (Pro), $12 up to 2 users/month (Premium)
Setmore is a free appointment scheduling and payments platform that allows you to create a public-facing booking page. The free account supports up to 20 staff calendars and logins so your team can begin booking meetings. And you can send automatic appointment notifications to people who book time with you.
Price: Free, $29/month (Plus), $69/month (Premium)
If you're looking for a flexible booking and payment platform, Square Appointments is worth your consideration. Through Square Appointments, you can set up a free customer booking website, activate automated text and email reminders, charge cancellation fees for no-shows, and accept integrated payments from within one platform.
Price: Free, $8/month (Premium), contact for Enterprise
This appointment booking software allows salespeople to customize their availability, create booking pages, and send them to prospects and customers. The booking page can integrate into your website, landing pages, and emails. While Appointlet does offer a paid pricing tier, the free version is free forever. It includes unlimited bookings, meeting types, and form fields.
Price: Free (Basic), $8/mo (Pro), $12/mo (Team)
Image Source
CalendarHero offers all the common meeting scheduler features such as scheduling links and internal group scheduling. However, its advantage is the powerful connections it has with your tech stack and its notification system and smart time settings for meeting buffers so you never run late to another meeting.
Price: Free, $9.90/month (Basic), $29.90/month (Standard), and $59.90/month (Premium)
SimplyBook is an online booking system specifically designed for service-based companies. You can integrate SimplyBook with your existing website, or you can create a custom booking page within the platform. They also have social media integrations that allow you to accept bookings directly from Facebook and Instagram.
Price: Free (Basic), $6.95 one user/month (Starter), $44.75 for 5 users/month (Team), contact for enterprise pricing.
Create meeting polls to send to clients and prospects, suggest meeting dates and times, and allow voting on dates that work all with Doodle's free version. While the free version might be helpful enough for most individuals, you'll need to upgrade to the premium pricing tier to remove ads from your polls, set a deadline for the poll, and collect contact information from meeting guests.
The paid version of Doodle's scheduling software helps you find a time to meet that works for all attendees. The meeting host suggests meeting times, invites participants to indicate their availability, then the meeting host picks a final time. When the time is finalized, a calendar event is added to the host and meeting invitees' calendars. Plus, there's a dashboard feature where you can manage all the meetings you have.
Price: Free (Basic), $3.99/month (Pro), $6.99/month (Pro Plus)
Arrangr is an intelligent scheduling platform that allows users to book a meeting in under 30 seconds. In addition to helping users find the best agreed upon time to meet, Arrangr seeks to prevent all meeting miscommunication by letting contacts determine places and ways to meet all within the platform. Bonus: Arrangr is a part of the HubSpot ecosystem, so you can launch and send invitations to contacts from directly within HubSpot.
Price: Free
Rallly (with three Ls) is an appointment scheduler with classic polling functionality where the members of your group can vote on the best times for the meeting or event. It also supports chat and messaging within the interface so that meeting attendees can discuss the best time to connect.
Price: $Free (Solo), $9 per user/month (Teams), contact for enterprise pricing.
ScheduleOnce is a comprehensive tool that allows you to create nearly any scheduling scenario you can think of. Everything from group sessions to one-on-one calls, to in-person meetings, can be booked through ScheduleOnce. You can also directly connect ScheduleOnce with your website, email provider, and payment system.
Forget the back-and-forth and choose the meeting scheduler that makes the most sense for your situation. Using scheduling and booking software can save so much time, increasing your productivity on the tasks that actually matter.
Price: Free (Basic), $19.99 per user/month (Growth), $49.99 per user/month (Professional), $79.99 per user/month (Enterprise).
If you're running a brick-and-mortar business that needs to maintain social distancing, Appointy is the app for you. Appointy goes beyond scheduling meetings as it manages occupancy, too. Whether you need to schedule consultations, classes, or appointments, Appointy will ensure your business meets regulations with every appointment.
Price: Free, $6.99/month (Basic), $13.99/month (Standard), $19.99/month (Unlimited).
Appointment reminders and calendar synchronization are among the basic must-haves Visibook offers in their scheduling app, but their platform offers much more. If you accept deposits or booking fees from customers before confirming appointments, Visibook supports this feature with payment processing integration. For a more consultative approach to your meetings, you can chat with customers through email or text message and keep all that correspondence in one place.
Paid Meeting Scheduling Apps
Ready for more advanced features? Check out these paid options. Each tool includes the following features:
Meeting scheduling tool that can be viewed, managed, and edited by multiple users and administrators
Multiple calendar views
Contact information can be gathered from those who book meetings
Price: $14/month for 1 calendar (Emerging), $23/month for 6 calendars (Growing), $45/month for 36 calendars (Powerhouse)
Acuity Scheduling makes it easy to book appointments with clients and prospects. It's an online assistant where prospects, customers, and clients can see your real-time availability and book their own appointments. The tool allows you to send customized confirmations that reflect your branding. And appointment reminders and follow-up messages can be sent via email or text message.
Price: $10/calendar/month
Connect your Google Calendar or iCloud calendar to set your availability to create a booking grid and start booking meetings. Share the booking grid on your website, Facebook page, or via email. Add custom styling, use unlimited fields, and manage your bookings using advanced tools.
Price: $9/ month (Starter), $34/month (Unlimited), $390/year (Unlimited Annual)
HoneyBook allows you to manage bookings throughout the entire sales process. You can book initial meetings with prospects and even send proposals, contracts, and invoiceswhen they're ready. It helps you manage your clients and HoneyBook integrates with other tools like Gmail, Google Calendar, and more.
Price: $14.95 per user/month (Solo), $29.95 per user/month (Small), $39.95 per user /month (Standard), $79.95 per user/month (Large)
If you're looking for a tool that provides appointment setting and advanced tracking for how your meeting contacts move through the sales pipeline, Bookeo Appointments is the tool for you. This platform automatically updates your schedule in real-time for optimal booking and integrates directly with HubSpotto keep your contact list up-to-date based on booking reservations.
Price: $9/month (Pro), $13/month (Pro+), and Custom Plans for Enterprise
Bookafy is an appointment scheduling tool for meetings, calls, sales demonstrations, and service appointments. Onboarding on Bookafy is easy as it allows a simple, one-time setup.
With Bookafy, you can generate a meeting link for various meeting tools ranging from Zoom, GoToMeeting, and more. Bookafy's skill-based scheduling feature makes it easier to prioritize and schedule your meetings.
Price: $15 per user/month (Instant Booker), $25 per user/month (Handoff), $30 per user/month (Form Concierge)
Chili Piper is a meeting lifecycle automation platform that helps sales teams connect with buyers throughout the customer lifecycle. Chili Piper does a couple of things well: scheduling multi-person meetings at once and sending email times via email. Now, we know we mentioned that back-and-forth emails to schedule meetings isn't the most efficient, but Chili Piper's scheduling widget is the exception to this rule. Rather than sending your prospect to a landing page with your calendar, you can place convenient buttons at the end of an email to get a meeting booked in one click.
Get More Done With Scheduling Apps
Whether you choose a free option or a paid one with more features, scheduling apps cut out the hassle of managing clients, meetings and bookings.
Editor's note: This post was originally published in November 2020 and has been updated for comprehensiveness.