HubSpot research shows 40% of salespeople view prospecting as the most difficult part of their jobs. It's often the most critical barrier to meeting quota, and the ability to prospect effectively and bring in qualified leads is what will help reps move forward and succeed.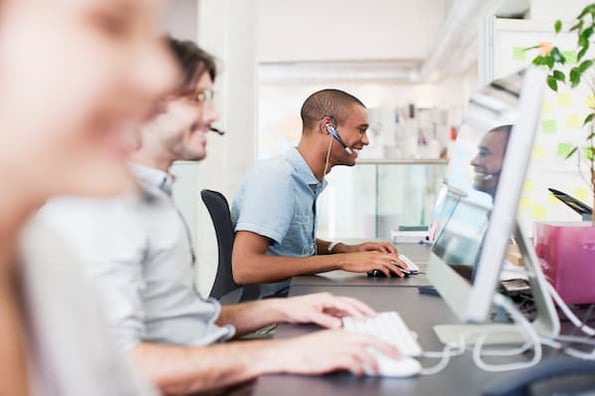 Whether you're a rep looking for fresh lead generation avenues or a marketer trying to help their sales team, I've rounded up some strategies for helping you bring in new B2B leads.
B2B Sales Leads
A B2B sales lead is a sales qualified business lead. This lead has shown immediate interest in buying your product/service for their business. B2B sales leads are often sourced by sales reps through prospecting. They differ from marketing qualified leads sometimes sourced when a consumer downloads a content offer. These consumers might be interested in your product but have not demonstrated immediate intent to buy.
Sourcing B2B leads requires you to understand a company's goals as well as the individual's. This also means, not only are you conducting outreach to individuals, but you must also find organizations that are a good fit for your solution.
In many ways, this makes prospecting easier -- but the budgets, stakeholders, and gatekeepers you encounter throughout the sales cycle can make finding the right B2B leads that much more important.
The right prospecting strategies can earn you better, more qualified B2B leads. Find your favorites below.
How to Generate Leads for B2B Sales
1. Set up a lead bot
Strategic Account Director Jack Matsen saw a 38% increase in demos booked within six months of implementing a lead bot.
Matsen says, "Our bots collect information that gives us time to come prepared with potential solutions before we walk into meetings with new prospects. Having this information ultimately leads to better, more beneficial conversations."
It's important to identify which pages you'll install lead bots on, what you'll say, and how you'll route those leads. If you have a lot of organic traffic coming to your pricing page, or you notice this page is a high converter for you, drop a lead bot there to engage with a higher number of leads.
Make sure the language you're using with your lead bot is friendly and conversational. In other words, don't start a conversation with, "Hello, how can I help you today?" Instead, try, "Hello, thanks for stopping by our pricing page! Can I answer any questions about our three pricing tiers?"
And once a prospect answers a "qualifying question," such as "Yes, I'm looking for a solution like this for my company, but I'm not sure which of these packages would best meet our needs." have your bot rout the lead to the correct rep so a live conversation can take place.
Want to learn more about setting up a lead bot to help your sales team? Check out this article.
2. Join or contribute to Twitter chats
Twitter chats are when a group of people meet on Twitter to discuss a certain topic, trend, or interest area using an agreed-upon hashtag. For example, if you sell a PPC tool, you might join the weekly #PPCChat, in which chat runners or guest hosts share a discussion topic ahead of time and industry folks share their thoughts and questions.
The format of Twitter chats is for the host to share a series of ordered questions (e.g., "Q1: What's your biggest pain point with your current PPC tool?") and participants reply in kind (e.g., "A1: My biggest pain point is competitive spend.").
If you want to reply to someone's answer or question – like the one above – start by replying directly to the question asker's question. From there, here's what not to do in a Twitter chat:
Twitter chat lead: "A1: My biggest pain point is competitive spend."
Sales rep: "A1: I sell a PPC tool that can help combat competitive spend. Want to hear more?"
Don't be that rep. It's a good way to get a group of people to turn on you, and possibly block you from future chats. Instead, offer value only when you have non-salesy value to contribute, share knowledge, link to helpful articles, and share hacks other clients have used successfully. Here's what your response should look like:
Twitter chat lead: "A1: My biggest pain point is competitive spend."
Sales rep: "A1: I've worked with a lot of people who've expressed similar frustrations. Check out this great blog post on auction insights a client of mine recently wrote."
Show up to these chats regularly and know when to contribute and when to listen. You'll make connections with people each week, and you can ask if it's alright to follow up with a few of them offline, after you've built foundational rapport.
3. Answer Quora questions
You can take a similar approach to Quora as you'd take on Twitter chats: Always Be Providing Value (ABPV).
Quora is a knowledge-sharing platform on which users can ask questions and receive answers from industry experts around the world. Good answers are upvoted and appear at the top of the page.
Create a free account, make sure to fill out your profile, and choose your interests. Get a feel for the platform by answering questions. Again, never be overtly salesly. Answer questions you have a background in, and consider rewording blog posts from your company's website to provide organized and well-researched responses.
When appropriate, link to a few different articles that might answer your prospect's next few questions on the matter.
View Quora as a rapport-building tool, and only offer your solution or ask for more of their time if there's an opening or you've connected on another platform like LinkedIn.
Interested in learning more about sales prospecting on Quora? Check out this post.
4. Optimize your email signature
The most valuable real estate in any email you send is arguably the email signature. You can sell without selling.
Start by adding a professional headshot, your appropriate contact information, and, if possible, your company logo (hyperlinked back to your website). As a bonus, add recent awards or industry accolades your company has received, links to popular blog posts, a snappy customer review, product announcements, or a calendar link to book time with you.
Pack your email signature with as much value as the body of the email itself and optimize regularly. Need some help getting started? Try this email signature generator. And see several real-life email signature examples here.
5. Solicit customer reviews
95% of consumers read online reviews before making a purchase. So, isn't it time you make sure your reviews are everywhere? Ask your Customer Support team for a list of happy customers or pull your top NPS scores and reach out to those customers.
You can even run campaigns asking these happy clients to leave reviews on customer review sites like G2 and Capterra. Having a strong presence on these sites can be a huge lead driver for your business.
Paying for a vendor account on a peer review site comes with added benefits, including customized landing pages, access to industry-specific reports and data, and premium placement in their software directories.
6. Work with Marketing
Whether the stereotype of mortal enemies Sales and Marketing is true for your organization or not, it's important for reps to understand the importance – and the lucrative nature – of having a strong working relationship with their marketing team.
Here are a few areas to partner with them on:
SEO - Share trends you're seeing and hearing from your prospects. For example, let's say you're a recruiting service. If you notice a trend in "outsourced recruiting," you could recommend that your marketing team target that keyword in their content, paid ads, and other SEO strategy, to bring in more qualified leads.
Paid Ads - Share keywords or pain points you hear come up a lot in your calls with prospects. If a common pain point you hear prospects cite is their difficulty giving recruiting the time necessary to do it well, you might share that with Marketing and recommend they run paid ads that speak to this pain point.
Content - Similarly, routinely meet with Marketing and share common objections or concerns your prospects are bringing to you. Ask them to create blog posts, white papers, and case studies that speak to those objections and educate your prospects before those objections arise.
7. Participate in LinkedIn Groups
Like Twitter and Quora, the goal of joining LinkedIn Groups is not to spam everyone in the group with your offer. Search for industry groups where you know some target accounts and ideal customers hang out. Become a contributor to the group and build relationships with members by offering value and listening.
Which of these strategies will you try first? If you're interested in reading more about how to grow your pipeline, check out this ultimate guide.