There's no doubt that Account-Based Marketing (ABM) is hot right now. According to HubSpot's State of Marketing Report, more than 67% of brands are leveraging it in 2020.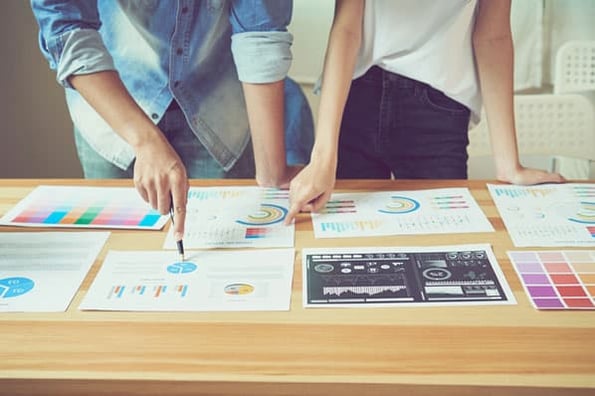 ABM has been top of mind for several years, but the many businesses (SMBs in particular) have yet to implement any formal ABM strategy.
Why? Because companies get stuck. Of all the steps involved with starting an ABM strategy, the one that usually stops people in their tracks is picking the best target accounts.
But, it doesn't have to be hard. In fact, equipped with the right approach, marketing and sales teams can pick their accounts together in as little as an hour.
Picking the wrong targets will make it hard for sales and marketing to align and will lead to poor financial results.
On the other hand, picking target accounts correctly is critical to the success of ABM campaigns. The right targets will lead to better account engagement, faster deal velocity, and larger deals. What's not to like?
Here are the steps to choose the right accounts for ABM campaigns.
How to Choose Target Accounts for Account-Based Marketing
1. Identify your goals.
The first (and most critical) step to picking target accounts is to start with your campaign goals: What is the business objective that closing these target accounts would help achieve? Once the business objective is identified and mutually agreed upon by marketing and sales, it becomes much easier to select the right accounts to focus on.
There are many reasons you may choose to purchase an account-based strategy. We'll do a brief overview of the most common reasons first. Then, we'll go into deeper detail on three of those. Let's dive in!
Land and expand: The goal of this type of campaign is to grow by closing a deal with a subsidiary and then use them as a jumping off point to other buying units. Here, it'd make sense to pick target accounts that have multiple buying units or subsidiaries.
Logo acquisition: Buyers - particularly upmarket/enterprise buyers - crave social proof. As a company grows, they may need brand-name logos on their website or brands that are well known in a particular industry/market. They'd be wise to identify and target these brand-name companies with a bespoke account strategy.
Wake the dead: A closed-lost deal need not be the end of a relationship. After a year or two has passed, it's common for buyer requirements and product capabilities to grow and change. An ABM campaign is an excellent way to re-engage big prospects who went with another solution and educate them about what's changed since their decision. The best part? You're usually familiar with at least one member of the buying committee. Tip: Keep renewal cycles in mind before initiating your campaign.
Targeting best-fit accounts: Sometimes the goal of an ABM campaign can be as simple as focusing more attention on best fit accounts to drive better engagement, deal size, deal velocity, and close rate. For this type of campaign, it's best to use an automated Ideal Customer Profile (ICP) workflow to flag best-fit companies. We'll go into more detail on this approach below.
Upsell, cross-sell, or renewal: As most sales reps can attest, it's often easier to sell more to an existing customer than to close an entirely new customer. If sales and marketing have identified major upsell/cross-sell opportunity from a distinct set of customers, the team can mark them as target accounts and run coordinated campaigns to educate the customers.
Deal acceleration

: Coordination between marketing and sales not only helps deals get created more quickly, but it can also help buyers make decisions more quickly. For this campaign, each company associated with the deal you want to accelerate would be a target account.
2. Identify accounts that will add credibility to your brand.
Of all the reasons to pick target accounts, this one is probably the easiest to understand and implement. The goal of this campaign is to close deals with target accounts whose logos and testimonials would add legitimacy and social proof to your brand. This strategy is often called, "logo acquisition."
To get started with a logo acquisition campaign, Sales and Marketing leaders should ask themselves two questions:
Is there a segment of the business in which we could be growing faster but are losing deals because buyers don't recognize our customers or see us as "legitimate" for their needs?
Which brands have the most name recognition and respect among that segment of buyers?
Having answered those questions, identify 10 to 15 companies that match that criteria, mark them as target accounts, and create a campaign for engaging them.
3. Look for accounts with an ideal customer profile (ICP).
Define your ideal customer profiles with HubSpot's ABM software.
For teams willing to invest in some upfront analysis, building an "ideal customer profile" can help identify target accounts. Teams with a marketing automation tool can even flag best-fit companies automatically with tailored workflows.
An ideal customer profile like the company version of an individual buyer persona. It's a collection of the characteristics (e.g. industry, company size, technographics, location) that define the type of company that is an ideal fit for your products or services. Usually, team members have an intuitive idea for what that profile should look like, but it can be worth taking some time (about a week or two) to analyze the common characteristics of your largest deals and most successful customers. Need convincing? Here are two reasons to invest the time:
You can identify less obvious ICP traits:
An ideal customer profile can be as simple or complex as need be and sometimes adding a few non-obvious traits can explain why two seemingly identical customers buy very differently.
For example, if you sell to hospitals, it's probably obvious that your ideal customer is a hospital. But, by analyzing your most successful customers, you could uncover that the most successful customers are not only hospitals, they are hospitals with an attached emergency room.
To uncover the details noted above, review your largest deals and repeat/renewed customers. Break down which activities led to created deals and review support tickets or consulting done with those customers. Conduct at least seven interviews with Sales and Service teammates and try to identify any themes that come up.
Conducting this analysis keeps the conversation data driven:
Humans are notoriously irrational (e.g. motivated reasoning and recency bias) and grounding the conversation in hard facts will help teams come to a better final result.
Once you have a list of qualifications, it's common to add tiers or levels to the ICP. With tiers, you can differentiate perfect fits from the "good-not-great" fits. Matching companies with the appropriate ICP and ICP level can get tedious FAST. If your marketing system or CRM supports automation, it's worth investing in a workflow that automatically marks companies matching the ICP (and the corresponding tier/level if you choose) so they can be viewed and reported on in real time. Tools like HubSpot's ABM software can help you define your ICPs with workflow templates. You will also be able to leverage AI-powered recommendations.
After your ICP is determined, your team should review the companies matching the ICP weekly or monthly and see if any companies are worth marking as target accounts. Done correctly, an ICP can provide an evergreen source of target accounts that leverages the inbound funnel you have already built.
4. Consider picking accounts based on deal acceleration opportunities.
One of the fastest ways to realize the value of an ABM strategy is to use it to help deals close more quickly.
No doubt, the sales team is already expertly educating the buying committee over email, in meetings, and on the phone. But, sales is limited by how much time each member of the buying committee wants to engage with that rep. What if the decision maker misses a demo meeting or the end-user wants to research on their own time?
By deploying marketing (e.g. website smart content, targeted ads, social media, personalized email) that matches the same value propositions that Sales is using. With this strategy, buyers can make decisions even faster because they are able to be educated by sales teams as well as branded content.
Mark the companies associated with the largest active deals as target accounts. Then, create simple account plans for each deal and deploy content accordingly.
No matter what reason you have for picking target accounts - be intentional! Choose them for a reason and make sure Marketing and Sales are in agreement on what that reason is. When you choose the right target accounts for the right reason, every other step of ABM fall into place more easily.
5. Build a data-driven account-targeting strategy.
Track and measure key milestones with HubSpot's ABM software.
Using the right data fuels your ABM rocket. Neglecting to use data, or even worse, using the wrong data, can lead to internal combustion and complete system failure.
The two key types of data you'll need to draw better company-level insights are firmographics and technographics.
Firmographics are company characteristics that best predict a good fit including company size, industry, number of employees, estimated revenue, estimated growth, and number of locations.
Technographics are the technologies your target accounts currently use or are looking to invest in -- for example, complementary technologies to yours, technology that rules out your solution or makes it less necessary, or competitive solutions where you know you have a highly win rate.
6. Get insights on contacts to shorten sales cycles
Next, identify the contacts you'll need to reach out to within your target accounts. Take the time upfront to research the customer stakeholders, their place on the organizational chart, personal goals, and the level of influence they each have. Targeted sales prospecting lets you get to the right people in less time.
The specific details you're looking for include:
Job title
Tenure
Decision-making hierarchy
Account affiliation
Activity/engagement history
Skills and proficiencies
Experience with your category
Once you've collected these details, you can build an "influence matrix," which will give you and your team members more clarity into the buying and decision making processes within the account. This step can decrease your sales cycle by as much as 50%.
7. Get access to decision makers with market insights
After you've found the right accounts and the right contacts, deliver relevant business insights.
To organize your account based plays effectively, you need to know:
The target's industry and market trends
SWOT analysis of the target account
The relationships inside the account
Your connections to the account
This information will lead you to the content and delivery methods you should use with each account. Providing compelling insights generates credibility, trust, and ultimately more business.
Identify the Right ABM Data with Insight Resources
If you want to be successful with ABM, you need to invest in new resources. The proportionately larger deals you'll be closing will make this investment worth it.
Here are some of our best tips and lessons we've learned around implementing ABM:
Insight generation has to be somebody's job, or it's nobody's job.
Incentivize your people: Compensate your Sales Development Reps on insight collection metrics, or run a SPIF.
Utilize third-party vendors that specialize in collecting insights on companies and people.
This is just the beginning of the ABM process, but it's the most important piece. Get this wrong, and you'll be setting yourself up for failure. Get this right and your business will see growth like it's never seen before.
Editor's Note: This blog post was originally published in April 2017, but was updated for comprehensiveness and freshness in 2020.