Why should you add bots to your site? They aren't some far-fetched, futuristic technology -- and they're not just for marketing and customer service teams. Implementing a live chat strategy can be game-changing for sales reps. You'll increase lead retention, demos booked, and pipeline health.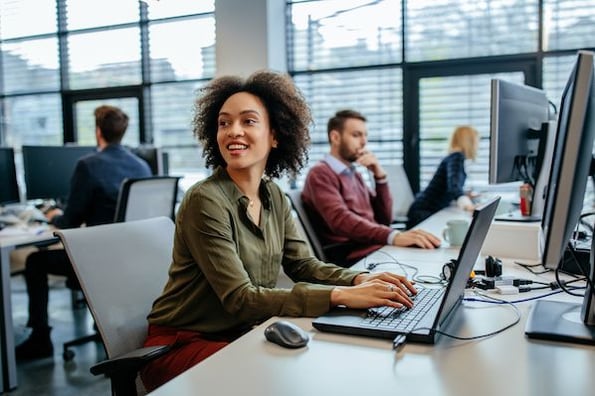 Jack Matsen
, a senior account executive at
AdStage
, a performance marketing reporting and automation company, saw a 38% increase in demos booked within six months of implementing a chat bot.
Matsen says, "Our bots collect information that gives us time to come prepared with potential solutions before we walk into meetings with new prospects. Having this information ultimately leads to better, more beneficial conversations."
Chatbots will help your team scale the volume and quality of incoming leads. Use them to replace your most monotonous exchanges -- like qualifying leads or booking meetings -- so you and your team can stay focused on the very human conversations that matter most.
How to Set Up a Lead Bot
Know when it's time to install a lead bot
Lead bots are helpful for all reps, but they're especially valuable for small or young sales teams. If you're scaling a company with a skeleton sales organization, bots can provide the extra set of sales hands you need at a fraction of the cost of hiring additional reps.
And bots don't just help you scale, they also keep your team focused on high-quality conversations that have better chances of converting into demos and closed deals.
When your team is stretched thin or focused on efficiency, lead bots can save reps hours of cold email and phone outreach that offer little chance of conversion.
Remember, never add a bot as a barrier. The goal is to make better, faster connections with site visitors. To see the full range of success with bots, you must be ready to engage with and provide value to these leads.
Target the right site visitors with the right message
Know who visits your website and who your messages should be targeted to. If you don't already have access to this information, your marketing team can help.
When you've identified your visitors, provide them with a helpful, targeted message they're ready to hear. Sometimes, that means sending them no message at all (i.e., existing customers).
Matsen uses bots to improve inquiry response time and the quality of conversations he and his team are having with prospects.
"We know buyers move faster than ever before," he says. "As salespeople, we have one hour -- from inquiry to contact -- before the buyer moves on. Bots provide a great way to engage with prospects the moment they're ready to take the next step with your company."
Choose which page the bot should appear on
Place bots on high-intent pages (i.e., pricing pages, feature pages, and demo scheduling pages). Visits to these pages should signal high likelihood a lead is ready to learn more about your offering.
Putting a bot that asks, "Would you like to schedule a demo?" on a blog page means you'll provide a bad user experience for casual blog readers and existing customers.
Matsen uses lead bots on the company's product pages. He explains, "Salespeople are meeting buyers later in the decision-making process. This means prospects are doing their own research. If we have prospects spending a lot time on specific product pages, we can start conversations the moment a buyer has questions."
In the age of the internet, it can feel like salespeople are becoming obsolete. Bots actually allow reps to infiltrate their prospect's research phase and become an ally from hour one.
Know what makes a sales qualified lead
Before you deploy your lead bot, revisit the criteria for sales qualified leads at your organization. Then, align with marketing to identify and appropriately message to these people. When determining sales qualified leads, here are a few questions to ask:
Is this prospect in your territory?
Do you sell to their industry?
What's their company size?
Does the account fit your company's buyer persona?
Make sure sales and marketing are in agreement on the definition of a Marketing Qualified Lead (MQL) as well.
This is a crucial handoff point between marketing and sales, so each team should agree on the terminology. It should reflect a combination of traits and actions indicating a lead is a good fit for your company and ready to speak with a salesperson.
Using a lead scoring or lead grading program relying on data from your closed-loop analysis can also determine the importance of different activities to ensure your lead bot reaches qualified leads.
Matsen's sales team relies on bots as key players in qualifying leads. He says, "We've focused our bots on the qualifying process. This gives prospects a way to learn more about our products -- even when we're not there. It also helps us understand what challenges prospects are tackling, right away."
Matsen explains his sales team has a bot that generically asks, "What brings you to AdStage today?" This broad question actually yields a variety of illuminating responses, from, "I'm looking for a closed-loop reporting tool," (which AdStage offers) to "I'm looking for a Pinterest ad creations tool" (which they do not). "These responses," Matsen continues, "allow the leads to qualify themselves, saving us time and valuable resources."
Know your brand
Leverage your brand voice through the bot. This is another area where working with your marketing team can be helpful. Make sure the tone and language your bot uses aligns with your brand.
For example, if your company sells software to startup engineers and your brand voice is informal, relatable, and quirky, your bot might say:
Do: "Hello there Earthling, can I answer any questions about our totally-worth-it pricing?"
Don't: "Hello. Please let me know if I can answer any questions about our product pricing."
Whatever your brand voice, your bot's tone should be personal, friendly, and infused with your brand's personality.
Build the bot
It's tempting to slip all sorts of qualifying questions in before the bot routes leads your way. But, remember, bots should make it easier for prospects to learn about your product/service, not harder.
Decide which questions are most pertinent to each targeted lead. If you're messaging leads on your demo landing page, don't weight them down with questions about company size, goals, or challenges.
Have the bot ask, "Would you like to schedule a demo?" and share a link to your calendar. Close for the next step immediately, then have your bot route leads to you for follow-up questions -- or simply send them an email.
Route leads to the appropriate rep
If your pricing-curious lead has questions about the premium package, have your bot send that lead to the salesperson who handles premium accounts -- or route these leads to your SDRs to give them a quota boost.
And don't forget to be helpful to unqualified leads as well. You never want your poor-fit leads to feel like they're at a dead end.
Assign the bot a helpful response or have it send these leads to a designated salesperson or customer service rep who can put them in touch with resources better suited to their needs.
Once you've handled initial questions over chat, follow up with your promising leads via email to take things to the next level.
Building bots is a skill. Build, test, iterate, and improve. Matsen sums up his experience with bots, saying, "Chatbots help salespeople in a myriad of ways. Most notably, they'll help you save time, start more conversations, and connect you with information that leads to a better buyer journey and more closed deals."