Think direct mail is an outdated sales tactic? Think again. While prospect's email inboxes are becoming increasingly crowded (78% of consumers opt out of company emails due to sheer volume), their physical mailboxes get emptier. Now's the time for Sales and Marketing to work together to create direct mail prospects can't help but respond to.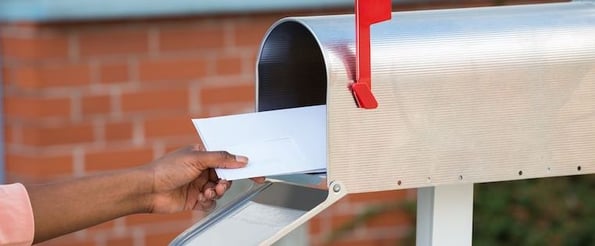 From boxed balloons to 3D puzzles, there's no shortage of creative ways to format your mailers — but the most important aspect of your letter is what you say and how you say it. Below, I'll share tips on writing eye-catching copy, hitting on the most important value props, and completing the mailer with attention-grabbing visuals.
How to Write a Sales Letter
Pick a primary message.
Educate.
Use one CTA.
Don't crowd the message.
Include testimonials.
Add attention-grabbing stats.
Lead with strong visuals.
1. Pick your primary message.
… and make it pop. Select one pain point, feature, or benefit, and lead with that message. Bold it, underline it, let it stand alone on one side of your mailer — but make sure it's clear, concise, and packs a value punch. Here are some examples:
Benefit: If you're selling corporate cleaning services, your benefit-centered primary message might be, "So clean, you'll never send a 'Tidy your workspace' email again."
Pain Point: If you're selling HR recruiting software, a pain point-centered primary message might be, "Are you spending too much time hiring?"
Feature: And if you're a car salesperson trying to attract customers to your dealership, your feature-centered message might be, "The only five-year warranty in town."
In each of the primary messages above, I've picked one main point to share with the prospect. If they only read one thing on the mailer this should be the copy that stands out and sticks with them. Because of that, I've avoided being too clever — a fast way to muddle your message.
To check if your message will confuse your average prospect, ask someone outside your business to read your primary message without context. If they easily grasp what you do or what you're trying to communicate, you're in the clear.
It's tempting to use broad taglines like, "We help you get back to work," "The five-star service you deserve," or "The car-buying experience you want." Don't do it. Keep your message focused on specific, easy-to-understand value propositions.
2. Educate.
If you're sending the mailer to prospects who aren't familiar with who you are or what you do, capitalize on the moment to educate them. Keep this explanation brief and bulleted, and limit each talking point to one sentence. For example, an educational section about our HR recruiting business might read:
Step 1: Create a RecruitingWiz account
Step 2: Enter your job listing
Step 3: Review pre-qualified applicants in your inbox
You've explained how to navigate your online portal and highlighted ease-of-use and benefits of your service (i.e., pre-qualified candidates delivered right to your inbox).
This part of the mailer can also be used to differentiate your product/service. For example, our corporate cleaning company might say:
What sets our cleaning service apart?
Refrigerator cleanout
Dishwasher load/unload
Organization on request
Plant care and maintenance
We've clearly defined what makes this corporate cleaning service different, and because these bullets should be based on common customer pain points, we've provided solutions for challenges we know our prospects face.
3. Limit yourself to one CTA.
Don't ask for more than one thing. If you do, you risk overwhelming your audience by making them choose which (if any) of your calls-to-action they want to pursue. This mailer should do the thinking for them by leading them easily to a next step.
Instead of our car dealership having two CTAs asking prospects to "Visit our dealership today at [insert address]" and "Visit us online at [insert website]" consider which action will be the most measurable for you and actionable for your prospect. In this case, asking the reader to visit the website is the most realistic next step.
4. Have one offer.
To take that next step, however, your audience needs incentive — usually a promo code or free gift. For example, our cleaning service might offer a free fridge cleaning if the prospect books before the end of the month.
Increase fear of missing out by putting a deadline on the offer. If a prospect must use your promo code by the end of the month, they'll be more likely to act immediately.
Think your customer might have trouble redeeming the offer? Include instructions and a visual aid on your mailer. If you're offering a promo code at checkout, provide text and images illustrating the process of going to your website, navigating to the checkout page, and entering the code at the appropriate point.
5. Don't crowd the message.
Also known as — don't word vomit. We've all gotten mailers containing a 30-year history of the company, every possible feature they offer, 18 coupons, and headshots of their 40-person team. Don't be this company.
Keep things simple and purposeful. Once your prospect picks up the mailer, you only have a few seconds to convince them not to drop it in the recycling bin. Make it easy for them to understand your offer in three-to-five seconds, and do this by adhering to the tips above.
6. Include a testimonial.
Social proof is always a good idea. If you haven't already, ask well-known, longtime, and/or happy clients if you can include a quote from them in your mailer.
Keep quotes between two and three sentences long, and edit when necessary. Always ensure you choose a quote that actually says something. Sentiments like, "Corporate Cleaners is great! Would highly recommend … " isn't as valuable as, "Corporate Cleaners has completely changed our office environment. They're a cost-effective way to keep employees focused on the work that matters while elevating the first impression clients have of our office."
Lastly, ensure your testimonial isn't totally out of the blue. If the rest of your flyer talks about your car dealerships knowledge, unparalleled five-year warranty, and huge selection of new and used SUVs, your prospect might be confused by a testimony from "Liz" who found the motorcycle of her dreams at your dealership.
7. Add attention-grabbing stats.
Has your local business bureau rated you #1 for customer service? Have you cleaned more than 500 businesses this year? Have you decreased customer hiring time by 50%? Include those numbers in your mailer. Numbers break up text and attract your reader's eye. Plus, it's another way to prove your value.
8. Lead with strong visuals.
Ask your in-house designer or go-to freelancer to help with design. Don't have the budget to bring in outside help? Remember to keep visuals fresh, modern, and personalized. The images on your mailer will be the first thing your prospects notice and the biggest way to save you from the trash.
If you're using photographs, take and use your own. Custom photography will set your business apart and avoid glazing eyes with cheesy stock photos.
Head out to the lot on a Saturday and ask permission to snap photos of excited customers with their new cars. Hire a photographer to follow a cleaning crew around for an afternoon. Or ask for headshots of the relieved HR professionals providing testimonials for your mailer. These images will automatically present a more interesting, less-spammy piece of direct mail.
Sales Letter Example: Email
Need help drafting an email sales letter? Check out this example from HubSpot's sales team.
Here are some best practices to consider when you're writing your sales letter via email from HubSpot's own Dan Tyre.
Ask your marketing department for help — High achieving sales teams collaborate with experts who know how to craft a message. If you don't have access to marketers who can help, you can use predefined templates written by a marketing professional to start a sales conversation. I have seen numerous examples of savvy salespeople spend hours obsessing over a simple introductory email. If you let the professionals develop the correspondence, it is likely to be eloquent, on message, with the right product links and you can study the performance and collect the statistics to the science behind which letter works best from an analytics perspective.
Use personalization to customize the correspondence — A sales letter is all about the prospect, not your product, services or what you did for someone else. Most prospects are more concerned with how you can help them overcome their biggest business challenges. If you lead with how you can help and the business value you can provide, you have a better shot of getting their attention.
Keep it short — In the past, you could send a prospect a letter that was a few paragraphs long and they would read some of it. Today, you can send two sentences, two links and they might read it. Anything more than the basics is frivolous and will greatly reduce the potential of me reading it. HubSpot's Jose Martins shared the following tip: "The idea is to make it short, simple, no games. If they are interested they will reply. The prospect should be the one driving."
Be easy to find — According to Dan, he puts his contact information front and center. "I put my name and company in the subject line, which I find leads to a better open and click-through rate."
When appropriate, use video to differentiate your message — This is the biggest innovation since the invention of email. The purpose of a prospecting email is to show value in the first interaction by sharing the research you have done on the prospects needs. Including video in your email does a great job of using modern technology to connect with a business person, show them you are a human being, explain your value and ask for a call to action in under a minute.
Don't just send one email — Most people get a lot of business email, most of it relatively low value. But a professional salesperson wants to make sure you are helping and breaking through the clutter. Most people rarely respond to the first email they get, but prospects are more likely to respond to the third or fourth email. Dan recommends sending up to four emails over 12 days for the best results.
Sales Letter Example: Direct Mail
When do you just send an email and when do you send a direct mail piece? Email is suitable for most business communications but if you really want to make an impression introducing yourself or your company to a target account, a handwritten or direct mail piece can help you stand out from the competition.
It takes time and effort to send a personal letter, but that is the whole point. If you spend the time and effort to personalize a handwritten note, you are demonstrating your willingness to work extra hard to earn potential business.
Here are a few guidelines for sending a direct mail sales letter:
Focus on quality — Put your letter on personal or company letterhead, and make sure your pen and paper are top quality.
Keep it short — Just like email, less is more. Keep the contents of your letter to one page.
Start with the business value — Your reason for writing a personal letter should be front and center. The goal of the letter is to demonstrate your assessment of the prospect's problem and to express that you are uniquely qualified to address it.
Offer value — Provide something of immediate and unique value that shows you understand the industry, location, and business challenges of the person you are connecting with. For example, if you have best practices to share with an interested party you could say, "I am writing to you because we work with a VP of Sales of Manufacturing companies in Arizona who works with multiple overseas suppliers. They are constantly re-examining their supply chains to ensure continuity and I would like to share a checklist of quality suppliers with you."
Follow it up with a phone call — Don't let your letter end up in a recycling bin and your conversation forgotten. About a week after sending your letter, follow up with a phone call to keep things moving.
If everything old is new again, direct mail just got ten years younger and is ready to show up everyone at its high school reunion. Take an exciting approach to this tried-and-true outreach tactic, and see what it does for your business.