When you're bogged down with the day-to-day of running a business, looking beyond the horizon feels like an impossible task. That's where innovation consulting comes in. Innovation consultants can help businesses identify new products, fresh approaches, and new industries to explore.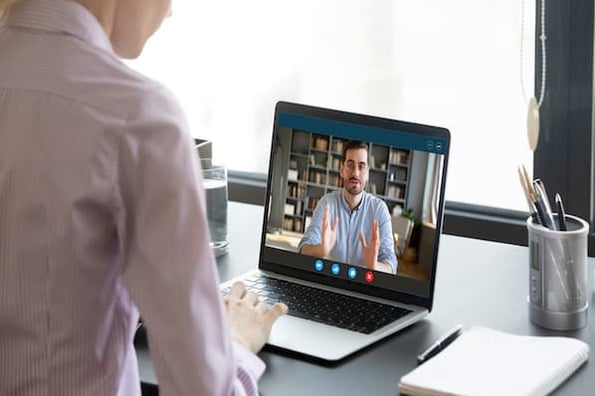 Adapting your business has become increasingly important. Though 86% of executives agree innovation is key for growth strategy, McKinsey's Global Innovation Survey found that only 6% are satisfied with the innovative efforts of their company.
If you're creative, have strong business acumen, and can conduct research, innovation consulting might be a great career for you. Before you apply for your first role, let's deep dive into innovation consulting, what it entails, and the value you would provide to potential clients.
In this article:
What is innovation consulting?
Innovation consulting is the practice of providing advice and direction to businesses and organizations looking to implement new growth and business strategies.
What does an innovation consultant do?
The role of an innovation consultant can vary depending on the industry they support and the client's unique needs.
Some common areas an innovation consultant supports can include the following.
1. Reveal and fix broken processes.
When organizations continue to follow the same processes over and over because it's "what they've always done," they are doing themselves a huge disservice. Not only does following the same methods leave little room for innovation, but it can also perpetuate inefficiencies and bad habits that can prevent growth.
As an innovation consultant, you can ask the key questions about what processes your clients have in place and recommend better alternatives and solutions that can make a huge difference to their bottom line.
2. Provide a fresh perspective.
Having a different perspective can make all the difference. As an innovation consultant, you get to give a fresh perspective to every client you work with.
By implementing your recommendations, clients can unlock new ways of operating. As a consultant who is well-versed in innovation strategy, you can provide meaningful insight that teams may not see because they are too busy working in their business to see what improvements could be made.
3. Clarify your client's vision.
Do your clients have a clear vision for where they want their companies to go but have a hard time executing that vision? If so, you can help them gain clarity by putting their thoughts onto paper and into action.
As an innovation consultant, you have the opportunity to map out strategies that can bring your client's visions to life.
4. Explore new ways of doing business.
In consulting, chances are you have experience working with various organizations. Your clients, on the other hand, may not have diverse backgrounds to draw from when navigating their current business climate.
You can share best practices and lessons learned from your experience working with other clients to support those you're currently working with, teaching them new ways of doing business.
5. Identify new growth strategies.
Having a clear, viable growth strategy is critical for companies looking to develop and sell new products and services. As an innovation consultant, you could work alongside organizations to provide valuable direction for the demand and development of new offerings and ways to grow their businesses.
6. Support and develop the client's team.
Having a strong team is important for any organization focused on innovation. As an innovation consultant, you can provide much-needed guidance to support employee development for evolving organizations.
Some essential tasks related to developing an innovative culture include the following.
Building Systems to Make Innovation Possible
Before you build an innovative culture, you'll need to recognize where the original system falls short, limiting creative ideas and problem-solving. If an organization's team spends precious time finding workarounds to broken systems, they have less capacity to truly innovate.
Training Plans to Close Skill Gaps
What gets measured gets done. An innovation consultant can help create tangible plans to help team members close necessary skills gaps and reach their workplace goals.
As the consultant, you are not necessarily responsible for executing these tasks. However, you can lay the framework empowering your clients to bridge the gap between where their workforce is currently performing and how they need to perform in the future to drive innovation.
7. Uncover opportunities to build new businesses.
For many companies looking for growth, new business is essential. Innovation consultants work with their clients to identify new opportunities and markets, which are essential for mapping out future growth.
Additionally, innovation consultants can provide insight into new business model opportunities for the organizations they work with.
Companies looking to launch entirely new ventures can also find value in receiving strategic support from innovation consultants.
8. Develop and test new product prototypes.
Depending on the client and the type of product they are looking to launch, innovation consultants may also provide support in ensuring their product is ready to go to market. A consultant with a design or product background can test new products for adherence to quality standards and can provide functionality input for new offerings.
How to Become an Innovation Consultant
There are many routes to building a career in innovation consulting. An individual can do the job, but businesses might opt for a consulting firm for bigger projects requiring different solutions.
Consider these steps if you want to build a career in innovation consulting.
Consider a Degree
While it's not essential, a degree can certainly help you — particularly in helping you secure your first role. Innovation consultants may opt for degrees relevant to the field or industry they want to focus on.
A business or project management degree can also be just as useful.
Get Relevant Work Experience
Work experience allows you to get hands-on experience as an innovation consultant. Naturally, this bolsters your CV and helps secure other roles in the future.
If you gain experience in consulting firms, you might work on larger projects that benefit your portfolio. Experience in the following areas can help qualify you for the role.
Go-to-Market Strategy
As an innovation consultant, you will likely be tasked with supporting your clients as they launch a new product or offer. Having experience working on teams that have successfully gone to market with a new product can provide valuable insight for your consulting work.
Employee Development
We previously discussed how team member development is an important aspect of innovation. Having experience supporting employees as they build new skills can give you a competitive edge.
Data Analysis
While innovation consulting can be a creative field, it also requires the ability to read and interpret data to make sound recommendations.
Track Record of Driving Results
Even if you don't have extensive consulting experience, draw upon your experiences working on projects or in teams that had tangible positive results. Approaching these experiences with innovation at the top of mind and a measurable impact to show for it is key.
A career in consulting can offer a wide variety of opportunities as our world and business landscape continues to evolve. Check out The Complete Guide to Starting A Consulting Business for more insight into the field.
Build a Portfolio
Your portfolio will help you secure other suitable jobs. If you can prove expertise in a particular sector or part of innovation consulting, you're more likely to find new work.
Network
It can be tempting to network with potential clients and businesses when you're networking but don't neglect other innovation consultants. A strong network will help you find work through referrals, or you might find another consultant who will bring you into their project to consult on specific aspects of your expertise.
Innovation Consulting Skills
Business Acumen
Good consultants understand how business works. You need to be able to spot a good opportunity from an operational and financial perspective. You will understand how your innovations impact businesses financially, culturally, and operationally.
Project Management
Once hired as a consultant, you will be entirely responsible for delivering the project. Project management skills will serve your business. These skills will help you produce a robust plan so that your deliverable offers great value to your clients' teams.
Planning and Organization
Both of these skills fall under project management but are worth highlighting separately, as they are critical skills for innovation consulting success.
Naturally, you will need to plan and organize your own time. But you may need to help build processes and manage projects. Equally, you may need to manage and organize internal teams to aid the implementation of your plan.
Communication Skills
Innovation consulting goes hand in hand with change management. Innovation in business always requires a new process or a change to an existing process. Change is often met with resistance. Good communication and interpersonal skills will aid buy-in from internal teams.
Creative Thinking
More often than not, businesses hire innovation consultants because internal teams are too busy to think creatively. Innovation consultants must seek out opportunities that may be obscure.
Research
Innovating consulting requires research. As a consultant, you must conduct research to find opportunities in the market, find out what customers want, and identify performance issues so that you can help streamline operations or develop plans to improve employee relations.
Is innovation consulting for you?
If you think you have or can learn the skills listed above, there's every chance you'll make a great innovation consultant. There are several routes to becoming an innovation consultant — and if you stay motivated, you should be able to shift your career onto this trajectory.
A degree might be the best step to take if you're just starting your career. If you're already working in business, getting into innovation consulting might be easier than you think. You can look for a consulting firm or talk to your current employer about how you can help their business with innovation.